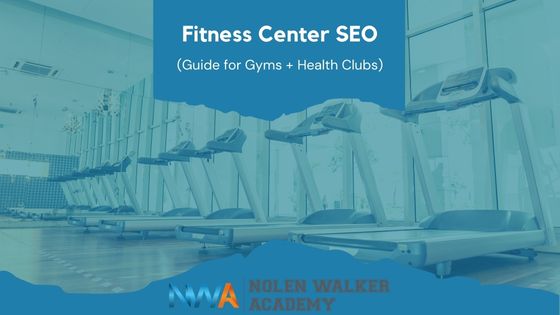 Health and fitness are essential to most people. So it seems like it would be a given that people would naturally flock to your gym or health center, right? But, unfortunately, as anyone who owns or manages one of these facilities will tell you, that is often not the case. That's because plenty of healthy competition exists (no pun intended).
So how do you make your fitness center stand out from the competition? With fitness center SEO. SEO is a form of digital marketing concerned with getting your website to rank as high on search engine results pages as possible. The higher you rank, the more people will see your website. Unfortunately, very few people click through to the second search engine results page.
Don't believe us? Take the following statistic into consideration: the top 3 search engine results garner more than 75% of all clicks, which means that most people aren't even bothering to scroll down on the first page.
Fitness center SEO is crucial in 2023 because search engines are how people find businesses and services with buyer intent. For example, if someone is ready to join a gym, they have already decided to spend money.
So the only question to ask yourself is: what is the state of my fitness center's SEO? If you don't know the answer to that question or don't like the answer, there's no need to fret.
In the following post, Nolen Walker walks you through some of the most critical steps to improve your SEO, get more leads and land more members.
What is Fitness Center SEO?
Fitness Center SEO ranks a gym or health club on search engine results for various keywords and branded searches. The nitty-gritty of SEO involves refining website data, including HTML tags, producing content, and building relevant links.
Getting Started With SEO for Fitness Centers
SEO can overwhelm business owners as it seems like so much to learn. However, when you break down SEO into the essentials, it becomes manageable. The following guide outlines how to get started on SEO for gyms and the best ways to achieve desirable results in 2023 quickly.
Focus on Local SEO for Health Clubs
There is a sub-classification of general SEO called local SEO. As the name suggests, local SEO concentrates on increasing your website's visibility to the consumers in your specific geographic market. For example, as a local fitness center, yoga studio, gym, or health club, yours is very much a local business.
The good news is that local SEO is a bit easier to tackle than general SEO. Think about it like this: it's much easier to rank for a keyword like "MMA gym in Brandon, Florida" than for a keyword like "MMA gym."
You will only see the country's biggest and most prominent MMA gyms with the latter keyword. But you aren't trying to attract people from St. Louis if your gym or fitness center is in Bozeman, Montana.
So it would be best to focus on local SEO first and foremost. So here are some tips on how you can start using local SEO tactics to attract more consumers in your market:
Sign Up for Google Business Profile: The Google Business Profile is free and will help your website rank immediately higher on relevant Google searches. That's because Google prioritizes its own services on searches, so Google Business Profile company listings get placed near the top on relevant searches.
Use Online Directories: If you operate in a medium to a large market, there are probably business directory resources you can take advantage of. Try to get listed with local chambers of commerce, professional directories, or local industry directories to garner local links to your site.
Add Location Pages: This one takes some time, but if you have more than one gym, studio or fitness center, you must add specific location pages to your website for each one. This will boost your web crawler signals and make it more likely that people will find your location pages when they perform a local search.
Name Address, and Phone Listings for Fitness Centers
NAP consistency is one of the easiest ways to boost your fitness center SEO, but it is often overlooked. Think about all the places where the name, phone number, and address of your fitness center are listed on the internet. Now go through and ensure that all the information is consistent and uniform in all these online locations.
Various services and tools can update your listings in bulk, so you don't have to update every single directory painstakingly. However, you should quickly update your most important business listings like Google Business Profile, Yelp, and Facebook if they have inaccurate information.
Why is it important that your NAP appears the same everywhere? Because if it doesn't, search engine web crawlers are much less likely to index your listings on relevant searches. Search engines don't like to show confusing or inconsistent information to their users – so they usually won't. That's why you must ensure your NAP is consistent.
Fitness Center Blog Content
For the fitness industry, posting regular, unique blog content centered around strategic keywords is extremely important. In addition, blogs are critical to fitness center SEO because they answer common questions.
And there are always people looking for answers to their burning fitness questions. But it's not enough to write about what you know. You have to do keyword research to find out what questions people are asking the most and what words they are using to ask those questions.
You can use an online keyword research tool to gather a list of the most relevant keywords for the fitness industry. Then, start building blog content based on those keywords.
On-Site SEO for Health Clubs
You can make some tweaks to your website that will help increase organic traffic. These tweaks are on-site optimizations because they involve altering your website to increase clicks. Take a look:
Submit A Sitemap: Create a sitemap of your website and submit it to Google. Sitemaps help web crawlers scan your site and make it much more likely that they will index it on relevant searches.
Use Keywords in Written Content: Keywords aren't just for blog content; they should also appear on your website's landing pages. From services pages to your "contact us" page, you should strategically include a relevant keyword on all your pages.
Optimize for Mobile: Did you know that if someone finds your gym or fitness center with their phone or mobile device, they are 88% more likely to call or visit? It's true and why optimizing your site for mobile users is essential. You can start by compressing images, but you may need the help of a web designer to make your site mobile-friendly.
Use Reviews: If you have great reviews, why not use them on your website for increased organic traffic? It's even better when you have reviews mentioning some of your target keywords. If you have trouble embedding testimonials from 3rd party platforms, check out Datapins, as it provides a handy and easy-to-use tool for displaying reviews on your website. 
Invest in Gym SEO With Nolen Walker
Fitness center SEO is much more effective when you listen to the right professionals. So if you are serious about blowing up your gym, studio, or fitness center, contact Nolen Walker to enhance your SEO process. With over 15 years of experience in the digital marketing industry, Nolen can help you dominate.