Irrigation SEO helps contractors rank on Google for terms like sprinkler repair near me. If you can rank within Google's Local Map 3-Pack along with traditional organic results, you can pick up roughly 60% of all search users (for this topic).
What is Irrigation SEO?
Irrigation SEO is the refinement of a sprinkler repair website and Google Business Profile for the purpose of ranking on search results for topical keywords. Increasing your ranking position through SEO strategies allows your company to accumulate more frequent irrigation leads and book more sprinkler repair jobs in 2022.
Why Irrigation Contractors Need SEO
Calling all landscapers: are you doing things the old-fashioned way? There's nothing wrong with word-of-mouth referrals, local newspaper ads, and truck wraps, but there is much more opportunity.
It would help if you compliment your grassroots marketing campaigns with SEO or Search Engine Optimization. SEO allows your business to be seen by more people who use search engines to find local businesses and services.
And the numbers don't lie. At least one market study has revealed that 4 in every five people use a search engine to find local businesses and home services. And the great thing about SEO is that you can use it to boost sales for specific services or specialties.
For landscapers, irrigation SEO can be instrumental in particular. Everyone needs irrigation services at one point or another, so will your company be the one they hire when the time comes? Find out how to boost your irrigation SEO rankings in the following guide we've composed just for landscapers.
Local SEO

for Sprinkler Repair

Your landscaping business may be many things. But at the end of the day, it is, at its core, a local business. You most likely run a very personal, face-to-face business that caters to the residents and business owners' needs.

People in your town probably know you and your crew on a first-name basis. So your foray into SEO should have a very local bent. Start by registering your business with Google My Business. GMB will help you break into the local three map pack and let people know that you offer their area services.

You will also want to register on Houzz and Angie's List. Both sites offer excellent opportunities to customize your profile based on the areas you service. And they are specifically for home service contractors like you.

On the more technical side, you should also utilize schema markup on your company's website. Local schema markup will make it easier for search engines to index your site based on searches with local intent.

For example, if someone searches "irrigation landscapers near me," local schema markup will signal to search engines that you do offer irrigation services in the area of the person that performed that search (if you are actually in that area, of course).
Content

Marketing for Irrigation Contractors

These days, people get their information through blog content, videos, and social media posts (for better or worse). Information about local services and businesses shows up on each vertical. So let's say someone wants to know the benefits of installing a new sprinkler system for their garden.

They might search what we in the industry call a "research intention" search. In other words, they may not be ready to spend money on new sprinklers just yet, but they want to know more about them.

On the other hand, we have buyer intent searches representing people conducting a search engine query to find a product to buy or a business to work with/hire. An example of a buying intent search may be "affordable landscapers near me."

But whether a person is ready to buy or wants more info, you should have content on your website, YouTube, or social media pages prepared to inform or convert them.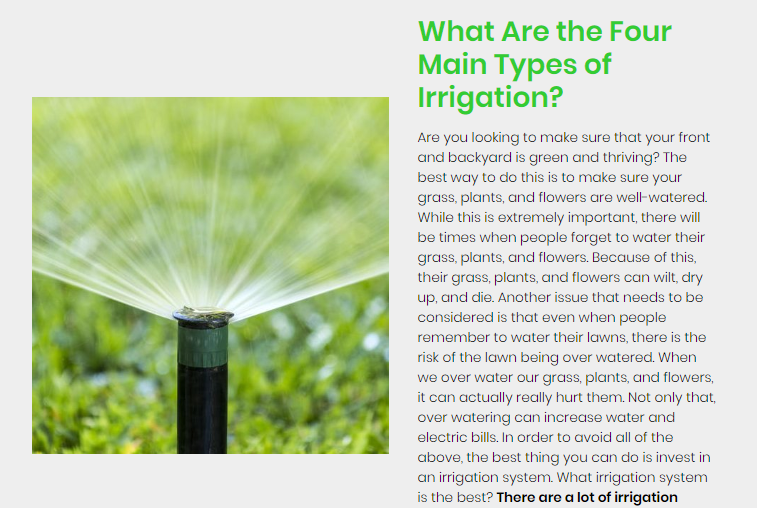 Irrigation Company Reputation Management
These days, online reviews are an essential commodity for any business. People rely on online reviews as much as they do word of mouth referrals. So be sure your company is listed with Yelp, the Better Business Bureau, and other public review websites, so people have the opportunity to tell other consumers about your business.
Be sure you and your staff are requesting reviews. And make it easy for them to leave reviews. Consider having QR codes printed on your business cards that lead to a review page. Include a link in any emails you send out that also leads to your review pages.
Link Building for Irrigation Business Websites
Websites with a strong backlink profile can more easily rank for relevant keywords. Of course, you'll still need to implement on-page SEO and publish high-quality content in order to rank. However, powerful link authority makes those techniques work much faster. You can acquire links by joining your local chamber of commerce and networking with other local businesses.
Other ways to earn links include guest posting on other relevant and trustworthy websites and submitting pitches to reporters via HARO. While acquiring links is a powerful SEO strategy for irrigation companies, it also comes with risks. For example, certain llink-building strategies (like buying links) violate Google's quality guidelines and can result in a manual penalty and de-indexation of your website.
The most natural way to acquire backlinks (aside from business networking) is to publish high-quality blog posts targeting informational keywords or data-driven queries. For example, several websites will naturally cite your blog post if it contains original statistics. You can expect to earn natural and organic links if you publish a data-driven post about the most common sprinkler types in a specific region.
Learn About Sprinkler Repair SEO
Of course, there is a lot more to SEO than what's listed here. Still, this would be a good start whether you already have an SEO strategy in place or not. And for irrigation SEO ranking dominance, be sure to enroll in Nolen Walker Academy. We can teach your landscaping business how to earn new customers through tried and true digital marketing strategies, so get in touch with our team today.