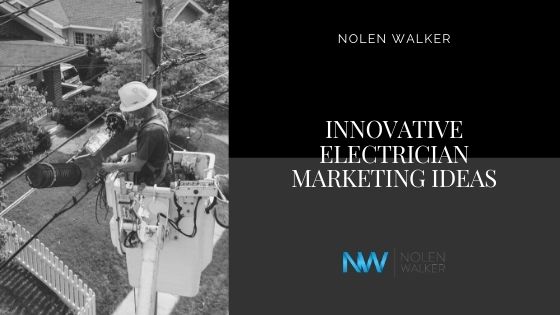 As an electrician, you provide an essential service. Still, many electricians compete for the same customers. So you must ask yourself one crucial question: Is your business getting noticed? If not, electrician marketing ideas can change the course of your business.
Digital marketing becomes so crucial for your business. An effective digital marketing strategy will help get your business noticed in a virtual sea of electricians offering the same services as you. 
The challenge is, therefore, launching an effective digital marketing campaign. To that end, we offer this list of electrician marketing ideas tailored to the trade.
1) Unions and Local Trade Organizations 
Getting backlinks to your website is one of the fastest ways to establish it as an authority. Backlinks are one of the top factors that determine which sites Google will index on relevant searches. But backlinks can be hard to come by. Fortunately, as an electrician, you have ins with your union and local trade organizations. Please become a member and request platforms list your site in their directory.
2) Content Marketing 
Content marketing can be especially useful for electricians. That's because homeowners often perform searches to learn more about their electrical systems. So ask yourself: will they find your website if they want to know how to repair a blown fuse? Content marketing allows you to share your industry knowledge and become an authority that people will trust when they are ready to hire an electrician. Blogs and video content are some of the most effective types of modern digital marketing. Post blog and video content that helps home and business owners navigate some common electrical problems. 
3) Local SEO
Electrical work is very much local work. Your business needs to get noticed by people in your city, town, province, village, hamlet, holler, or wherever it operates. There are plenty of ways to enhance your local SEO, but establishing a good Google My Business profile is one of the most important. Doing so is one of the easiest ways to make it into the Google local three-pack. And the local three-pack account for nearly half of all search clicks. And while setting up your GMB profile may not be a tip that pertains to electricians specifically, it is nonetheless crucial. Make sure you claim your business, fill out the profile as much as you can, that your business name is consistent across all digital platforms, include all the areas you service, and provide a detailed and alluring description of your business. Also, these days, it doesn't hurt to mention any precautions your business is taking to prevent the spread of the COVID-19 virus.
4) Virtual Consultations
Lots of contractors are getting their name out there by providing virtual consultations. Going virtual is a great marketing strategy if you are an electrician because many people are wary about having people in their homes. As long as you have Zoom, Skype, or are familiar with Google Hangouts, you can quickly provide this service. But don't forget to let people know about it. Announce that you offer virtual electrical consultations on your website, your social media pages, your GMB profile, your Yelp profile, and your business cards. 
5) Pay Per Click
Pay Per Click advertising is the right solution for electricians who are more or less running the entire show. You may not have a lot of time to devote to organic digital marketing strategies as they are quite frankly, time-consuming. Pay-per-click ads represent a relatively quick and straightforward solution to get your website seen by more people and get more potential leads further into the sales funnel. Pay per click ads accounts for 41% of click-through traffic on SERPs. Plus, the results are almost instantaneous. While you still need to be sure that you have informative and compelling content on your landing pages, pay per click ads can get the ball rolling for you with minimal effort. 
6) Contact Form Plugins
Digital contact forms are a vital part of the sales funnel. They provide potential customers the opportunity to set up service appointments or get the information they need easily. On your end, they can provide you with valuable market research and help generate a lead list. You can even use the information you garner (keep in mind that the data is provided willingly by the potential customer) to create an email list. Digital contact forms can be tricky, but there are some great plugins that you can use to create effective, custom contact forms quickly. WPForms, Jetpack, and Conversational Forms are some of the best plugins to use if you have a WordPress site. 
7) Email Marketing
Maintenance is a big part of electrical work, and it can be a huge "in" in terms of digital marketing. You can use an email marketing campaign to reach out to customers about service reminders and maintenance schedules. Email marketing can be beneficial because it makes the sales process that much easier for the client when they see your business name right in their inbox. A couple of things to keep in mind with regards email marketing though:
According to research, people are more likely to open your emails sent between 4 pm and 8 pm

Email campaigns that utilize segmented emails have a 

better open rate 

than ones that don't
Gain the Advantage
These are some of the best electrician marketing ideas you are likely to hear in 2021. But if you would rather leave your marketing strategy in the hands of professionals, we are here. At Nolen Walker, we specialize in helping electricians gain the marketing edge they need to grow their business. Talk to us about your electrical business today.