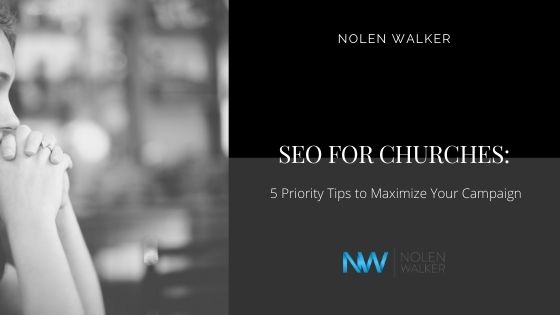 Many pastors, priests, ministers, and general clergy members fail to realize just how vital SEO for churches is. If you already have a website up for your church, then that's a great start; but it's not enough. 
People now find churches in different ways. If you want a thriving congregation, you will also need to change the way you reach out to the local community and beyond. SEO for churches is even more critical as we are now starting to recover from COVID and people feel more comfortable filling the pews. 
In the following post, we will be highlighting some essential tips on how churches can utilize SEO to reach more people. If you would like to start optimizing your church's website as soon as possible, get in touch with us here at Nolen Walker. 
1) Be Active on Local Listings
As a church, you may be listed on local business or community directories. If you're not, that's something you will want to do as soon as possible. If you are, though, it's imperative to keep up with it. There are a couple of reasons for that:
It is an excellent way to keep an eye on your NAP

It is a perfect way to keep an eye on reviews. 
Allow us to explain. NAP stands for Name Address Phone number. Incorrect NAP listings can adversely affect your church's local search rankings. Search engines don't like inconsistent information and will rank your church's website if they find conflicting information on it in various corners of the web. 
Examples of conflicting information include inconsistent church name, physical address, or phone number listings. So go through any site where your church is listed in an online directory and make sure that all the information provided is accurate. 
Some local directories allow people to leave reviews. The second reason it's essential to be active on local listings is so that you can reply to these reviews and manage them. The fact is that people will perceive your church with a higher degree of trust if you respond to their reviews, whether they be good or bad. So be sure that you are checking in on your local directory listings often and replying to reviews in a warm, kind, and inviting manner. 
2) Let the Locals Find you
Local SEO for churches is crucial. After all, the people who fill your pews aren't likely to be from two counties over. They are likely to be from the neighborhood. So you need to make sure that people in your area can find your church. 
One of the most effective ways to do this is to register your church on Google My Business. Millions of people use Google My Business every day to find local businesses, but they also use it to find local businesses and institutions. That includes churches. 
Google My Business is also an excellent way for people to find perhaps the essential information when researching churches: service times. Be sure to fill out your church's GMB profile as completely as possible, including service times, contact info, and high-quality pictures. 
3) Be Specific
What do people search for when they are looking for a new church? They will be looking for a specific denomination, a specific geographical region, and they will probably include the word "Church" in their search. 
If you want more people to find your website and learn about your church, you will have to be specific with the content. It's easy to assume that people know what denomination your church is. After all, it's on your signage, and everyone in your congregation knows. 
This assumption can cost you, however. If you aren't specific about what denomination your church is and where it is, you could be decreasing your online visibility. So, where do you include this information?
For written content on your website, start with your home and about pages. Clearly state that you are so-and-so denomination and where you are located (street address, city, and even state). Then try to include it naturally in other pages on your church's website and even in the page titles themselves. 
4) Start a Blog
A blog is a great way to increase your church's visibility online. It provides content for people to draw value from and allows you to use strategic church keywords that will help you rank higher on searches. 
Think of your blog as a mini-sermon that you can offer in digital format. It's not only important to start a blog; it's essential to post regularly. Search engines love fresh content, and they will prioritize it. Try to publish a new blog post on your website 1-3 times a week. 
5) Be Mobile-Friendly
Did you know that almost 60% of online searches are conducted on a mobile device? It's true, but the important thing is to ask yourself this question: is your church's website mobile-friendly? We end our list regarding SEO for churches with perhaps the most important tip: optimize your church's website for mobile. 
This means keeping image files as low as possible, compressing them, downsizing actionable buttons, keeping your most important content on the top of each page, and much more. A mobile-friendly website design is hugely important in 2021 – especially if you want to reach the youth. 
Mobile website design may not be your forte, though. Still, there's no need to worry or miss out on mobile users. That's because here at Nolan Walker, we provide complete SEO services, including mobile website design for churches. We can make sure your church's website is fast, responsive, and has everything that mobile users need to know about your church. 
That's only the beginning. We offer a full array of digital marketing services, including SEO for churches specifically. Grow your congregation by reaching out to us.