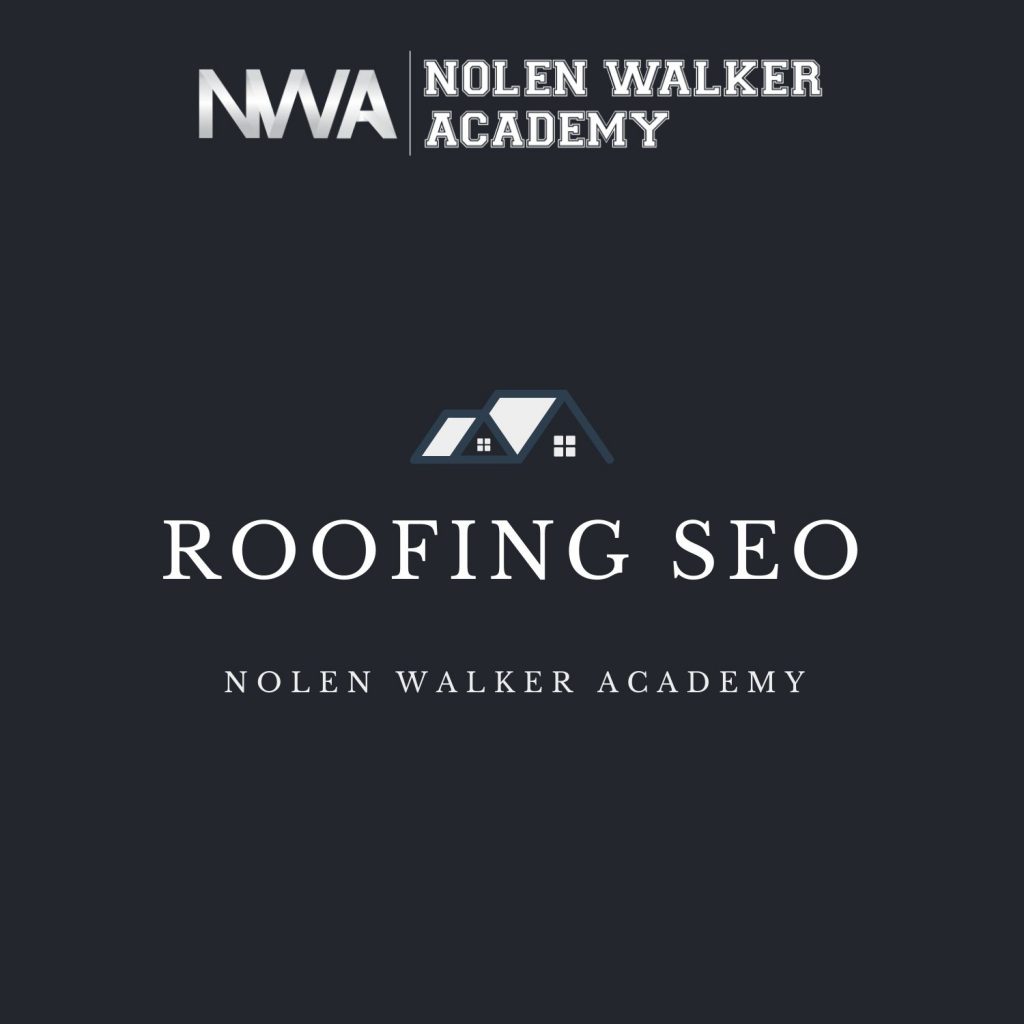 Nolen Walker's Roofing SEO Academy
Nolen Walker Roofing SEO Academy is the #1 Roofing SEO school in the United States. Learn about SEO for roofing contractors through virtual instruction with certified marketing experts.
In Nolen Walker's Roofing SEO Academy, you will learn:
How To Rank Your Roofing Website on Page One of Google
How To Generate Consistent Leads Through Organic Traffic
How To Rank on Google's Local Map 3-Pack
How To Optimize Your Google Business Profile
How To Use DataPins To Pick Up Long-Tail Roofing Terms
How To Rank in Cities Outside Your Main Office Address
Benefits of Nolen Walker's Roofing SEO Academy
Roofers play a vital role in society. They keep our homes and businesses safe and weatherproof. They often work hard under challenging conditions to get the job done. Roofing SEO is crucial for roofers because it allows them to reach more potential customers online and helps them to stand out from the competition.
With the right SEO strategy, roofers can increase their website traffic, generate more leads, and close more sales. Unfortunately, paying an outside marketing agency to rank your company is costly and frustrating. In addition, only 30% of businesses are content with their existing SEO provider. As a result, acquiring the skill set to rank is invaluable.
Avoid Working With a Bad SEO Agency
Most SEO agencies simply don't know what they're doing. Instead, they use outdated techniques that no longer work or focus on the wrong things altogether. As a result, businesses typically see little to no results from their SEO efforts, and they can end up spending a lot of money in the process.
There are a few good SEO agencies out there, but they're hard to find. The best way to find one is to do your research and ask for recommendations. And be sure to read reviews before you hire anyone. However, the best option is to learn the blueprint from an SEO agency and apply it yourself.
Save Money Long-Term
When roofers learn SEO themselves, they save money in the long term. This is because they don't have to pay an SEO agency to rank their website. Instead, they can use the same techniques that the agency uses, but for a fraction of the cost.
SEO is not a one-time investment. Instead, it's an ongoing process that requires regular maintenance and updates. When roofers do SEO themselves, they can update their website as needed and track their progress and results over time. This allows them to make necessary adjustments and improve their results.
It's also important to note that roofers who learn SEO themselves are in control of their own destiny. They're not reliant on anyone else to get them ranked on Google.
Control Your Online Presence
When it comes to roofing, branding is crucial. Roofers must create a strong brand identity that sets them apart from the competition. This can be done through various methods, such as creating a compelling logo, using effective marketing materials, and developing a solid online presence.
A robust online presence is essential because it allows roofers to reach more potential customers. Roofers can connect with more people who need their services by having a website, social media pages, and an SEO strategy. And by using the right keywords and SEO techniques, they can rank higher on Google and other search engines, which can bring in more leads and sales.
Nolen Walker Roofing SEO School Instructors
Nolen Walker's Roofing SEO Academy is the best place to learn about roofing SEO. The instructors are certified marketing experts who have years of experience in the industry. They know how to rank websites on page one of Google, and they can teach you the skills you need to succeed.
The instructors are passionate about teaching roofing SEO. They make sure that everyone who attends the academy learns everything they need to know. They use a hands-on approach, providing students with all the tools and resources they need to succeed.
Experience
Each instructor is a digital marketing professional that actively handles roofing marketing campaigns in 2023. Unlike other course instructors, our group puts their skills to work for real roofing companies. You will learn every aspect of digital marketing for roofing companies and reap the rewards for yourself.
Expertise
Our digital marketing blueprint has worked for hundreds of roofing contractors over the past two decades. If you're looking for the best roofing SEO training available. In that case, Nolen Walker's Roofing SEO Academy is the right choice for you.