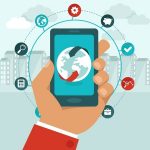 The trend of mobile search continues to progress as expected. Brightedge reports that 57 % of traffic is now mobile. Though there has been no official statement by Google or Bing, the numbers fall where most internet marketing projections would've anticipated. So what exactly does this mean for local service businesses? Hopefully you have been aware of this trend for some time, but if not, now would be the time to get on board. There are several things you should take care of immediately:

Local Keywords: Optimizing your website with local keywords is more important than ever, as Google provides custom results based on user proximity
Mobile-Friendly Website: It might sound redundant to harp on the importance of responsive design for mobile display, but if your website doesn't have mobile adaptability at this point, you might as well not have one
NAP Information: Accurate and consistent business listings on Google My Business and other online directories will likely determine the success of your company going forward
Review Management: Local customers want to see that you have reviews, and that they are mostly positive — you can generate more reviews by embedding links to your review profiles in your website footer
Before you think about any other aspect of your digital marketing strategy, you should ensure that each of these components are accounted for. The news from Brightedge merely confirmed the suspicion of most projections. And in 2018, the data is likely to continue trending in the direction of mobile traffic. If you are interested in investing more in your local business, call Add Positions today at  for Local SEO services.