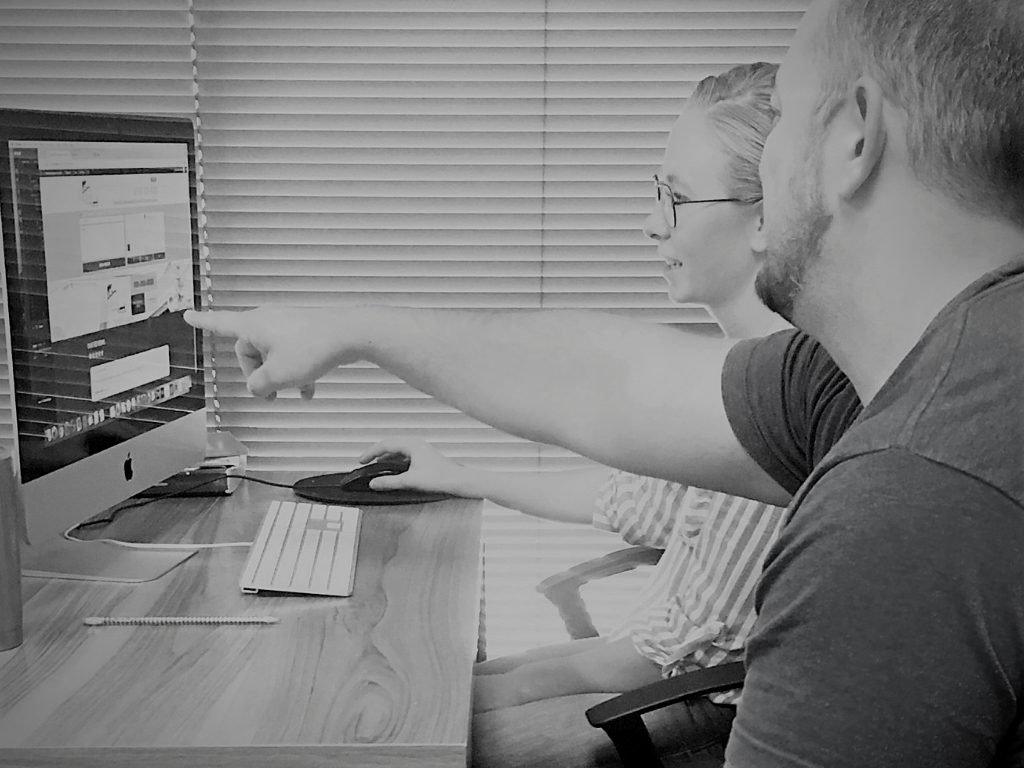 Every small business needs digital marketing in 2018, at least in some form. The degree to which the discipline is pursued depends on a variety of factors. Similarly, the execution of campaigns that are appropriately resourced, depends largely on the individual or company handling the marketing aspect of your business. Sometimes marketing is outsourced to large firms while other times it is handled in-house by on-staff marketing specialists.
Add Positions represents the former in that set of marketing examples. As a company that deals with businesses throughout all types of industries, we are a group that is "outsourced" to. While this is literally true, our philosophy helps us feel more like a member of our clients' teams, than someone who is only preparing for a short-term working relationship. We view our client-company relationships as partnerships. Not every outsourced (or in-house for that matter) marketing campaign will foster the same level of comfort.
What are Common Marketing Problems for Small Businesses?
The title of this post is not a teaser, or a doorway to attempt a sale. Instead, we deliver exactly what we promised through the title's implication. Because of our experience working with small businesses, we have real-life examples of individuals and groups, that have struggled to find their footing in the murky marketing waters that approach 2019 and beyond. When small business owners come to us, the majority of them have faced one or more of these problems:
Bad Experiences With Marketing Agencies
It's almost universal. Because of the demand for SEO and marketing services, most small businesses can name at least one poor experience with an agency. Because the demand is so great, the supply has appropriately matched its level of necessity. The problem is that not everyone providing these services are qualified to do so. So what usually goes wrong? See below:
Cost: The fees required by the service are hidden, deceptive, or inflated
Progress: No incremental improvements are made over weeks, months, and sometimes years
Reporting: The agency fails to report success or failures, and therefore avoids accountability
Salesmanship: The agency "worked" the client into believing delusions of grandeur about SEO
Those who've had a single bad experience are usually among the more lucky ones. Most clients we deal with have had several discouraging incidents involving marketing firms. Much of it comes down to misrepresentation in the sales process, rooted in greed from the marketer. They trick the consumer into believing they're paying for something that is mostly a sham.
Bad Experiences With In-House Marketers
Higher-end small businesses can sometimes afford to hire an in-house marketing specialist, though it's somewhat rare to have those resources available. In fact, businesses will often make this addition as they transition from a small to midsize business. Oftentimes their rise through the ranks was assisted by an outsourced marketing company, and they use the increased revenue to keep their future efforts in-house. Here's what usually happens as a result:
Contrition: The business regrets hiring the individual and wishes they went back to the firm
Disorganization: The transition ends up disrupting the campaigns' trajectory
Payroll: The in-house marketer ends up costing 2 to 3 x as much as the previous firm
Regression: The new marketer eliminates processes that were successful, depleting lead generation
This will not be true in every case of course. Some companies can absolutely afford to hire top notch in-house marketing experts. But for small businesses that have seen recent growth, the resources are still too limited to ensure an excellent prospect. Sometimes great workers emerge and that will always be ideal. But by and large, sticking with the firm that got you to where you are today is a more logical choice.
Specific Digital Marketing Problems for Small Businesses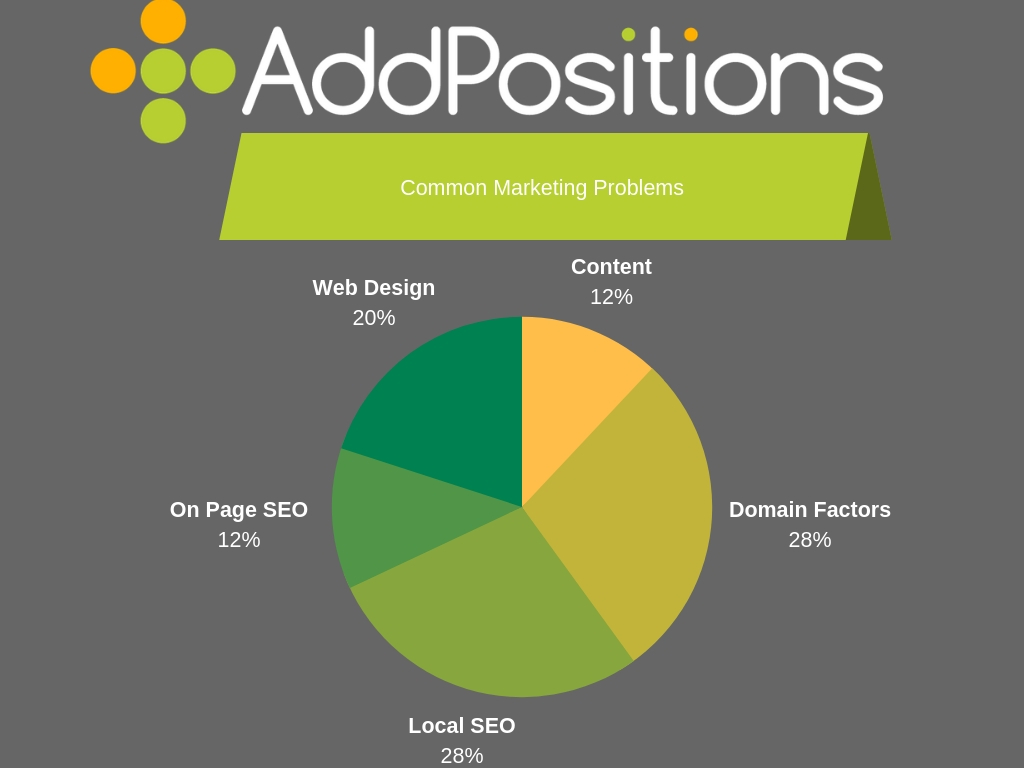 Content Quality
Let's face it, content is NOT king. This myth has been perpetuated by SEO's for years, but generally misleads small businesses. Don't misunderstand us however, the quality of web content is still important to online success, but it's not the end all be all. Many small business websites copy and paste content from another source. This is a horrible idea. The duplicate content makes your site less valuable, and while it may not cause penalty, the original content writer could take legal action. A content's quality is judged by the following:
Engagement: Does it capture the reader's attention and discourage bounces?
Grammar: Is it written by someone with a strong grasp of the language?
Relevance: Does it relate to the overarching subject of your website?
Uniqueness: Is it original or can it be found elsewhere on the web?
Small business owners may not write their own content simply because it takes up too much time … time they don't have. Solutions range from outsourcing content to freelancers, to hiring in-house writers. One pseudo-solution to avoid at all costs is content scraping, which is the practice of copying similar subject matter from another domain and publishing it on your own page. This is bad for everyone involved, from the user, to the original writer of the content, and ultimately your own site and brand. Instead, choose from the other two options, and invest in content marketing.
Domain Age
Businesses who've never had a website before are often frustrated by the amount of time it takes to establish organic visibility. Because of Google's trust metrics that involve the age of a domain, there's not much of a chance to rank on page 1 prior to the 6 month mark. For those looking to rank in the top 5 for competitive keywords, it's going to take 1 year at minimum. What does domain age signal to Google about your website?
Crawlability: Your site can be properly crawled and indexed by Google crawlerbots
Data: A large enough sample size exists to form a quantitative analysis of your domain
Reliability: Visitors of your site can count on a positive user experience
Trust: You're not some scam artists trying to trick consumers
The age of a domain is something you probably have no control over. If your business had the foresight to purchase your company's namesake .com years ago, then by all means, enjoy the fruits of your projection. But most new businesses didn't know what their company name would be last year, or several years prior. You can only work with what you have, and there's ways to supplement leads while the optimization process takes place.
Domain Authority
Even with a sufficiently aged domain and excellent on page optimization, a website may not rank well for competitive keywords. The site might be stuck on page 2 of Google results while competitors with similar sites are ranking toward the top of page 1. So what's the difference? Domain Authority. DA is a metric from MOZ that estimates Google's trust in a particular domain and has proven to be a strong predictor of search ranking. Factors influencing DA include:
Links to Domain: The number of external domains linking back to your own domain
Links to Page: The number of external domains linking back to a specific page of your site
Spam Score: The perceived spam-level of inbound links to your domain
Transference: The DA score of the linking domain, which when higher, makes a greater impact
Quality matters just as much as quantity, if not more. MOZ knows that Google prefers websites with high quality link profiles that indicate votes of confidence from other well known and trusted domains. Google has determined that the greatest indicator of online trust, aside from domain age, is the aforementioned votes of confidence from other sites. The concept allows the web to police itself in some ways. When you are associated with respected entities, consumers are more likely to trust you, and usually for good reason. Google has attempted to instill this idea within its search ranking algorithm.
Local Optimization
There's so many things that can go wrong with local SEO, if you don't know what you're doing. From Google My Business listings, to Google Maps locations, a local business MUST invest resources within this sphere of influence. Too often, GMB profiles are left unclaimed, and Maps listings inaccurate. Furthermore, websites themselves fail to properly associate with the GMB and Maps listings for a uniform representation of their company to Google and its users. Aspects of local SEO include:
Google Maps
Google My Business
NAP Citations
Website Contact Information
Other directories outside of GMB, like Yelp and BBB, matter too. But nothing comes close to the importance of Google My Business. Since most users perform local searches via smartphone, Maps listings come up based on how well or poorly they are optimized. This includes how appropriately they associate with your website's contact information, as well as other factors like domain authority and website design. Even if you're a small business looking to do the bare minimum for SEO work, you still must attend to local SEO, no matter what.
On Page SEO
Though SEO has expanded beyond the website page itself, its on page aspect remains vital. Simple processes like properly naming image files and entering their Alt Text are important tasks that many small businesses are unaware of. The same is true for the usage of keywords within headers, title tags, and meta descriptions. To rank well on Google, your site must meet certain baseline requirements in regards to on page SEO. Some of the concepts most often missed are:
Header Tags: Using keywords in H1's and H2's, without stuffing them
Image Optimization: Renaming image files in lowercase and entering Alt Text and descriptions
Meta Descriptions: A well written description that focuses on the first 110-130 characters
Title Tags: Publishing a clean, descriptive and keyword friendly SEO title
On page optimization is as old as the discipline of SEO itself, but it remains one of the most influential determinants of a website's rank position. There's more to consider in 2019 and beyond, but the baseline is still a requirement for a secure foundation. Skipping steps is not something any small business can afford to do. Because of this, investing in other areas but neglecting on page SEO is a mistake that can be costly in both the long and short terms.
Website Templates
Buying a template website might seem like a great idea in the moment. It looks attractive, it's relatively cheap, and it requires only a 1-click WordPress install. While the basics are certainly covered, templates leave a great deal to be desired from an SEO perspective. So what's the issue? Check out some of the ways that template websites hinder search engine optimization:
Coding: The code is scraped and plugin-heavy, making it harder for Google to crawl
Design: Templates are often mobile-accessible, but not mobile-optimized, which hurts mobile SEO
Redundancy: The template is used by many other websites and companies, making yours less unique, and therefore less valuable to Google and its searchers
Schema: The HTML contains no microdata known as schema.org, which helps Google ID your content
So what's the solution you ask? It's custom website design. When code is designed specifically for your company website, it will be unique to Google and far more likely to succeed on search engines. After All, google prefers customized websites with clean code, mobile optimization, and schema.org microdata. While you might have to shell out a little bit more for a unique website, its ROI will end up making up for the initial expense, and then some.
So What, Now What?
So you've read through common marketing problems for small businesses, but what actions can you take to move forward and to prevent your own company from stumbling? The answer is digital marketing services from Add Positions. As a full service agency, we handle every aspect of your marketing campaign. Everything from a custom website to on page optimization is included in our service. We perform blogger outreach to help scale domain authority ethically and safely. To review, some of the services included in Add Positions basic package include:
Blogger Outreach
Custom Web Design
On Page SEO
Schema.org Microdata
Our team looks forward to working with clients throughout all industries. We work with everyone from bridal shop owners to magicians, and everything in between. There's no company we won't work with, as long as you're willing to invest in your own marketing, and take the steps necessary to reach your fullest potential. Our years of experience marketing on behalf of businesses has provided us with unique insights that we can impart on you and your business!
Call  To Contact Add Positions Today!