The Importance of Maintaining a Business Blog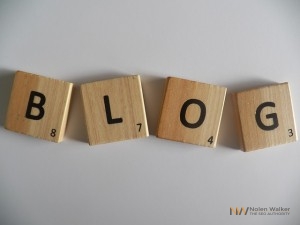 Part of the ongoing work we provide for our clients is the maintenance of an internal blog. Perhaps you have never considered creating a blog for your business. Or maybe you have one, but it hasn't been dusted off in a while. A blog will aid almost any business and is a wonderful SEO tool. However, for a blog to be successful, it must be maintained on an ongoing basis.
Wondering if you should invest time and effort into a company blog? The following are eight reasons your business should blog:
1: SEO Fuel- Maintaining a blog will first and foremost give your website an SEO boost. Google and other search engines favor websites that have ongoing content additions. An internal blog that is maintained will count toward onsite content additions.
2: Connection- Blogging is a fantastic way to stay connected with your clients. It is a source they can continue to return to for new information. This keeps them engaged with your company and ensures you are the first business that comes to mind when they are in need of your help.
3: Personality- A blog allows your company to express more of your business' personality. A website promotes your brand, but a blog allows for more of a human touch. By expressing your company's personality through blog postings, your clients will put more trust in you.
4: Expertise- When you add content to your blog that is relevant to your business, people will start to turn to you as an industry expert. Blogs are the perfect place to demonstrate your knowledge of your field and instill trust in your readers.
5: Localized – Along the same lines as personality, you can use a blog to discuss ideas specific to your local area. You can even mention local, newsworthy events. This helps people see you as a part of their community.
6: Informative- Above all else, your blog should be helpful to your readers. You should not blog simply for the sake of blogging. Instead, a blog should be a place where your client's questions are answered and useful knowledge is shared.
7: Informal- A blog gives your company an informal format to discuss things. Unlike your website which is a static, formal entity, a blog allows for more informality. It is a great way to demonstrate the human side of your company.
8: Social- Your blog also serves as a great tool for social media. When you create new entries, the blog can be disseminated out across all of your social media platforms. This fuels not only your content management, but your social media campaign also.
If you are ready to reap the benefits of a well maintained blog for your business, give us a call. We provide blogging services for our clients on an ongoing basis which helps boost their online rankings.