What is Tree Service Marketing?
Tree service marketing is the process of promoting a tree removal company with the intention of generating high-quality leads that can convert into new customers. Techniques used to execute a marketing plan include SEO, PPC advertising, social media advertising, and traditional promotional tactics.
Tree Service Marketing Ideas for 2022
Strategizing how to grow a tree service business is difficult to do. In a company like the United States, many markets already have a handful of established tree care companies with huge budgets and a mile-long head start.
Trying to compete with odds like that is something that simply can't be done if for no other reason than they can outspend you if they so choose.
That doesn't mean that you can't compete and grow your business, though. Most tree service companies rely on similar marketing tactics, so making a name for yourself can be about picking the right battle.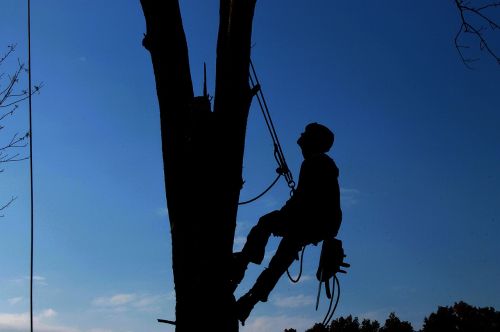 With the right advice, you can start generating tree service business leads that will not only grow your business but won't require draining your bank account to do so.
Tree Service Facebook Advertising & Marketing
Despite all the flack that it has taken in recent months for the handling of private user information, Facebook remains a giant when it comes to marketing potential. There are, however, some marketing companies that specialize in tree care that will tell you to avoid Facebook.
Oh well, their loss is your gain. Creating a Facebook business page is essential and can give you a litany of new opportunities. It is one of the easiest ways to build your brand and the values that are behind that brand. But ultimately, Facebook is a tool for how to get more tree work.
It is also a way to communicate with customers to share deals, spread the word about your business, and communicate with happy customers that have previously used your service. And most of all, it is one of the cheapest and easiest ways to run your own ads.
Ad campaigns for tree service companies generally focus on immediately measurable results and immediate returns. The problem with this is that it can also undervalue the aspect of social media marketing, like Facebook.
Think about it. If someone sees one of your posts on Facebook, clicks through to your website, and then calls, companies would say that the website did all the work. Similarly, posting informative content might not get you immediate calls, but it does help to strengthen your SEO and expand your network.
Think of it as a "word of mouth" form of marketing. Only, well, word of keyboard. In any event, Facebook marketing is a serious opportunity to market your tree service company in order to grow potential leads and generate revenue.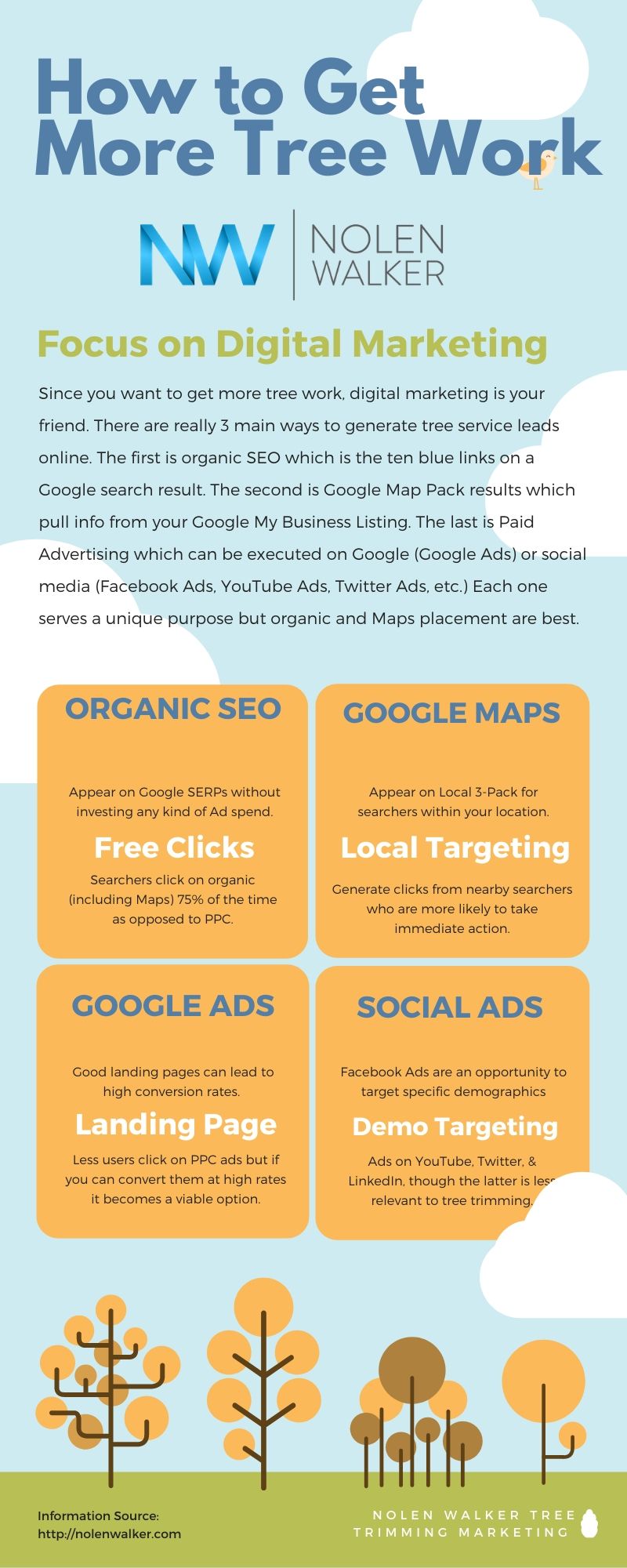 Google My Business for Tree Trimming
Google remains one of the internet giants because it is the place to go for anyone with any questions about, well, anything. Because of this, Google's My Business listings are a wonderful marketing tool. Appearing in the Local Map can help you generate free leads for your tree service.
You can set up a listing for your business for free, and it only takes a few minutes to complete. It is important to note that you must ensure that all of your information is properly filled out. People will skip steps and wind up with incomplete information, which does not get the most out of a Google My Business listing.
Having this local listing makes you eligible to show up for local listings for keywords relevant to your business. Part of the problem that companies have is that they cut corners or don't utilize them effectively. Here is how to positively use Google My Business:
Use your actual business name. Your business has to be precise with no added keywords. Fake names are easy to correct, and businesses that try to implement them are generally harder to find over the long term.
Use your actual business phone number. If you are thinking of using a tracking phone number, don't. Google will check it against all the other data they can find on you; inconsistent data typically means less visibility for your business in searches.
Use your actual business address. Many businesses try to use a virtual office or P.O. Box, not realizing that it can do a lot of damage to your visibility. Use your real address, even if you work from home. You can hide it from searchers, so they can only see your service area.
Include categories that make sense. For tree service companies, other things are typically offered. If you do lawn care and landscaping, include them. This broadens your visibility in the eyes of search engines, and you can always refine this later.
Include your entire service area. You can always constrict this to your ideal service area later when you can afford to be picky.
Include hours of operation. This is another data point that Google uses to decide what companies to show in its search results. Your hours of operation can be one thing that sets you apart from the competition.
Add photos. Add real photos, too. Photos of equipment, work performed, and employees. This is because businesses with many photos tend to show up more frequently in Google searches. Make sure that you rename image files to include specific services and cities to give you an extra edge.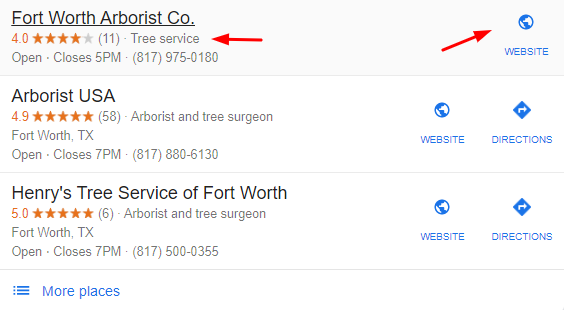 Google My Business can make a huge difference in your marketing while drastically helping your SEO. If you don't have a Google My Business listing yet, you should make it one of your next goals.
Tree Service Referral Program
The aforementioned word of mouth continues to be one of the most powerful forms of marketing around. This remains true for one important reason: people trust people they know more than they trust your business.
That makes sense, so why not leverage that aspect? When you have a happy customer, try offering a referral fee. Something like "if they refer you a new client who spends $100, you'll send them a $10 gift card."
Something along those lines gives them an incentive to actually tell people about your business instead of "keeping you in mind." This can mean a huge uptick in bookings if you have quality services. There are a few common mistakes, though.
Don't be cheap about it. If you have to spend an inordinate amount of money to get a few bucks, people won't bother. Not only that, pick a plan and stick to it. Having multiple deals can get confusing, leading you to mix up who got what deal.
It also goes without saying that you must give exceptional service to those who receive recommendations. If you provide flaky or uneven service, there won't be another recommendation for that first person.
Also, consider to who you give this offer. There are some sources, like real estate agents, that could potentially send you hundreds of clients to take advantage of those referral bonuses. You could even put a cap on the total number.
Local Business / Non-Profit Partnerships
Regardless of how many five-star reviews you receive, you likely will never be as popular as a nonprofit. To put your business on the map, find a local nonprofit that you share values with or is doing something particularly amazing within the community.
Ensure that they have a sizable local presence but that they are small enough to have value in your help. Then make them an offer like this: 5% of total revenue goes straight to charity in exchange for promotion.
Many smaller charities will likely jump at this opportunity as it is an obvious benefit for them. Even better, you get the extra promotion and a boost for having your business' name attached to their good name.
You need to make certain that contributions are defined throughout the project, though. Don't assume that they'll put the offer on their Facebook, in their newsletter, or on their home page. Make it clear what you are looking for from the jump, so there is no miscommunication or misunderstanding.
Even if it only results in a marginal uptick in business, you can take pride in knowing that the effort went towards a good cause. Ultimately, it benefits all parties involved: you get the attention your business needs, and a charity gets valuable funds for its cause.
These are just a few of the methods that a tree care service could implement to substantially improve its marketing efforts. For smaller businesses, the key is consistent growth, not an explosion in business.
These are methods of marketing that are meant to promote steady growth over a long period of time. The key here is to have patience. You won't see a huge uptick overnight, and that is okay. Again, this is about steady growth.
Building a successful tree care business definitely is not an easy job. But with tips like these, anyone can be far more prepared to turn it into a successful endeavor. There are, of course, other methods to pursue, like SEO. That is one of the best ways to market a tree care business, whether you are a startup or an established business.
But for now, these tips should help you toward a more successful path.
Source: https://ctpa.org/membership-application/
Learn The Tree Trimming Marketing Plan at NWAcademy
Marketing is only as effective as its measurable results. It is very difficult to achieve sustainable success if you do not track your wins and losses. Obviously, the goal is to generate tree service business leads, but the routes in which you reach that destination are the most measurable. We often hear from arborists who want to know how to grow a tree service.
It is not rocket science to perform well online, but it does take patience and a real understanding of how digital marketing works. Is there a single best way to promote a tree service? The answer is no when considering the different challenges that arborists face depending on their budget, location, and other dynamic circumstances. Sure, you can pay services dedicated to finding tree removal jobs, but those seldom allow you to sustain success with your business over time.
Setting up Google Analytics and Google Search Console allows you to track where your leads are coming from and which keywords generate the most outside interest. You can also notice things like search impressions and click-through rates. If you have a high impression on a keyword but a low click-through rate, there is something about the page that is discouraging customers.
Arborists can enroll in Nolen Walker Academy to learn how to maximize their digital marketing campaigns in 2022. Nolen Walker Academy provides the highest level of SEO training for business professionals. We aren't some guru selling SEO courses without ever doing SEO, as we've worked with thousands of businesses over the past decade.