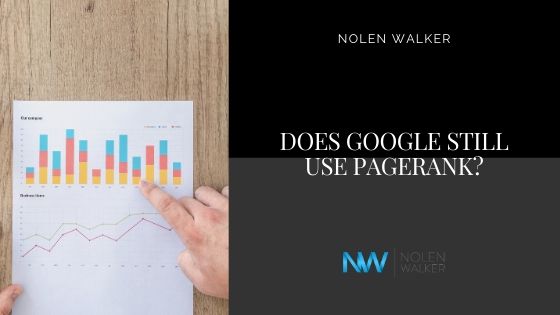 It is not out of the norm for Google to make substantial changes in the way that their search engine rankings, as well as other aspects of their search algorithms, operate.
And in the 1990s, there was a tool that they had implemented known as Google PageRank. There have been rumors that Google PageRank has died off, no longer implemented by the search giant in any way, shape, or form.
The short answer, according to Google itself, is that Google PageRank is still used internally. We will get more into what Google PageRank is, its importance, and any other pertinent issues surrounding its existence.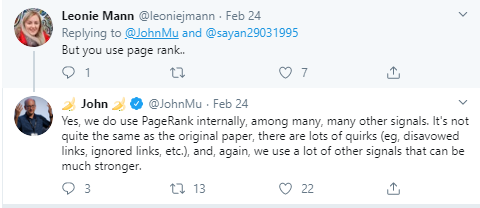 Source: Twitter
What is Google PageRank?
Putting it simply Google PageRank is a mathematical formula that is used to judge the value of a page by looking at the quality and quantity of other pages that link up to it. This method is meant to determine the relative importance of a given page in a network like the World Wide Web.
Google PageRank was created in 1997 in a research project at Stanford University and was created to improve the quality of web search engines. And that is because search engines back then were nowhere near as efficient as what Google is today.
The aim of Google PageRank was to solve the problem of indexing and washing out "junk" results that didn't have anything to do with what the user was looking for. It attempted to do this by making use of the "citation (link) graph of the web".
The inspiration for Google PageRank was derived by the way that scientists gauge the importance of a scientific paper or the number of other papers that referenced them. This ideal became
How Does Google PageRank Work?
We won't give you the formula and explanation provided in the original paper from back in 1997, instead offering a little bit simpler of an explanation. Essentially, Google takes three factors into account when calculating the PageRank for a web page.
Those three factors are the quality and quantity of inbound linking pages, the PageRank of each linking page, and the number of outbound links on each of the linking pages.
Google PageRank also has what is known as a "damping factor" that is meant to simulate the probability of a random user continuing to click on those links as they browse. The perception here is that it will decrease with each link that is clicked.
Put it another way: Google PageRank thinks of links as votes and a page linking to another page is essentially like casting a vote. This makes linking to relevant content important and the pages with more links tend to be a lot better resources than those pages that nobody links to.
Google PageRank also looks at the importance of the page that contains said links. Pages that have higher a higher Google PageRank will carry a heavier weight in their "voting" than pages that rank lower. But don't think that more links means a better rank. Pages with fewer links actually have a higher weight than those with a ton of links to them.
How is it Important?
Here's the thing: Google PageRank is just one of many factors out there that will determine where your page appears when it comes to search results ranking. If all things were considered to be equal, PageRank actually could have a pretty significant impact on all of your rankings.
That being said, there are certainly flaws within Google PageRank. Whenever there are implementations in the ranking system, people will inevitably exploit the data involved. You may have heard of Google Bombs; this is a form of Google PageRank manipulation and Google acts to take precautionary measures to change their ranking formula.
There is also the method of "link farming" in order to manipulate the Google PageRank listings. This is the practice of linking without considering the relevance of the pages being linked. Not only that, link farming is generally automated as well.
You may have run into a webpage in your time on the web that seemed like a random collection of links to other websites; this is exactly what a link farm looks like.
Seeing and Increasing Your PageRank
Everything in Google PageRank is measured on a 1-10 scale. Not only that, it is assigned to individual pages instead of whole websites. It is a rarity to find a page that has a Google PageRank of 10, especially when you consider the ever-increasing number of pages on the internet.
In order to increase your ranking on Google PageRank, you need to have relevant backlinks from other relevant websites around the web. The best way to achieve this is to have quality content that others around the net want to click on. This is often not something that can be achieved overnight and takes consistency to pull off.
Google has admitted that they do not use PageRank as they originally did back in the 1990s. They use it more for internal measures, though just how much it is used is still a bit unclear. Google's John Mueller has said that they use Google PageRank more as an internal signal than anything else and that they use it in accompaniment with other aspects.
While there are certainly a wide array of measures that determine the overall Google ranking, it appears as though Google PageRank has maintained a level of importance, though it appears to be dwindling with time.
The general principles are still important – creating backlinks from other relevant websites around the net, a practice that can't be manipulated quite like it could back in the early days. Still, it isn't a perfect system and it is just one factor in a plethora of factors that determine where a webpage and website rank in Google's search rankings.
Adhering to the principles set forth by Google PageRank is a great idea for web pages as a general practice to ensure that the right practices are being implemented to allow for the best possible page rankings.