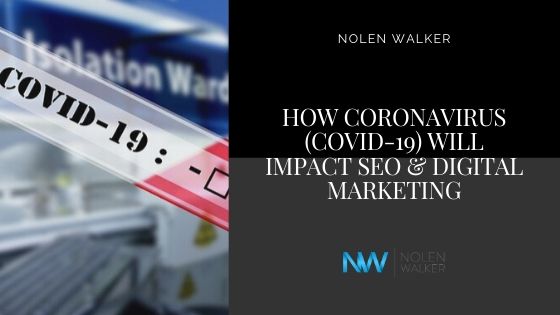 With predictions of Google seeing a 15% decline in travel ad revenue as well as a 20% drop in the second quarter thanks to the outbreak and Facebook facing serious drops in their total ad revenue in those travel and retail sectors, it begs the question as to what coronavirus (COVID-19) means for the rest of the internet in terms of digital marketing, SEO, and digital budgets.
To say that coronavirus has made quite the impact would be putting it very lightly. Schools have been closed, public events of the highest magnitude (hello, NCAA tournament) have been canceled, and even the NBA and NHL seasons have been suspended.
Seeing the impact that this virus has had on the physical world is substantial enough. But it leads to questions about what kind of impact that the coronavirus can have on the SEO and digital marketing worlds.
Ad spending is expected to fall in a lot of sectors and analysts expect that giants like Facebook and Google will see ad revenue declines for things like travel or areas that are affected by global travel issues.
What does this mean? Ultimately, media buyers and marketers are re-evaluating the short-term advertising strategies that the coronavirus has had an impact on. The outbreak has resulted in serious issues that could persist for up to six months based on the predictions of experts.
Google's Pivotal Role
Since the United States and many other parts of the world are essentially on hold, many wonder whether Google's major algorithm updates will also be temporarily suspended. At times like these, it would be devastating for businesses to lose major rankings while also combating the adverse economic impact of the outbreak. But the flip side to this rationale is that a frozen algorithm could invite targeted manipulation by digital entities with the assets to execute such a plan.
Aside from SEO as an industry, Google will need to step up as a community aid during this time of crisis. They have already been tasked with creating a website to help manage the coronavirus outbreak (although there's been some confusion about what the site will actually present). Aside from this special task, Google is also populating COVID-19 related queries in the autosuggest mechanism of its search engine.
Concerns about Supply and Demand
There is little question that the supply chain impact on inventory is beginning to be felt in advertising spending. With so much production based out of China, there are concerns about maintaining inventory. This means that ads that run digitally may not be viable if the current stock cannot keep up.
If key products go out of stock, that means that Google search and shopping budgets could be cut as much as 40% based on anticipation. For example, a luxury international travel business has faced budget cuts of more than 50% from previous months and this is across all digital channels. Though there is flexibility to move some of that remaining budget to other channels and campaigns that many be more effective, there is definitely less to work with at the moment.
There are some businesses that have put a complete stop on their digital ad budgets as well. In the hospitality and events industries, advertising budgets have been effectively turned off since coronavirus restrictions on gathers has played such a monumental impact.
Another big factor to consider is the suddenness of all of this. The outbreak had people concerned initially, sure, but the banning of travel, the restrictions on gatherings, and all of these other cancellations and bannings have sprung up in the last week alone.
As the outbreak continues, and we learn more about it, that will lead to adjustments in the way that these situations are handled. The same goes for digital marketing and ad demand in the face of the coronavirus outbreak. It may take time, but the budgets will come back around at some point, even if they are aimed at different niches.
A Feeling of Uncertainty
It is the uncertainty of everything right now that has most businesses of all types on edge. Not knowing what's coming, not knowing the impact that it will have, keeps businesses from making the plans that they need to move forward and remain successful and profitable.
In some instances, demand hasn't dropped, but trends from around the globe have marketing clients feeling wary and cautious. Amazon revenue, for example, is clearly down, but there is uncertainty about whether this is a trend or a lasting effect.
Budgets for marketing agencies and digital advertisers remain something of a day-to-day plan. Some clients have not changed their marketing strategies while other budgets have to be handled delicately as the coronavirus outbreak unfolds and more bans are put into place.
And even though some of those marketing firms have seen clients stay the course, there is a distinct feeling that they are definitely nervous about where things are headed and the drastic changes that we have seen in just the last two weeks.
There are sectors of the marketing world that seem to be unaffected by everything, but those clients still remain rightfully cautious. Seemingly overnight, the coronavirus outbreak has had a tremendous impact on some of the biggest names in retail, both online and offline.
That cautiousness has led those seemingly unaffected clients to tell their brand managers and e-commerce managers to be prepared to pull back spending. This is because the rapid movement of coronavirus restrictions and bans can change the game for any industry at a moment's notice.
Bucking the Trend
Having said that, not everyone sees budget-cutting to be the answer in these trying times. For those who operate heavily on trade show circuits, there is an effort to find a way to digitize the experience so that they don't lose the leads they would normally pick up at those events.
Essentially, it has created the need to adapt, not avoid. Cost-cutting is understandable in some arenas but there is room for tweaking and adjustment. This can mean reallocating budgets elsewhere in the short-term to provide the answers that are needed to keep business moving without a substantial drop off.
For those aforementioned tradeshow circuits or businesses that rely on touring, putting more money into digital marketing and SEO can be the solution to that obvious deterrent. For companies that have aggressive goals to meet this year, that shift to digital marketing (and thus increase digital budgeting) can be a way to increase revenues in the face of a potential downturn. It really depends on the niche, the company involved, and the way that they attack the problem.
Shifting budgets will certainly be one strategy that many companies implement during the course of the year. That, in turn, could drive up competition and prices for media. That means that advertisers could continue to feel something of a squeeze even after the coronavirus panic fades.
The Biggest Impacts
Where the greatest impacts will be felt as far as digital marketing is in the travel industry and that should go without saying. Even if there hadn't recently been a ban on international travel from President Trump, people will be more and more reluctant to want to travel. It only increases the chances that they catch the virus and that alone has everyone panicking.
Major outlets like Expedia expect to lose in the range of $30-$40 million because of the effects of the coronavirus outbreak and the widespread panic that has ensued. What isn't realized is the effect that this has on businesses in the hospitality and restaurant niche.
Think about it: if far fewer people are traveling due to restrictions and fear surrounding coronavirus, the hotels, and restaurants that those travelers frequent will see less business as well. It is a domino effect that is spreading into the digital budgets of those companies and continuously trickling into other areas.
The impact on SEO is clear as well. Most see SEO as a means towards ranking in the top of the searches, but that isn't the only reason. The reason is sales and a recession in sales can have a wide-reaching impact on the SEO game.
Search marketing can be heavily impacted because clients tend to drop off if they can no longer afford to pay for consulting. There have been lessons learned from similar situations in the past to not be completely caught off guard by a global panic such as this, but those lessons can only teach so much.
In the end, patience and adaptability will be the biggest keys for digital marketers and SEO specialists. Clients will panic and some will pull their marketing and advertising budgets. But the smart ones will tweak their approach and find other avenues in the short-term.
These adjustments may not prevent losses from occurring, but they can help to stifle those losses that would be larger in other situations. Besides, the coronavirus outbreak is not expected to be a long-term issue, just one that could last the next six or so months.
Conclusion
While the initial impact felt by digital marketing agencies and their clients is apparent, things have shifted into a "wait and see" attitude for the most part. Budgets being cut seems like a temporary solution to combat restrictions and difficulties put forth by coronavirus-related restrictions and bans, but there are definitely limitations on where these impacts are felt.
The industries that are most heavily affected by these restrictions and bans will likely shift their advertising dollars to other areas, though the impact remains to be seen as the internet has created the most powerful marketing tool out there.
Until we know more about the impact of the coronavirus will have and how long these restrictions and bans will be in place, the best thing that digital marketing agencies can do is to wait and see. Shifting funds may work in the short term but who knows how it will look over a six-month period or longer.