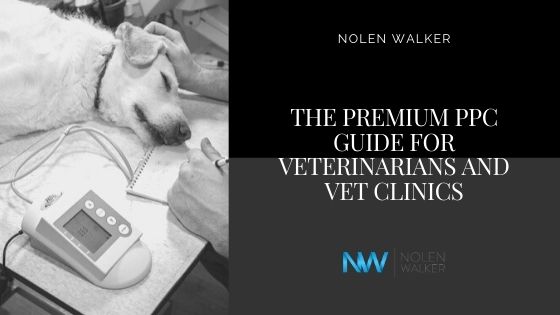 What is PPC for Vets?
PPC for vets is pay per click advertising that targets pet owners needing nearby vet clinics and help for their animals. Strategically placed Google Ads can help veterinarians attract valuable customers through online advertising. 
PPC's Effectiveness for Veterinarians
While SEO and website design provide the most significant ROI for veterinarians, a PPC ad campaign can give pretty much any business a real shot in the arm. And even though this type of advertising has a broad reach, it still has to be tailored to the business's individual needs. Targeting is where many business owners and marketers make mistakes with their PPC ad campaign and end up with a less than satisfying ROI (Return On Investment).
Low ROI is a particularly relevant pitfall for veterinarians and vet clinics. You have to realize that many PPC ad services are geared more towards selling products. These types of ads wouldn't be of any use to you. Many PPC advertisers don't take a custom approach to craft ads for their clients, either. Some of them even use cookie-cutter marketing platforms like BuilderAll so that they can churn out PPC ads quickly, with little to no regard for the ad's effectiveness. 
As a veterinarian, you have to get your ads out to people who require your services. It would help if you got people through your doors. So in the following post, we will be providing you with a crash course guide to PPC for vets specifically. 
How do PPC Ads Work?
For the uninitiated, PPC stands for pay-per-click, and they work pretty much as the name suggests. You hire a company to create and run your ad on some online platform, and every time a consumer clicks on the ad, you pay a negotiated fee beforehand. 
What are the Benefits of PPC?
You can set a firm budget of how much you want to spend on them

Ads can target your demographic specifically

They can result in 

50% more conversions

 than organic marketing

They can provide you with valuable market research through strategic traffic tracking

The results are almost instantaneous
What Options Do Vets Have?
As a veterinarian, it's essential to know all of your PPC ad platform options because some will be better suited to your business than others. Here are the features that most PPC services will offer you:
Social Media PPC

 – Social media PPC can be very useful for one critical reason: most PPC ads that run on Facebook, LinkedIn, and Instagram are native ads. They appear in the user's story feed, and they don't look like ads at all. They look like social media posts, so the users tend to check them out for longer. Before they know it, they are aware of a brand or service they'd never heard of before. Maybe it is for this reason that native social media PPC ads garner 

18% more purchase intent than 

other ad forms. 

Pay Per Call

 – Instead of sending people to a website, click-to-call ads automatically connect the user's mobile device to a number of your choosing. The pros: click-to-call ads result in 

4 times more conversions

 than website ads, they cater to mobile users (of which there is an ever-increasing amount) and fulfill the needs of pet owners in need of emergency care. The only con is that they are only accessible to people on mobile.

Search Engine Ads:

 This type of PPC ad appears when someone searches for a keyword that you choose beforehand. The pros: These ads show up at the top of a relevant SERP (Search Engine Results Page) even above organic results and target a specific geographical area. The cons: the keywords you want to rank your PPC ad for may be highly competitive and expensive.

PPC Display Ads:

 Display ads are the most generic types of PPC ads. And if you're a veterinarian, you probably won't be able to benefit much from them. Display ads can be virtually any image posted almost anywhere on a website, on a YouTube video, or a social media post. 

Remarketing PPC Ads:

 Now, these can be especially beneficial PPC for vets. Remarketing ads are a type of display ad – in the sense that they appear in the places that display ads do. But they are specifically targeted to people who have recently searched for certain things or visited certain websites. For example, let's say someone does a Google search for "flea medication for dogs." In a remarketing PPC ad campaign, your vet clinic's ad can show up on subsequent sites that person visits because they qualify as a lead for your business based on their search activity. 
Targeting
Another great benefit of PPC for vets is that you can target your ads in various ways. Targeting helps you narrow down your audience so that your ads only show up for people who are most likely to visit a vet (at least that's the goal). Reducing impressions also helps you save money on wasted clicks from people who clicked accidentally (and you still have to pay) or people who don't intend to pay for veterinary services. The types of targeting options you should know about are:
Geographic Targeting – 

If you operate a vet clinic, you are most certainly running a local business. Geographic targeting will display your PPC ad only to people within a certain radius of your office.

Website Targeting – 

People looking at hunting rifles online probably wouldn't click on a veterinary ad. Website targeting will display your ad only on relevant websites.

Demographic – 

This type of targeting allows your ad to reach people of a certain age, socioeconomic bracket, gender, etc.
Marketing and PPC Ads Services From Nolen Walker
Here at Nolen Walker, we offer veterinarian marketing and PPC ad services specifically beneficial to vets. What types of ads are most helpful to vets? Social media, Google ads, and remarketing ads tend to generate the best results for vets specifically. Get more business with our help today.