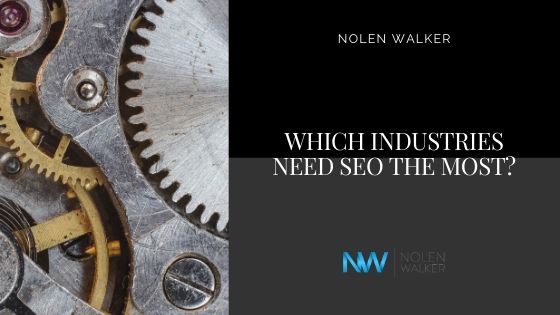 If you have a website and an online business, there is little to no doubt that you have heard all about SEO at some point. It is preached that SEO is an essential part of any business online and that's because it is the truth.
SEO is there to help give smaller businesses a fair shot at generating consistent organic traffic through related keywords. Being able to capitalize on a strong SEO game means keeping your business competitive even with the smallest of budgets.
Still, there are companies out there that do not need SEO as much. For these businesses, digital marketing channels like Facebook ads, PPC ads, or organic social media followings can generate more clicks and revenue than even the strongest SEO game.
The thing is that there are definitely some industries that rely more heavily on SEO than others. Understanding which industries need SEO can provide you with the information necessary to ensure that your business, should it fall into that category, meet proper SEO standards.
It is all about return on investment (ROI) for your business. Getting the greatest bang for your buck means finding methods of reaching your target audience without having to break the bank to do so. This is why determining which industries need SEO is so important.
Which Industries Need SEO?
As it stands, there are so many marketing channels available to businesses, both on and offline. This can range from television ads and billboards to more modern methods like interactive video or PPC ads. The point is that there are a ton of different ways out there to spread the word about your business to garner new customers.
But it is important to keep in mind that different industries will get different results from different types of advertising media. Knowing which industries need SEO means determining what kind of product or service that you are offering, where your target audience is spending their time, and a whole other list of factors.
There are industries, however, that are so highly regulated that their methods of advertising are severely limited. Knowning which industries need SEO is so important: it helps to mitigate the limitations put forward on those regulated industries.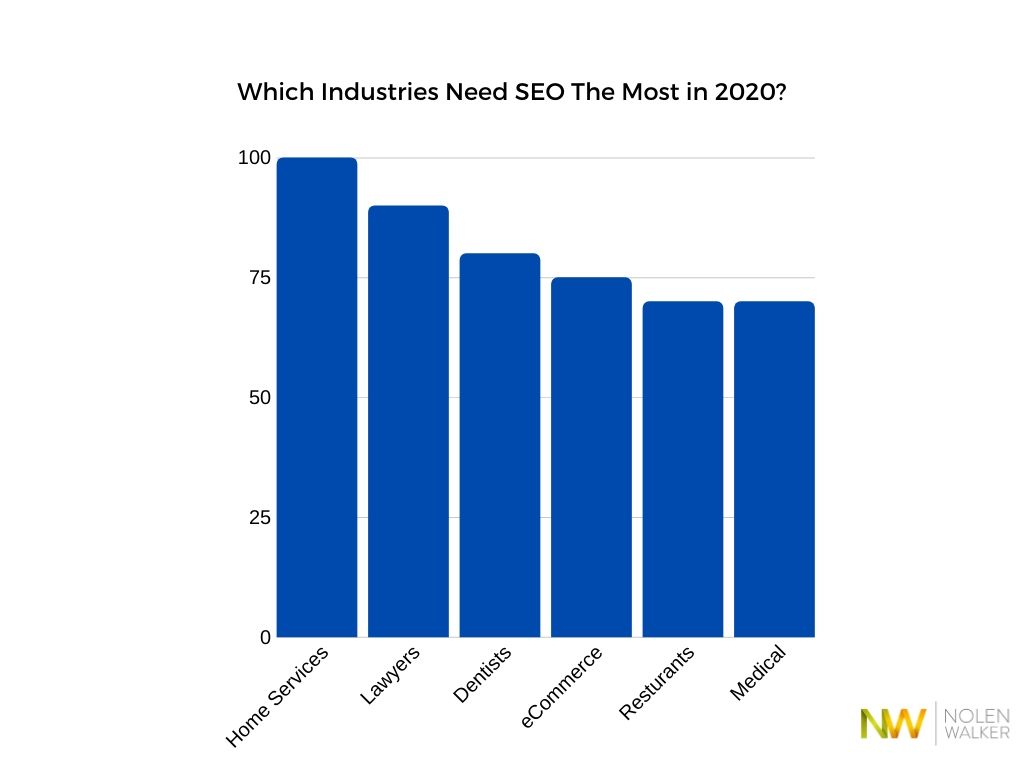 Home Services
Home services like plumbing, roofing, and HVAC all need SEO to survive. They generate many of their leads through Google's Local Map Pack and would be unlikely to survive in today's climate without some sort of optimized online presence. Other examples of home services include water restoration, construction, garage door repair, lawn care, tree trimming, etc.
Lawyers
Law firms need SEO in a highly-competitive field. The reality is that lawyers can be ruthless and that includes their SEO campaigns. As is the case with home service businesses, lawyers will show up on the Local 3-Pack for relevant search queries. The difference in review generation, listing optimization, and website optimization can determine which lawyer generates the most local leads.
Dentists
Like law firms, dental practices tend to go after SEO pretty intently. SEO for dentists is a growing business and many practices have found measured success that would have not been otherwise possible. Building a dental website for SEO is fairly straightforward if you know the basics. With that said, local optimization will be just as important, as it is with home services and local law firms.
Other SEO Industry Options
Low-Competition Industries
If there isn't a ton of pre-existing competition, the search engine results pages can be ripe for the taking. When it is easy to rank for low-competition keywords that also reflect the intent of what your audience is planning to buy, investing in SEO is definitely something to do.
Understanding which industries need SEO comes down to a variety of factors, but access to keywords is one of the biggest. If you're in a hyper-local market, you can achieve better rankings through a local SEO effort instead of striving for those national rankings that can be difficult to obtain.
But if you are in a low-competition industry, implanting a strong SEO strategy is an excellent decision to make. It keeps your business at the forefront of those localized searches and makes your business the one that comes up for those relevant Google searches.
Brick and Mortar Businesses
Local SEO is a great way for those geographically restricted businesses to better reach their target audience. Instead of competing for national rankings, sometimes with heavyweights within a given industry, targeting that local audience can be highly beneficial.
Determining which industries need SEO might be a bit of a broad stroke. Think of it like this instead: local businesses definitely need SEO. After all, it is the quickest way into the minds of your target audience as that target audience is localized.
SEO can be a great source for brand new, localized customers and can be beneficial for businesses of all kinds across all industries. If your business is brick and mortar, you don't need to know which industries need SEO; you definitely will need to.
There are a ton of examples of why local SEO is so essential for those brick and mortars. Maybe you're a local service company. When toilets overflow and pipes break, people will get onto Google and find the nearest repair service.
Using SEO, your business can be on the first page for those local searches in your given area. That is a major asset because more and more people are performing Google searches for needs like these and choosing from options on the first page of results.
This applies across a number of industries as well. Again, people are getting onto Google to either find a business for a service they haven't needed before or looking to find more information about a business that they have considered using.
With SEO, you can get into the consciousness of those users as they Google for relevant results. This is a great way of bringing in new, organic traffic to continue building your customer list.
Niche Online Retailers
Of course, determining which industries need SEO can also cover niche online retailers. E-commerce is extremely popular for small businesses and since there is no physical storefront, using digital marketing and SEO can be the driving force when it comes to getting new customers to visit your shop.
Using SEO can be a huge part of that. And since most online stores aren't these massive entities like Amazon or eBay – where something for everyone is offered – using SEO to attract that niche audience is a must.
Because there is no brick and mortar involved, it becomes less about local SEO and more about finding factors like shareable long-form content that is meant to funnel into purchases. This is what has the biggest impact on the bottom line of these e-commerce shops.
Ultimately, determining which industries need SEO is a good place to start to know if your business needs to be implementing SEO strategies. In any event, it can't hurt to do so but it can be much more beneficial in some industries as opposed to others.
Those strong SEO strategies can make all the difference for small businesses from those specific industries.