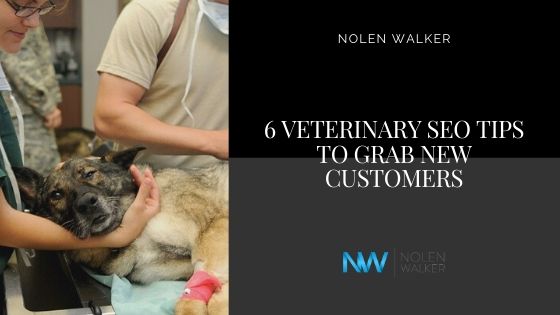 Let's talk about veterinary SEO. It can be a challenge for vets to establish an online presence if they don't have the tools or resources at their disposal.
What is Veterinary SEO?
SEO for veterinarians is the process of refining digital web content in order to increase your clinic's position on search engines. When your website and other digital entities rank higher on search results, more people engage with your business and become qualified leads, as a result.
What Veterinarians Should Know About Digital Marketing
Animal owners will need the help of a veterinarian at some point in time. This can be routine care like a shot all the way up to emergency services in a time of need. No matter what, veterinary care is routine when it comes to having a pet.
For clients, they often stick with the vet that they have seen for years. But it is that competition for those loyal clients that is so tough for local vets. This is especially true in the digital age where digital marketing is now an integral part of making your business visible.
One of the best ways for veterinary offices to bring in new animal owners is by making their service easier to find online. This requires a process that is known as search engine optimization or SEO.
SEO has been a staple in search engine rankings for years and Google keeps refining it with time. Knowing the best ways to optimize your website so that it shows up in Google's local search rankings can mean the key between growth for a business or closing its doors.
Having said that, there are a few things that veterinary offices can do to grow their SEO game. Follow these six tips and you could see more clients than ever before.

1) Link Building
One key for building your website's SEO is making your site more authoritative. This is determined by how many credible sites end up linking back to yours. When you can get plenty of credible websites to link to you, your ranking only improves.
Search engines will know that your veterinary website is not only trustworthy, but one that other reputable blogs, sites, and publications will link to. This will get your website ranked far higher and make it generate more traffic to your website.
Building links is one of the most challenging aspects of site building, however. It takes more than just changing the headings and titles on some of your pages. Reaching out to other site owners and explaining why your website is worth linking to is just part of the process.
Once you do get those important link backs you should see a marked improvement when it comes to your overall SEO analytics. Again, this is just part of the process in order to build your overall SEO ranking.
2) Keyword Research 
For the longest time, keyword research has been one of the most important aspects of search engine optimization. Before you can fully optimize your website for those search engines, you will have to determine which phrases and words that pet owners use when they are searching for the kinds of veterinary services that you offer.
You don't want to waste your time optimizing your pages for terms that none of your audience is actively looking for. Thankfully, you can do keyword research to find the most relevant keywords for your specific website.
There are a number of tools that you can implement to help identify how people search for those specific veterinary services as well as how difficult it is to rank for a given keyword.
Another thing to focus on is long-tail keywords. These are longer and more specific keywords that are a bit easier to rank for. These long-tail keywords might not get as many searches as a standard keyword, but they will ultimately bring in more potential clients and qualified traffic to your website.
Because of the amount of competition regarding keywords, it is unlikely that your website will rank just on keywords alone. There are a few other aspects that you need to take into account in order for your website to rank properly.
3) On-Page Optimization
When you have successfully determined the keywords that you want to target, the next step is incorporating them into different elements throughout the entirety of your website. It is important to note that Google will now punish you for spamming those keywords, so don't try doing that.
A good rule of thumb is to target one keyword per page; you can include that keyword in that page's headers, title, meta description, and even the body copy. This will help the search engines better understand what the page is about and it will show in the search results.
The key here is to only use that keyword where it fits naturally. Search engines might rank your pages, but the human readers are the ones that want that information. If your keywords don't make sense or feel unnatural, it won't make sense to the human readers who are the ones looking for your content.
Don't stuff your copy full of keywords that don't make any sense. Not only will your readers think that it feels forced, but it will also ultimately hurt your search engine rankings, too. This will make all that you have done to optimize your website worth little to nothing. Be smart about the keywords that you use and how often you use them.
4) Content Creation
Over time, Google's algorithms have evolved to the point where content is king. One of the ways to make your website an authority within the industry is to ensure that you have informative and original content. This will draw visitors to your website, making it appointment surfing.
When people have questions about their pet care, you, as a veterinary expert, are uniquely qualified to answer those questions. One of the easiest ways to answer those questions as well as to create unique content is to create a blog.
Creating posts based on common questions that your audience asks is the key to that unique, attention-drawing content that will bring visitors to your website often. Answer common questions like "should I brush my dog's teeth?" or "what kind of food should I feed a puppy?"
Then, you can optimize these pages for those specific keywords that you targeted so that when users perform a search for those keywords, they will find that information on your website. Again, content is king.
This works in a number of ways. The first and most obvious is that it attracts traffic to your website. In the end, that is the point of your website: to bring in traffic that will see your products or services and eventually spend their money on those products and services.
That traffic also generates potential leads. Those leads are users who are considering using your services but have not made that jump for whatever reason. These leads are imperative to any business as they can become the dollars that your business needs.
Perhaps most importantly, that information helps to build your website into a trustworthy source. Even if their question isn't one that will warrant an immediate visit to the vet, they will certainly remember your clinic when it comes time to make an appointment.
Building trust is one of the most important aspects of any business and having an informative, content-driven website is just one of a few ways that you can achieve that level of trust.
5) Meta Descriptions and Title Tags
Many veterinary practices and businesses, in general, don't pay much attention to their meta descriptions and title tags. The fact of the matter is that this is a huge missed opportunity for businesses trying to optimize their websites.
These title tags and meta descriptions are a very large determining factor when it comes to search engine rankings. Not only that, they have a high degree of influence when it comes to click-through percentage. Your title tags and meta descriptions are imperative.
One goal of improving your website should be to optimize every single page that is on your website. Your home page is the most important, though. Your title tag should be just a few words that describe who you are and what it is you do.
The meta description, meanwhile, should be just a sentence or two that includes a quick proposition of value, any basic services that you offer, and what location(s) that you serve.
6) Clean Up Directory Listings
One of the biggest factors in your SEO rankings is backlinks. What most website owners don't realize, however, is that many of your backlinks to your website come from online directories. A significant portion of your SEO depends on the accuracy of these online directory listings.
Check into your directory listings to see how you are doing. There are tools that will generate a score for you to see how you doing with your listings. If you are under 90%, you need to spend time entering the correct information into directories where you might have incomplete or inaccurate information.
It cannot be overstated how important directories are. Google uses them as a source for determining their SEO rankings and they help pad your overall trustworthiness. And remember, that trustworthiness is one of the most important factors in SEO rankings.
Make these tweaks to your website and you will see a significant change in the way that your site ranks locally. And then, you should see a significant effect on your business' bottom line.
SEO Resources for Veterinary Clinics
Veterinary Keywords
veterinary services
vol: 2,900
veterinary specialty services
vol: 1,000
veterinary services near me
vol: 1,000
veterinary services usda
vol: 390
veterinary services inc
vol: 260
vitality veterinary services
vol: 260
vet near me
vol: 550,000
vet near me emergency
vol: 74,000
vet clinic near me
vol: 49,500
veterinary clinic near me
vol: 22,200

(- data from ubersuggest -)
Veterinary Client Appreciation Ideas
Run social media/email marketing campaign inviting families and pets to a sporting event
Promote pet of the month on Facebook, Instagram, and Twitter
Give out treats to animals after visits
Do a free pet food giveaway every few months
Marketing Strategies That Can Make a Positive Impact on a Veterinary Practice
There are several marketing strategies that can improve your vet practice. SEO is a single acronym but it involves so many avenues to boost your online presence. Everything from on-page SEO to off-site SEO can really make an impact. Aside from SEO, paid advertising can also help. Running Facebook and Instagram ads for your clinic can allow you to target demographics like people with pets. Another strategy is to link your website to your Google My Business listing in the Map Pack.
Map Pack For Vets in Plano, TX
Ways to Promote a Veterinary Clinic
Veterinary SEO
Facebook Advertising
YouTube Advertising
PPC Advertising (Google Ads)
Email Marketing
Google My Business Optimization (Local Map Pack)
Newsletters
Business Cards
TV / Radio Commercials
Sample Veterinary Marketing Campaign
Step 1: Register a domain name for your business website
Step 2: Claim your business on Google My Business
Step 3: Create or invest in a website design
Step 4: Perform keyword research
Step 5: Publish a page for each specific service based on keyword volume
Step 6: Write original content that explains your business
Step 7: Insert original images of you and your staff
Step 8: Link your website to your GMB and social media profiles
Step 9: Ask satisfied customers to leave a review on Google My Business
Step 10: Run promotions on your social media
Customize Your Campaign With Nolen Walker