Tree trimming businesses know the best way to generate consistent leads is to get found online. Google is the #1 search engine in the world and it is the platform on which most consumers reach local companies. Traditional forms of promotion have been replaced by digital marketing including social media, Google advertising, and search visibility. As a local tree service you should understand the basics of what you need to be successful in 2021:
What makes SEO so important for us?
SEO provides stronger revenue potential for so many industries, including tree trimming and care services. It works by strengthening the connections between local search results and your company website, highlighting your services to consumers who need them most. If you've wanted to increase the number of leads coming into your business, SEO is a great way to do it!
Why should we choose Nolen Walker?
Excellent service, and results! At Nolen Walker, our custom website development provides long-term lead generation opportunities for businesses all over the US. Better yet, our services enable continued online brand development, improving consumer trust in your services and encouraging first timers to call your business. You'll love our review software too, which helps capture positions in the local map pack!
Should we quit advertising?
Not if you're getting a good return on your investment! SEO complements other forms of online marketing, producing higher click through rates and more conversions. In fact, we often recommend that businesses continue advertising during their website development and initial launch. After your website launches, it's up to you to choose whether or not to continue advertising!
Custom Tree Service Website
Search engine optimization (SEO) starts with a custom website design. Many businesses mistake SEO to mean only on-page SEO but the process is actually a lot more comprehensive than a single component. For websites to be properly indexed in the first place they must have a site architecture that is crawlable and indexable. Next, they must load quickly both on mobile and desktop. Modern sites are also expected to have schema markup which helps search engines interpret data. These baseline requirements set the foundation for everything that comes next.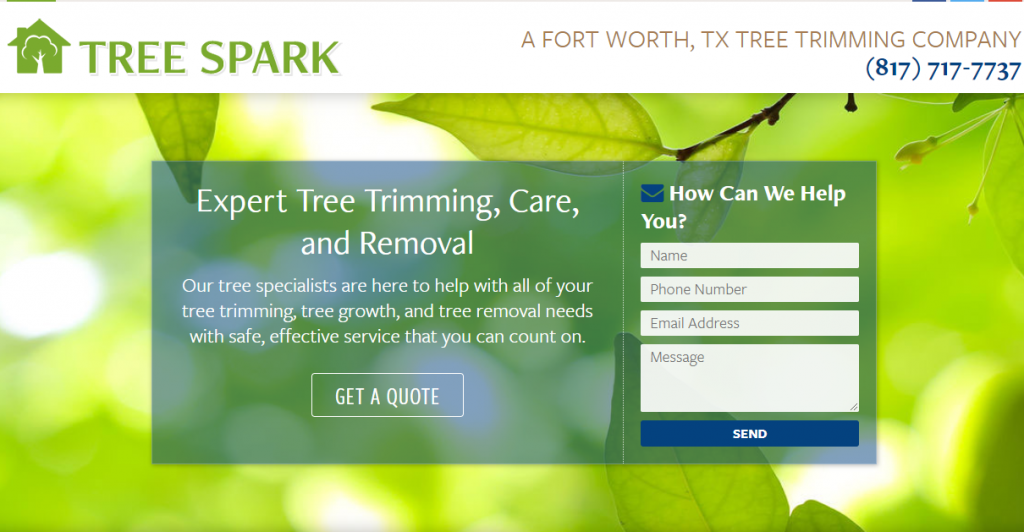 Google My Business
Many of your online leads will come from business listings, specifically your Google My Business page. When someone in your area searches for tree trimming near me Google displays the top 3 businesses in the area on what is referred to as the Local Map Pack. These Maps listings are pulled from your Google My Business listing and will vary based on the location of the searcher. Optimizing your GMB page is crucial to maximizing leads in 2021. Your listing will also link to your company website.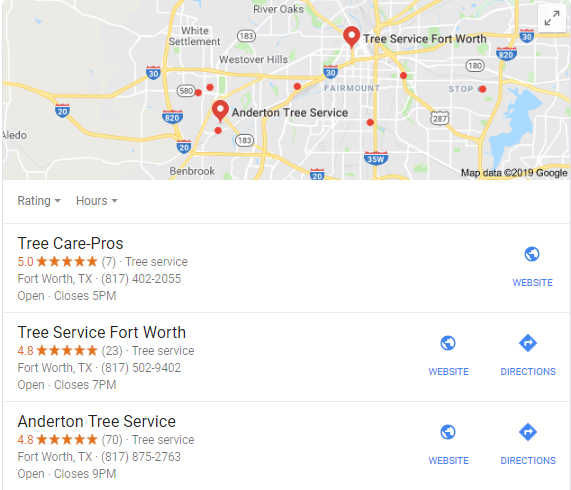 Keyword Research
Choosing the right keywords can define your level of online success. Using keyword research tools like Ubersuggest, MOZ and SEMRush, the highest opportunity keywords should be identified and targeted. The location of your business will partially dictate which keywords have the highest volume and highest level of competition. Finding the right balance between the two can be a challenge especially in a relatively specialized market like tree services. Still, with the right marketing knowledge, the best keywords will be found.
Source: Ubersuggest
High Quality Content
No tree service website will succeed in 2021 without pages full of high-quality content. Google has become more intelligent in the past decade and can now decipher keyword-stuffed jargon from engaging and valuable writing. What this means is that every page published on your website should provide value to the user which in your case will be a target consumer. Ask yourself questions like; are they being informed? Are they finding what they came here to see? These will guide you through the content creation process.
URL Structure
Keywords should fit nicely into content but also into a website's URL structure. Creating a URL hierarchy is one crucial part of SEO that is overlooked. Your website should be broken down into categories based on the different types of services you offer. The URLs should reflect these categories by having the keywords within their permalink, AKA URL slug. The permalink should match both the target keyword and be appropriately represented in the content. Google expects to see this uniformity throughout all of your pages.
Tree Trimming SEO Services
Nolen Walker is the top tree trimmer SEO company in the nation. We have clients on board who dominate their local cities on Google Maps as well as organic search. Our formula reflects the steps listed above which is to say as a customer of ours you will receive your very own custom website, optimized for search and written by high-quality content editors. Your Google My Business listing will be claimed, optimized, and maximized for leads. Your URL structure will be pre-designed and implemented within the context of a well-researched SEO strategy. Our services are month to month and require no long-term commitment on your part.
Call 866-356-8198 for SEO for Tree Trimmers