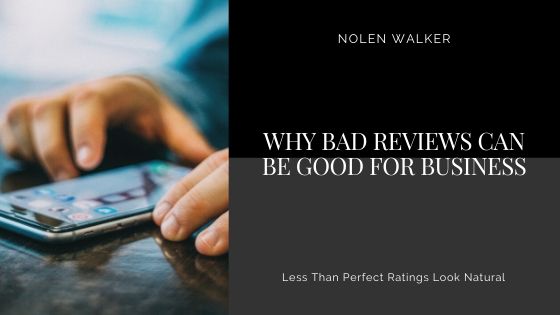 Generating customer reviews is critical to any small business in 2020. The sheer volume is a huge part of that, not only having an impact on the way that consumers view your business but how Google ranks your website for their search algorithms.
There is one false perception among a great many business owners out there and that is having a perfect 5-star rating is going to make your business look untouchable. Many think that having negative reviews is a bad thing for their business. And while it is understandable why they would think that, it may surprise you to know that they're actually kind of good for your business.
First, a perfect rating looks suspicious and could indicate to the consumer that you have purchased fake reviews. Aside from a more natural-looking business profile, having negative reviews for your startup or business can actually have benefits that you may not have realized.
Bad reviews can assist in buying decisions
The fact of the matter is that the vast majority of customers will first look into reviews about a particular company before they make a decision about spending their money with that business. And here's another fact about reviews: people look for the negative ones as well as the positive ones.
This is because positive reviews only provide one side of the story. Those negative reviews present a more realistic look into your business and can actually provide customers with more trust in your business than displaying all five-star reviews.
The reason why those negative reviews are looked at first is that they show potential customers why others were dissatisfied with the product or service. And here's something else: a bad review does not automatically mean that the product or service was bad, it can mean that it didn't meet the expectations of the person leaving the review.
This is useful to your business because it gives you a chance to harness important customer data that only reviews can provide. This gives your business the chance to make changes that can be beneficial in the long run.
Bad reviews give you the chance to respond to customers
When a customer leaves a negative review, there are generally a few ways to respond but two ways that a great many businesses choose to respond in: censoring the review or responding negatively to the bad review. It is important to note that these are both bad ideas and can negatively impact your business.
The key here is to respond properly to negative reviews with a proper solution. When you show the customer that you are trying to provide a proper resolution, that goes a long way towards instilling confidence in your business and showing that person that you are willing to work with each customer.
Responding in a positive way to a negative review can really do wonders for the way customers, even those who have had a bad experience, view your business and might convince them to give your business another chance. Any additional chances that you can get to convince a customer that your business is the one to go with, that is a plus for your business.
Make amends for bad reviews
This ties in a little with the aforementioned reason but making amends with a customer who feels like they have gotten a poor product or service not only reflects positively when dealing with that individual customer but setting a good precedent for other customers who may see those reviews and interactions.
While it is not a guarantee that a response to a customer will lead to positive things, there is a much better chance that customers will be willing to use your business if they see that you not only reply to negative responses but reply quickly at that.
There are also measures of good gesture. For instance, there was once a story of a major delay for an airline in Atlanta due to weather. The flight was stuck, but as a gesture of goodwill, they ordered 600 pizzas for passengers who were experiencing delays on those flights.
It is gestures like that which show both past and potential customers that your company is willing to go above and beyond for the satisfaction of the customer. This will make them far more likely to not only trust your business but spend their hard-earned dollars on your business when there are other options out there.
Bad reviews can highlight positive ones
This might sound a bit ironic, but having those bad reviews can actually highlight the positive ones. As mentioned previously, customers do compare those negative reviews with the positive ones to get both sides of the picture and to get a fair view of the entirety of your business.
If you have a customer that is not just looking to vent and is actually interested in providing insight into their experience, they may actually list the pros and cons of the service and products. This can be incredibly useful for potential customers that are looking for a completely unbiased review.
Bad reviews help you improve your business
Last, but certainly not least, is the fact that those negative reviews can help to make your business better. Perhaps you were unaware of those weaker aspects of your business. With those negative reviews, you can get an idea of where your company needs to improve to be more well-rounded and turn those negative reviews into positive reviews.
Having a mature approach to this is important. There are some business owners out there who do not accept criticism of any kind and will puff their chest out at a negative review. Instead of doing that, be willing to listen and learn. When you do this, your business can make the improvements that it needs to grow and progress.
Not only that, being open and honest about the lesser aspects of your business can help you take a closer look at your business when you need to do so and make the improvements that will keep your business growing at a consistent rate instead of remaining stagnant.