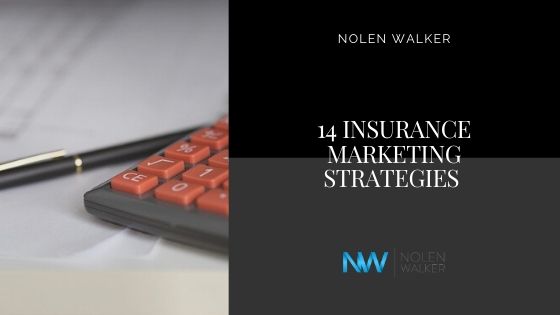 Looking for insurance marketing ideas and strategies for 2021?
Implementing the right marketing strategies can mean the difference between a struggle to find the proper leads and having a consistently growing and thriving business.
There are more than a few marketing strategies that you can implement that can help your insurance firm develop the leads that it needs to continue growing and thriving. Here are 14 ideas for 2021:
1) Spruce Up Your Website
Your website is the first thing that the vast majority of your audience will see first. If it is a visual wreck or doesn't respond the way that you mean it to, that could cost you more than a fair share of customers.
There are a few things that you definitely need to do in order to spruce up your website. The most important is to have your contact information in an easily visible and accessible place. You should never make it difficult for customers to try to contact you.
Making certain your site is fast, clean, and intuitive will go a long way towards drawing in customers to your insurance company website.
2) SEO is Your Friend
SEO is what keeps even the smallest of businesses competitive. Best of all, you don't have to spend much to have a strong SEO foundation.
Make certain that your images are optimized, that your content is both clean and relevant, and that you develop strong backlinks. These are just a few things that will optimize your website so that you can rank near the top of relevant keyword and location searches.
SEO can keep your insurance business relevant in all of the right searches.
3) Create a Blog
Remember that content mentioned in the previous section? It is actually one of the most important aspects of any website. Google is a fan of relevant, informative content because it wants to provide nothing but the most relevant search results.
If your insurance website is informative and answers questions that your target audience wants to know the answer to, that will draw traffic to your website and make it an authority that will draw your target audience in.
Answer questions relevant to the industry, ones that your target audience is asking. This will create consistent traffic to your website.
4) Make it Simple
Here's one simple truth: insurance is a complicated endeavor to understand. That is why you need to make it easy for your target audience to understand. Create something like an "insurance 101" section or an interactive guide that your audience can reference.
Maybe create a quiz that helps your potential policyholders understand what it is they are looking for in an insurance policy. Things like this will go a long way towards helping your audience have a better understanding of what policies they need and how you can offer it to them.
5) Pay Per Click (PPC) Advertising
While SEO is a fantastic way to keep your website ranking near the top of relevant keyword searches, it isn't 100% effective, either. Your SEO will only take you so far before you need to look into other avenues that can be effective to your campaign.
PPC advertising is one of the most common ways to get to the top of relevant search engine queries. This means that your business can be seen first and foremost, putting it right in your target audience's line of sight.
This can be a hugely beneficial way of marketing to keep your business relevant in the eyes of your audience.
6) Video Marketing
Video is one of the largest growing trends in insurance marketing with United States consumers watching up to six hours of digital videos each day. This makes for a wonderfully beneficial avenue to reach your target audience and have the greatest impact.
Best of all, creating digital video content is easier than ever before. You can shoot high-quality videos on a smartphone these days and quickly edit it with any number of editing tools. That gives you the ability to create engaging content in a flash unlike ever before.
7) Reviews Generation
Reviews are one of the most important features of any effective digital marketing campaign. This is for two reasons. The first is that your reviews establish and create the tone of your business, encompassing its trustworthiness.
The second is that positive reviews tie into your SEO rankings. If your website gets a ton of great reviews, it will only strengthen your website's SEO, making it more likely to appear near the top of the search rankings.
Reviews can be your business' best friend if you have an ample amount and know how to properly use them. Check out this awesome review software for your website which can help showcase and generate reviews.
8) Highlight Achievements
This might seem a bit like tooting your own horn, but that is a good thing to do in order to set your website apart from the others in your industry. Maybe you've won a few awards or have a huge amount of positive reviews. These are all great things to feature somewhere on your website.
The key is to point them out without sounding like you are patting yourself on the back. Illustrate to the customer what sets you apart from the rest and they will see that perhaps your business is the one to choose based on those accolades.
9) Email Marketing and Newsletters
Email remains one of the most effective ways to reach a target audience. This is due mostly to the prevalence of smartphones in today's day and age. People have quicker and easier access to email than they ever have before.
Using email to communicate with both current and potential policyholders is a great way to keep your business in their mind's eye, to enforce your brand, and to inform them of any new or important updates.
Email marketing remains effective because it allows direct access to both current and potential customers in a way few other avenues can offer.
10) Social Media Presence
There was a time where having a social media presence was an option; that time has come and gone. If you don't have a social media presence, you are leaving out a huge factor in marketing your insurance business.
Social media allows for direct access to the customer, allowing for the sharing of links and deals, the addressing of problems and issues that customers might be having, and a general direct interaction that can make a huge difference.
Social media is an asset like few others and can have a substantial impact on your insurance business as a whole.
11) Door-to-Door Promotion
This might seem like an archaic way of doing things, but direct interaction with your target audience can have an impact like no other. The only way to truly achieve this is by going door to door.
Not only that, there are a ton of benefits. The leads are free and they are personal. People get a feel for you during these sessions, making them more likely to use your business and to trust you as opposed to an email that can feel impersonal.
This might be an old-school way of insurance marketing, but it remains effective.
12) Show You Care
This is one of the truest methods of getting your target audience to understand your business and develop a level of trust with it. Showing your target audience that they aren't just a number, that you care about them, can be a real difference-maker.
This means going above and beyond wherever possible. Taking the time to deal with the personal situations of your clients can give them a level of trust in your business that is unattainable otherwise.
Show your customers you care above all else and the rest will fall into place.
13) Facebook Live
Live, streaming video is one of the newest, hottest trends. With Facebook Live, in particular, you can invite both current and potential policyholders to interact with your business. Show off updates in policies or hold a live Q&A.
These kinds of things promote interaction with your target audience, promoting engagement that may not be possible through any other format. When you do this, you create a unique setting to interact with your target audience, allowing them to gain valuable information about your business that they may not have been able to get otherwise.
14) Partnerships and Backlinking
One of the best ways to establish your trustworthiness and authority is through backlinks from other relevant businesses. This is usually achieved through sheer authority, which takes a lot of time, or through established partnerships within your area.
These partnerships can go a long way towards establishing those helpful backlinks that make your business the authority within the industry and establish that trustworthiness that businesses covet.  Those partnerships can be mutually beneficial, helping both sides along in their quest to establish quality insurance marketing campaigns.