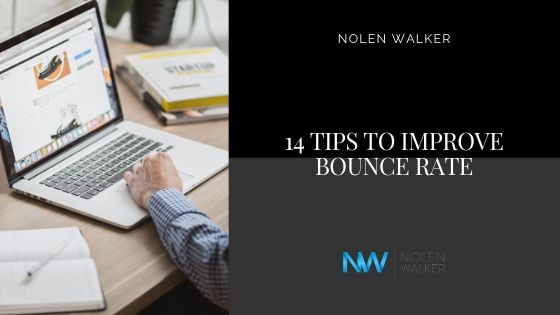 Wondering how to improve bounce rate in 2021? You aren't alone.
When it comes to operating and maintaining your business website, there are so many factors to take into account. Especially when it comes to the arena of SEO, there are items that can make or break your website, driving away traffic or driving it in.
One of those things is bounce rate. For those who don't know, bounce rate is the percentage of visitors that leave a webpage without taking action. This means they don't fill out a form, click on a link, or make a purchase. This is important for a few reasons and improving bounce rate is essential.
If someone bounces from your site, it means they didn't enter the sales funnel, let alone complete it
Bounce rate Google ranking factor, and it can potentially impact your rankings
Here are a few helpful tips for how to cut down on that bounce rate and turn more clicks into more conversions for your business.
1) Showcase Credibility
One of the most important things visitors look for in a website is how trustworthy it seems. When they land on your website, they are looking through the content to see how reliable and trustworthy your website seems.
Being able to build credibility and increase trust with your visitors is imperative to improve bounce rate. Include things like positive reviews for your products or services and showcase any special deals that you may have going on. This makes your site more trustworthy in the eyes of the consumer, decreasing the likelihood of them bouncing away from your website.
2) Blog Frequently
Content is hugely important in the world of SEO these days and if you can speak intelligently and authoritatively on a certain topic, it can help you to retain those visitors who come to your website.
Creating fresh content can keep users coming back again and again, even if they don't plan on using your service or product. This can help to generate organic traffic to your website and keep those visitors from bouncing away after a moment, introducing them to other areas of your website and keeping them from leaving in short order.
3) Optimize Your 404 Page
There are few things quite as annoying as visiting a webpage only to be met with a "404 page not found" message. That doesn't really give you any insight and leaves you feeling frustrated more than anything else.
You should be able to provide your users with a helpful 404 page, one that offers alternatives for the user to navigate to. This way, when they see the 404, they don't simply vacate the page and move on to another one. 404 pages can have a huge impact on the bounce rate of a website and should be addressed accordingly.
4) Make Links Open in a New Tab
When you are creating a sound internal linking strategy and have links to other pages within your own site, you need to make certain that those links open into a new tab. This helps to potentially increase the time that a user spends on your site given that they will have multiple pages open at once if they click on a link.
This is a bit of a trick when it comes to improving bounce rate, but it can be effective at keeping users on your site for longer than if you had links that stayed within the same tab in your browser.
5) Focus on Internal Linking
One of the biggest factors in SEO today (and for a long time) is internal linking. You need to focus on keeping the user on your website and having links to other pages on your site is a hugely important key to this.
It ties into the last tip, too: being able to open new tabs in their browser means that they stay on your site longer. This will help reduce your bounce rate and improve your overall rank in the category.
6) Identify and Correct Broken Links
User experience is more valuable than ever and there are few things that will aggravate a user more than things like broken links. Not only will it chase off users, increasing your bounce rate, but it will create a sense of dissatisfaction in users that will likely keep them away from your site for good.
There are tools online that can help you locate broken links on your site and keep them to a minimum. That will help to improve the overall user experience, keeping them around on your website for far longer and limiting your bounce rate.
7) Emphasize a Call-to-Action
Having effective call-to-action is one of the most essential aspects of a website. After all, you want that user to do something when they visit, likely purchase a service or product. This is where the call-to-action comes into play.
Not only that, the user should be able to find the CTA within seconds of landing on a page, any page. The CTA should be compelling but not pushy giving the user an enticing reason to click on it. Using different colors, fonts, changing up the verbiage, etc. can have a huge impact on how that CTA is received and the effect that it has on traffic.
8) Avoid Intrusive Popups
If there is one kind of ad out there that is universally hated, it is the popup ad. It is safe to say that, generally speaking, users do not enjoy invasive popups. They usually lead to even more popups, which creates a frustrating experience on the whole for users.
They are highly irritating and frustrating and can create a disrupting experience for users. If popups occur, a user is highly unlikely to ever go back to that website again and that defeats the purpose of your bounce rate.
9) Limit Distracting Ads
This is kind of in the same wheelhouse as popups. The more distracting ads, the more irritating they become to the user. When this happens, the user is highly unlikely to come back to your website ever again and that defeats the purpose.
Having ads is fine; websites need to make money somehow. But Keep them to the side of the page so that the user's attention isn't being pulled in several directions. This just increases the likelihood that they won't focus where you want them to focus and that they will ultimately leave.
10) Target a Relevant Audience
Sure, it would be great to appeal to everyone but that just isn't feasible. The best way to reduce bounce rates is to focus on your target audience. These are the people that are most likely to use your website and not just leave in a matter of seconds.
Identify your core audience and the keywords that related to them. Try variations but don't get too broad; keep your focus on the specific group of users that will make up your target audience. This will help keep users on the page for longer.
11) Diversify Your Content Topics
One of the best things that improves the bounce rate for a website is to keep readability. This means implementing various forms of content, not just text. Users may be dissuaded if they feel like there is too much text, leading to higher bounce rates.
Use video content and high-quality images to help keep those users around for longer. Imagery can be attention-grabbing and engaging, making it a highly valuable tool for your website and keeping those valuable users around for longer.
Always make certain that these mediums are implemented in high quality; low quality will cause just as many bounces.
12) Keep Paragraphs Short
Another way to improve readability is to keep your paragraphs and content length short. If there are big walls of text, users won't have the patience to read through them; they will simply skip to a different page or another website entirely.
Keep your paragraphs short and digestible and make certain to break them up with headings and images to keep the user engaged. This will keep them around for longer, too, meaning that your bounce rates will become significantly better thanks to the highly digestible content.
13) Ensure a Mobile-Friendly Website
More and more searches and online experiences are beginning on the mobile platform. This makes it essential for your website to be compatible with mobile users. If you don't have a mobile-friendly website, users will likely not even bother with you.
Not being mobile-friendly means leaving a lot of potential users on the table. If you want your website to grow and reduce those bounce rates, being mobile-friendly is a great way to do that.
14) Create a Catchy Design
One of the main aspects for any user that is browsing a website is a catchy design. Sure, they may not have that as a reason in the forefront of their mind, but a catchy, intuitive, beautiful design will keep users around simply to look at the appealing aesthetics.
If your website is bland or difficult to navigate, users will click away very quickly. The design is just as much a part of the user experience as anything else and can be hugely valuable for drawing in those users who may be uncertain about your service or product.
Bonus Tip: Incentivize Users With Value Propositions
Users spend time on your website at the expense of other tasks and activities. Because of this, you must give the user a reason to stick around and make their time spent exploring your business, a worthwhile one. For this reason, immediate displays of value are critical to making a user feel like they are in the right place.
We talked about some ways you can showcase value, whether it is an urgent Call to Action or a showcase of your business credibility. Other avenues through which to create value propositions include, video content, downloadable coupons, live social media feeds, and original and unique photos of your employees at work.