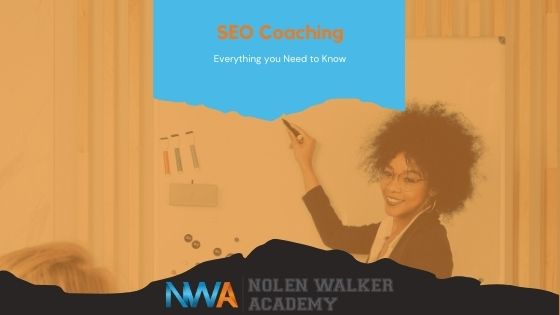 If you are a business owner, you may be contemplating what you could be doing better in 2022. How do you earn more customers? How do you increase brand awareness? How do you claim a fatter share of your local market?
For many, the answer lies in SEO (Search Engine Optimization). That's because, in 2022, even more people will take to search engines to find businesses, products, and services. Today, 68% of consumers begin their interaction with a brand or company by performing an online search. That number is only projected to grow in the coming years.
The new year is the perfect time to take advantage of all the digital tools available. This is why many people start out with SEO coaching.
What is SEO Coaching?
SEO coaching is the transfer of knowledge and techniques from an SEO expert to a less advanced recipient. An SEO coach will guide their clients through all aspects of the SEO process while offering support and tips along the way. In contrast to SEO services, SEO coaching does not involve performing SEO tasks but teaching them instead.
Who is SEO Coaching for?
SEO coaching isn't just for small business owners. SEO coaching is for anyone who wants to know more about how Search Engine Optimization works and enhance websites to show up higher on more internet searches.
On a more detailed level, SEO coaching can benefit owners of small and large businesses. For example, consider the following statistic: large companies pay an average of $1000 to $5000 per month on SEO services.
This should dispel any rumors that only small business owners pay for SEO and utilize SEO. Take a look at just a few of the demographics that SEO coaching would be beneficial for:
Small Business Owners
Small business owners trying to control their online marketing campaigns may invest in an SEO coach. These business owners want to better understand the processes to manually implement them or conduct interviews from a more informed perspective.
Large Business Owners
Large business owners are unlikely to perform SEO tasks manually. Still, they may want to have a more hands-on understanding of the processes. As a result, they can make more informed hiring decisions and better oversee their overall marketing strategy.
Entrepreneurs
Individuals looking to start their own SEO agency can surely benefit from an SEO coach. In addition, pursuing mentorship is one way to avoid the common pitfalls of new agencies.
SEO Professionals
Low to mid-level SEO professionals may seek an SEO coach to help advance their career and improve their position within an agency. The coach may be supplied by the agency they work for or something they pursue individually outside of work.
Characteristics of SEO Coaching
SEO coaching is different from SEO classes. Unfortunately, many people give up on SEO classes because they don't provide the in-depth mentoring that coaching does. With that being said, good coaching provides access, expertise, and mentorship. Take a closer look at these characteristics below:

Access
The main difference between SEO classes and SEO coaching is that you get your own SEO expert. The coach fields your questions and teaches you how to apply the tactics they teach you.
Expertise
Coaching may include online videos, blogs, whitepapers, PDFs, and even homework and exams. However, these documents won't be available to the public and offer more expertise than you would find on a free blog.
Mentorship
An SEO coach will essentially be your mentor. Most modern SEO experts have been coached at some point in their careers. They have parlayed their experience into sustained success thanks to expert mentorship.
Pros and Cons of SEO Coaching
Of course, it's not all a bed of roses – even with SEO coaching. A lot of it will depend on how committed you are to learning. Take a look at some of the pros and cons of working with an SEO coach:
Pros
Hands-on Learning: You don't actually learn anything when you hire an SEO agency to handle all your digital marketing needs. Hiring an SEO coach will teach you the skills you need to be your own SEO agency and is, therefore, a more worthwhile long-term investment.
Thorough Education: Working with an SEO coach will help keep you on track and ensure that your education is complete in a reasonable amount of time.
Helping Others: Whether you are interested in SEO coaching to start your own agency or for your own business, it will allow you to help others. Whether you choose to charge for this help or offer it free is entirely up to you.
Training: One of the most important benefits of SEO coaching is that it allows for real-time training, which is the best way to learn many skills, including SEO.
Cons
SEO Changes a lot: One thing that makes people wary about paying for SEO coaching is that the principles and valid tactics of SEO tend to change. Just take a look at this Google algorithm update timeline as an example of how SEO needs to adapt and evolve regularly. What one coach teaches you this year may be obsolete next year.
Upfront Cost: The price for SEO coaching varies quite a bit these days, but some coaches charge a lot upfront. This can scare some people away. However, so long as you check their credentials and reviews from past students, it may actually be worth the initial investment in the long run.
Join a Community of SEO Experts
There are many things to consider with SEO coaching. One way to ensure you acquire expertise from a leading Digital Marketing Agency is to enroll in Nolen Walker Academy, LLC.
NWA, LLC students gain full access to material from SEO experts who operate one of the country's leading active SEO agencies. Among the content available is real-time sales calls, SEO audits, and more.
If you want to learn from one of the country's top SEO salespeople, Nolen Walker is the obvious choice. Having sold more than 1,500 accounts, Nolen can guide you to becoming an SEO agency owner with residual income.