WordPress is a Content Management System (CMS) used to develop many of the top websites on the internet. Nolen Walker offers custom WordPress websites to all of our customers. We have more than one WordPress developer on staff, who will help turn your vision for a new website into a reality. Here are some characteristics of a WordPress website:
Aesthetics: WordPress themes can be designed and customized to fit any visual for a website
Blogging: WordPress makes blogging simple, which is why it's often mischaracterized as only a "blog" when that is actually just one aspect of its capabilities
Management: The WordPress dashboard makes it easy to add and edit content within pages, blogs, and plugins'
Plugins: WordPress allows for the use of plugins, which can be designed and developed open source, and then added by anyone to their website
SEO: WordPress is known to have high SEO potential because of its blogging, and linking capabilities
WordPress is not the only CMS on the market. Others like Drupal, and Joomla are serviceable, but they don't have the ease of use, and customer support of WordPress. Because WordPress is open source, it is easy to customize it, as well as take advantage of computer developers all over the world with plugin sharing. For custom WordPress web design services, call 866-356-8198.
WordPress.org vs WordPress.com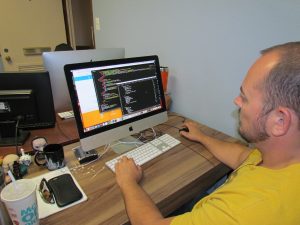 Some people become confused when they hear about WordPress.com because it doesn't look like the website they identify as WordPress. WordPress.com is actually a separate WordPress venture designed for bloggers who wish to exclusively blog rather than manage an entire website and domain. Below we will illustrate some of the differences between .org and .com:
WordPress.org
CMS
Hosted on hosting sites like GoDaddy.com or HostGator.com
Full customization
Works directly for SEO
WordPress.com
Blogging service
Hosted by WordPress.com
Limited customization
Will not contribute to website SEO
WordPress.com is attractive because it's free and offers a variety of themes for a quick setup and easy blogging template. With that said, .com does not have the capability to serve as a main website for service companies. Instead, WordPress.org will be the CMS you require to build a great company website, and generate leads online. WordPress.org also comes with an internal blog, which allows companies to post regular blogs, all of which will contribute to their SEO.
Design My Custom WordPress Site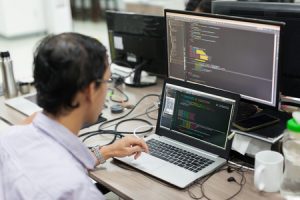 If you are looking for a custom WordPress website design, choose Nolen Walker. Our group of web designers have years of experience designing websites for service companies just like yours. We know what it takes to present an aesthetically pleasing website, that will not only visually engage customers, but attract them through SEO implementation.
If your current website is not generating leads online, it could be time to make the switch to WordPress. Our WordPress developers will create a site customized for your company, one that will contain an internal blog, multiple service pages, and consistent calls to action. Call 866-356-8198 for custom WordPress web design.