Twitter is one of the most popular social media platforms on the web. Not only that, but it is a social media network that is constantly engaging with its users. 71% of Twitter users say they use the network more than once per day. This knowledge provides small businesses with an opportunity to market their services to a large audience. An intelligent Twitter management strategy should consist of:
Step 1 – Follower Generation: Twitter's effectiveness relies on the amount of followers you can accumulate, a task that can be promoted through other online assets like your website, and email signature
Step 2 – Content Development: Once you have followers, you must engage them with captivating content, preferably with visual elements
Step 3 – Content Curation: Once you've established shareable content of your own, you can begin to selectively curate the content of other authorities in your industry through re-tweets and social shares
Step 4 – Schedule Posts: Many Twitter accounts are setup for automated posts, but having a consistent posting schedule is crucial to your social growth
Step 5 – Measure and Analyze: Twitter allows its users to measure data through Twitter Analytics which can be used to improve your marketing campaign
Twitter is a valuable tool for business owners. Like anything else, planning and attention to detail is what differentiates the successful from the unsuccessful. Our Twitter management services are designed to engage users, generate followers, and ultimately convert sales opportunities. Call 866-356-8198 for Twitter management services.
Content Creation for Twitter
One of the biggest questions regarding Twitter management is "what should i post?" Local businesses should look to post engaging content, that drives followers to perform an action. Below are some examples of good Twitter content:
Blog Posts: Twitter is the perfect place to share your monthly blog posts, which can then be re-tweeted, and possibly go viral
Contents/Giveaways: Engage users with contests and giveaways, which are likely to be re-tweeted and extend your market reach
Discounts/Promotions: Perhaps you are running a seasonal discount — create a graphic and post it on Twitter
Trending Topics: Join in relevant conversations with #TrendingTopics by using hashtags for appropriate subjects
These are not the only types of content that can be tweeted, but they are some of the most prominent and effective ways to reach followers. Remember, Twitter relies on a constant flow of information, so in order to engage users, your content must be visually compelling, and promote a call to action, so that you can capture a user's attention in the moment.
Twitter Marketing Services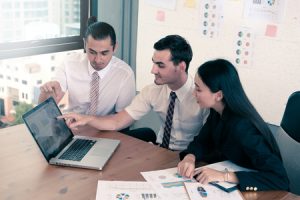 Nolen Walker offers Twitter marketing services as part of our social media management plan. We will manage your Twitter profile, and make sure you post relevant and engaging material. We pursue each of our marketing ventures with consideration of search engine optimization, and how to generate more leads for our clients.
Choosing Nolen Walker is a win-win proposition for small businesses. You will never be locked into a long-term contract, as we offer month-to-month agreements. We are so confident in our services, that we don't force you into an unnecessary commitment, and instead rely on our elite marketing services to convince you to keep coming back. Call 866-356-8198 for Twitter marketing services.