On-page SEO is a term used to describe characteristics of a web page that impact rankings on search engine results. It encompasses all optimization techniques that take place on a given page, including both visible content and HTML code. On-page SEO does not include external optimization techniques, such as inbound link generation, and citation source listings. Here are some examples:
Content Development: user-friendly content that engages the user, and provides unique value to readers
Header Tags: optimizing header tags (H1, H2, etc.) with appropriate keywords
Image Optimization: web quality images with optimized ALT text, title tags, and descriptions
Internal Linking: links within the content of a web page that lead to a other relevant pages
Keyword Placement: implementation of researched keywords within the content of your web page without stuffing words unnecessarily
Meta Descriptions: optimizing meta descriptions with keywords and engaging content
Title Tags: optimizing title tags for keywords and relevance
URL Structure: intelligently designed URLs that break down services into categories
These are only some of the aspects of On-Page SEO. But any optimization tactic that originates on one of your own web pages falls under the same category. It's not a complicated idea, but this aspect of SEO can be extremely effective if implemented properly. Understanding the specifics of title tags, meta descriptions, and permalinks are a great foundation for websites that rank on the first page of Google search results. Enhancing pages even more with quality content is what can separate them from viable competitors.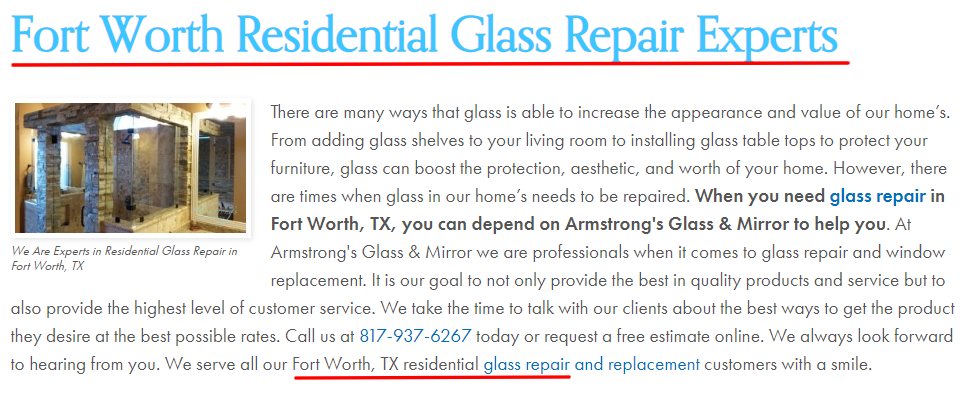 How Important is On-Page SEO?
So now we know what On-Page SEO actually is. But how important is it for businesses to implement on their website? EXTREMELY! According to Moz's Google Thematic Ranking Factors, On-Page SEO is one of the three largest factors in how Google will rank your website on SERPs. Well optimized web pages can offer the following benefits for businesses and their websites:
Brand Recognition: a well optimized home page can help brand your company as reliable and noteworthy
Link Building: well optimized pages can earn links from reputable 3rd party websites
Ranking Increase: Google is known to consider On-Page SEO when determining website rankings
Traffic Generation: pages with strong SEO will not only increase rankings, but will generate more relevant traffic with a greater potential for sales conversions
With such a great impact on Google search rankings, On-Page SEO is a must have for business owners. But with every company competing against one another for the limited spots on the top of SERPs, how do websites distinguish themselves as uniquely valuable? Nolen Walker enhances the value of web pages through detailed search optimization, competitor research, and most importantly, high quality content.
On-Page SEO Factors
At Nolen Walker, we pride ourselves in producing the highest quality content for business websites. Why? Because content quality is the strongest On-Page SEO factor. Google prioritizes websites with user-friendly content, that both engages the user, and provides them with unique value. Nolen Walker doesn't stop at content though, we optimize every aspect of every web page, to most effectively market your services.
How it works
Call Now at 866-356-8198.
Sign up for 1 month of our services.
We begin working on your website immediately.
Month-to-month payment agreements. No long-term contracts.
No Activation Fees, No Hidden Setup Fees, No Design Fees.
The #1 Internet Marketing Company on the web.
If you are interested in On-Page SEO services, Contact Us today!