How Do Retargeting Ads Work?
Retargeting Ads work by embedding your website with JavaScript code which can then follow the activity of your visitors. While the users remain anonymous in terms of identification, you can display advertisements to them as they browse the internet. The necessary JavaScript code is non-obtrusive, and visitors of your website will not even know it is there. To get a better idea of how retargeting works, check out the following chain of events:
— Internet User —> Visits Your Website —> Exits Your Website —> Browses The Internet —> Sees Your Retargeting Ads —> Completes Call to Action —
As you can see, retargeting starts with a simple website visit, and can lead to a valuable sales conversion. Some users are uncomfortable with the idea of being "tracked" by websites for marketing purposes, but it is important to remember that these users remain anonymous, and will only become a customer through their own volition. Call 866-356-8198 for Retargeting Ads Management.
Why Use Retargeting Ads?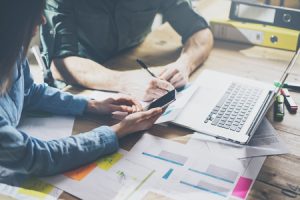 The value of retargeting lies in the pre-existing interaction with the targeted user. With traditional PPC advertisements, you are attempting to engage a pool of users based on theoretic levels of interest in your services. With retargeting, companies can invest their advertising dollars on people who have documented interactions with their website, and have thus shown an indication of interest. Retargeting Ads offer the following advantages:
Brand Recall: Those of you in the market industry are probably familiar with the consumer behavior known as brand recall, in which potential customers have more confidence investing in your services after they have already interacted with your brand
Competition Avoidance: The brilliance of retargeting is that you are never competing for advertising space, because your ads have been customized based on the stored cookies within a visitor's web browser
Conversion Increase: At the end of the day, conversion rates are the name of the game, and retargeting has shown to increase them
Nolen Walker can help you get your retargeting campaign started immediately. We will maximize your conversion rates by developing the most engaging advertisements and displaying them to website visitors as they leisurely browse the internet. Invest in your business with this exciting advertising opportunity.
Retargeting Ads Best Practices
To best utilize Retargeting Ads, you should understand how to effectively use them in conjunction with other internet marketing strategies. Retargeting Ads best practices are to combine them with SEO and PPC so that you can generate website visitors that will ultimately become the target of your ads. By using multiple online marketing techniques, Nolen Walker is able to diversify the channels through which your company generates leads.
Nolen Walker is an all-inclusive internet marketing service that offers, Organic SEO, Google AdWords, and Retargeting Ads Management. We combine all elements of marketing to give your service business a great chance of dominating Google SERPs. We believe that marketing works best when every detail is considered, and every action is taken with precision and commitment. Call 866-356-8198 for Retargeting Ads Management.