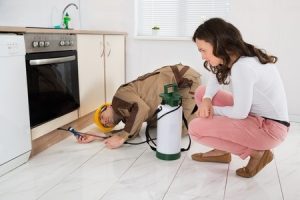 Pest control companies rely on local customers to keep their business running smoothly. For that reason, pest control websites should focus primarily on local search engine optimization. Why? Because the primary objective of your website is to appeal to local consumers. Some examples of local SEO include:
Call To Action: Your website content should display a call to action — for example; a phone number link within the text to encourage local customers to inquire about your services
Keyword Placement: Your content should have instances of local keywords along with industry keywords — for example; "pest control in (city,st)"
Location Mapping: Your website should include a map listing of your company and directions to reach it
NAP Information: Your website should display your company name, address and phone number on the header or footer of the home page
Generating traffic is always the goal of a website, but in the case of local businesses, that traffic is only valuable if it is coming from a location you service. What good are consumers from 500 miles away if you don't have the resources to provide them with services? By attracting locals, you will create more relevant traffic and convert it into sales at a higher rate. Call 866-356-8198 for pest control local mapping services.
What is External SEO?
External SEO, sometimes known as off-page SEO, or off-site SEO, accounts for search optimization that takes place away from your main website. Though your website serves as your primary online marketing asset, expounding upon it through supplementary channels increases your overall presence. Some examples of external SEO channels include:
Inbound Links: Also known as "backlinks" these links originate from a 3rd party source and lead to your main website
Online Directories: Claimed and optimized directory listings, specifically from Google My Business, are major factors in local search rankings
Social Media Networks: A presence on Facebook, Twitter, and LinkedIn help Google establish your business reputation
Review Websites: The existence of reviews and your professionalism in responding to negative ones, helps determine the trust level of your company
External SEO is especially important for local businesses. Why? Because Google provides custom results to local searchers based on the proximity and relevance of their search query. In other words, local consumers looking for pest control services are more likely to find you if you have off-page SEO qualities like GMB and Facebook.
Investing in Local Search Optimization
Pest control companies looking to put themselves on the map, both literally, and figuratively, should invest in Nolen Walker local mapping services. We design and optimize your website for local search engine users, and market it through additional channels like social media networks, and review sites. Establish a name in your community with local SEO.
If you are looking to grow your business in 2017 and beyond, local SEO is the market to invest in. With each passing year, more search engine users are performing searches via mobile devices and looking for local businesses. Make yourself visible, and accessible, and dominate local SERPs in your industry. Call 866-356-8198 for pest control local mapping.