Do Moving Companies Need Website Content?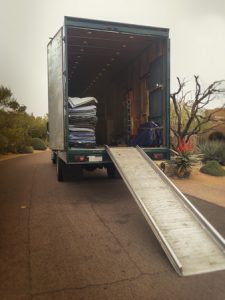 Absolutely. Every business should have a well designed website filled with useful and informative content. In 2019 and 2020, the majority of your leads will be coming from local search engine users on mobile devices. It is your responsibility to provide them with engaging content. When creating content for your website, you should have the following objectives:
Brand Development: Your web content is the voice of your online presence
Conversion Rate Optimization: Content should encourage users to complete a conversion
Keyword Placement: Strategically placed keywords (not stuffing) should be sprinkled throughout content
Search Engine Optimization: Google prioritizes websites with quality content when considering search rankings
When you understand the upside of ranking well on Google search results, you will realize why content writing is so valuable for your moving company. Establishing your presence online increases search visibility, which, in turn, grows your customer base. It all starts with a simple phone call. Just call 866-356-8198 to discuss content for moving companies and how it can help market your business.
Creating a Moving Company Blog
In addition to web content, moving companies will want to start an Internal blog. The term "internal" refers to a blog that exists within your main website. It will have the same domain name and count towards your overall SEO. Starting a blog offers the following benefits for moving companies:
Fresh Content: Blogs keep fresh content circulating through your website and alerts Google to re-crawl it
Social Media Sharing: Blog posts provide businesses with the perfect content to share on social media platforms like Instagram and Facebook
Informal Marketing: Blogging gives companies more of an informal voice, one where they can connect with customers on a different level
Public Relations: Blogs serve as great sources for public relations, if you ever find yourself needing to write a press release or public statement
Blogs are so beneficial, that Google actually recommends starting a blog, to those websites who have yet to do so. Google urges websites to link to their blog from their home page. This further indicates the advantage of an internal blog, as it will be easy for users to access from your main website, and will keep them active on your domain for longer periods.
Best Content Writing Service For Moving Companies
Finding a reputable content writing service for movers can be difficult. Many marketing firms provide automated content that is used and reused over multiple websites and industries. At Nolen Walker, our content writers personally write your content for your website and blog. Blog posts will be scheduled each month, and content edits will take place whenever necessary.
Not only do we provide content, but we can market it through social media advertising. If you like, your monthly blog post can be spread through Facebook and Instagram campaigns to increase your leads and spread your brand across multiple marketing channels. We offer monthly agreements so you are never forced into a long term contract. To speak with one of our specialists about content for moving companies, give us a call today at 866-356-8198.