100% White Hat SEO
We like to take White Hat SEO to a whole new level. Google is always watching via the algorithm but most SEO Companies don't seem to follow all of the rules.
Develop like you're being watched
We like to use an analogy here: When you're driving along the road and a cop pulls in behind you, you always scramble to make sure you're driving the limit, your seat belt is on, and your hands are at 10 and 2. But for those who are already complying with the law, they have no reason to be nervous when they see a police car.
That's what it's like with a website. Google is always changing and updating its algorithm, and those who aren't in compliance with their rules have to scramble so as not to take a rankings hit, but Nolen Walker sites already follow all Google rules, so we welcome the algorithm to come in and clear out the spammy sites.
With the internet, just as with real life, the bad people get punished when they break the rules, but the difference is, by following the rules on the internet, you actually get rewarded. That's why it's worth all the effort we put in to your site.
With Google, it pays to be honest, follow the rules and work hard like you care about your web presence. – Nolen Walker
Befriending the HGRs
An HGR is a Human Google Reviewer.
When the algorithm isn't enough, there are people who work for Google that can affect the search. This may sound scary to you, but it shouldn't. If you know the rules, and you follow them, then you should continue to see positive results.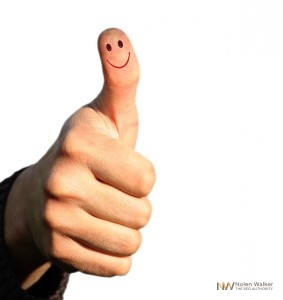 Without the highly fine-tuned algorithm, the spammers and phonies would be over running the searches like it was back in the old days of SEO. Those black hat SEOs that still cling to false link building and trickery are just biding their time for when they get wiped off the searches. Proper, white hat development is the only true way to ensure future-proof results and avoid sleepless nights worrying about whether or not your site will get blacklisted.
It's these kinds of dirty tactics that have given the field of SEO a stigma for being shady, but the real, honest SEO companies like us know that there are no shortcuts to great results. All the Black Hats out there continue to be part of the problem, and it's only a matter of time until they and the sites they make get caught and banned.
But, if you are working hard, putting up unique content and working on the full web presence you will be rewarded for all of your White Hat SEO work.
Our seasoned Team of professional webmasters is ready to be of service to you and your web presence. – Nolen Walker
Earlier we said, "…if you know the rules." We perform an incredible amount of work up front and then continue that effort on an ongoing monthly basis for a very low market rate. It isn't worth the loss in revenue you could incur by not having the professional services of the Nolen Walker Team. An inexperienced and poor performance online will cost you time and money you could have been using to build a solid web reputation with the search engine. Proper SEO combined with monthly work in a myriad of categories will have you as one of the most dominate websites in your city.
If you are a small business that is ready to dominate online in your city then give us a call today.