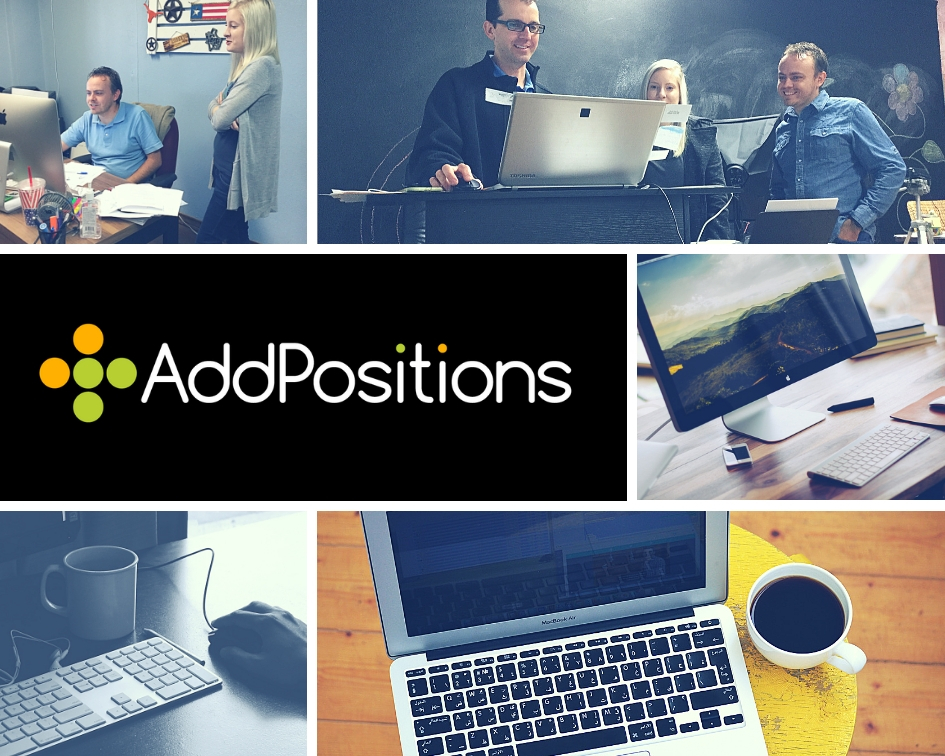 Nolen Walker builds links for clients looking to increase Domain Authority. We are a white hat link building service that relies on blogger outreach and in-house marketing to increase DA for our clients. We offer link building as a standalone service, as well as an add-on to a more robust marketing plan. Some companies already have well-optimized sites, but fail to rank simply because of a lack of high quality inbound links. Nolen Walker solves the problem through link building services. So what makes use among the best link building agencies in the U.S?
Affordability: We don't charge per link, we offer packages that are all-inclusive
Ethics: We use proven white-hat techniques rather than black-hat tactics
Performance: We've successfully built links for 100's of current clients
Reporting: We document growth in page and domain authority each month
Ranking at the top of Google search results is not easy. It requires a wide range of properly executed tasks to even give yourself a chance. In many cases, even when your website is optimized, you fail to rank above competitors. The separator for similarly optimized sites is something called Domain Authority. It is a metric developed by SEO company MOZ but is based on research of Google's interpretation of websites' link profiles. We help build excellent links. Call 866-356-8198 for link building services from Nolen Walker.
Link Building Packages
We offer several link building packages to customers. For local businesses, the local package is often most ideal. In contrast, national companies often require the national package, simply because of their necessity to reach a wider audience, which raises the standard for what DA must be in order to excel on search results. We also offer beginner's packages for companies with low DA scores, who want to test the results of the campaign, which then progresses into a local package with your consent. Review our packages below:
Beginner
Local
National
Master Class
---
Unsure which package is right for you? Or perhaps you don't even know what your website's current Domain Authority is? Not a problem. Call 866-356-8198 and we'll tell you. Our team will assess your current link profile and let you know which package is best for you (with other factors under consideration too). You'll find that we aim to please the consumer and help them choose a package that is best for them and their company's budget. We look forward to discussing your options in greater detail soon.
Outreach Link Building Service
When people talk about "outreach" do you really understand what it means? If not, we are here to enlighten you. Outreach references the act of contacting external domains for public relations support, most typically; guest posting and partnerships. By writing a relevant guest post on a 3rd party domain, your link is embedded within or at the end of the content, which subsequently registers as an inbound link to your website. MOZ and Google observe this link and credit your site with a "vote of confidence." For a step by step look at outreach link building, see below:
Step 1: Categorize your website and its industry
Step 2: Research blogs and other websites that deal with your industry
Step 3: Contact the webmaster of one or more site and ask to guest post
Step 4: Write and submit your high quality post with embedded, white-hat links
So what if they say no? That's why we're here. We've already established ourselves as a white hat link building service and have built relationships with bloggers and webmasters. Of course, they'll still say no if your content is irrelevant to their site, which keeps everything ethical. The good news is that we've established so many relationships that we have contacts with every niche imaginable. So if you don't feel like starting from scratch, there's a great opportunity available with Nolen Walker.
Qualities of The Best Link Building Agencies
There's link building agencies available throughout the web, and have been for years. The problem is that many of these agencies are black-hat. Back in 2012 Google's Penguin update decimated sites that relied heavily on spam links from irrelevant and low quality sources. While this bombshell should've been enough to dissuade sites from trying to "get away with it", it has not done so. Tactics have changed to make the links less overt, but many agencies are still black-hat in philosophy. The best agencies are white-hat, and possess these qualities:
Diverse: Have SEO skill sets that expand beyond link building
Measured: Conservative in approach but willing to report and document results
Progressive: Their services are not a 1 time action, but rather a progression
Relevant: Their links are earned from relevant external domains
So why does skill set diversity matter? Because agencies providing link building only are usually rampant with red flags. If they have no concept of what SEO entails outside of links, there tactics are unlikely to be white-hat or safe. At Nolen Walker, we have a firm grasp on on page content marketing, SEO, PPC, website design, social media, and local SEO. As for link building, that falls more under the category of off site SEO, something we also have a wealth of knowledge on, but something that is one tool and a larger and more diverse set of skills.
Content Marketing Link Building Agency
To some, content marketing and link building might seem unrelated. The fact is however, these two concepts rely heavily on one another to work properly. Without high quality content written by individuals with strong grammar skills and topic knowledge, links will mean nothing, or worse yet, be considered spam. A similar quandary exists for quality content that is never linked to. If you write an excellent page on your service category but nobody ever links to it, Google will generally ignore its existence, and no one will ever get to read it. That's why these two ideas must work side by side for optimal resolution. To earn good links, content should be:
500+ Words
Copyscape Passed
Grammatically Correct
Informationally Valuable
Topically Relevant
To those who are unaware what it means to be copyscape passed, it simply means that the content is unique and not found anywhere else on the web. When content does not pass copyscape, Google perceives its publication as duplicate content. This is one of the greatest indicators of spam. This is especially important in the context of link building, because when links exist within content that is duplicated throughout the web, Google can assume that its sole purpose is to push inbound links from one domain to another, an obvious red flag, and clearly in conflict with the ideal user experience. For these reasons, content and links must co-exist optimally.
Why Does Google Care About Links?
Google cares about links because they serve as votes of confidence from one domain to another. Just like a political endorsement from a well respected member of the community increases a candidate's chances of being elected, an inbound link from a well respected website increases the chances of ranking well on Google. It's a matter of trust really. Of course, Domain Authority is not the only factor for determining rankings. A pre-established baseline of SEO must be present for DA to even matter. By the same token, DA is unlikely to rise considerably without quality SEO, since links are less likely to be formed with reputable websites, who wish only to associate themselves with quality partners.
While black-hat link schemes could once trick Google's algorithm, the same can be said of over-optimization of content, which is just as black-hat as link scheming. Examples of this include keyword stuffing, sneaky redirects, and misleading content to attract users uninterested in the website's actual subject matter. So Google was forced to choose between which metric is a better indicator of success. And while it's still a sliding scale that requires the best of both worlds, an association with a reputable domain is more valuable than using the precise keyword within your header. At Nolen Walker, we tend to agree with their thinking. We can help you establish your links ASAP!
Quality Links Vs. Link Spam
Like any other concept within SEO, there's good and bad. Just like duplicate content scraped from another site is bad, so to is link spam. And just like well-written content that engages the reader is good, so to is quality inbound linking. So what exactly defines quality links? And in contrast, what is it that makes a link spam? These are good questions, and Nolen Walker has even better answers. You'll find that our services replicate our philosophy towards quality and spam and are representative of everything written on this page. Let's compare and contrast:
Quality Link Sources: Natural, Relevant, Reputable
Spam Link Sources: Corrupt, Irrelevant, Sketchy
Tell me something, why would anyone want link spam? There's two reasons. Number one; it's cheaper. And number two, some perpetrators think they can get away with it. Even if they do manage to trick Google temporarily, the benefit will never sustain itself. Eventually Google will destroy their website and take food out of their families mouths (indirectly). This can mean bankruptcy, business closures, and the loss of the American Dream. Of course, not every company is heavily dependent on its website for income, so they may be more likely to take the risks. But companies that need digital marketing to help pay bills, can ill-afford to do so.
How Quickly Does Link Building Make an Impact?
Building links takes time. The exact time frame varies by factors such as the health of your current link profile, Page Authority, and Domain Authority. Let's say for example, you've just launched a brand new website and it has zero links, a 2 PA and a 1 DA. In this case, you can boost your PA/DA rather quickly. Within as little as 2-3 weeks, you can improve your DA by 5-10 and your PA by 7-14. That's pretty impressive, and something that can be attained through Nolen Walker link building plans. For more established domains sitting near 20 DA, the process of getting to 30 is more difficult, but still very doable. For DA's of 50 or more, the process is very slow, but still worth pursuing, so long as your have patience and a long-term vision. Let's review the progressive difficulty of link building: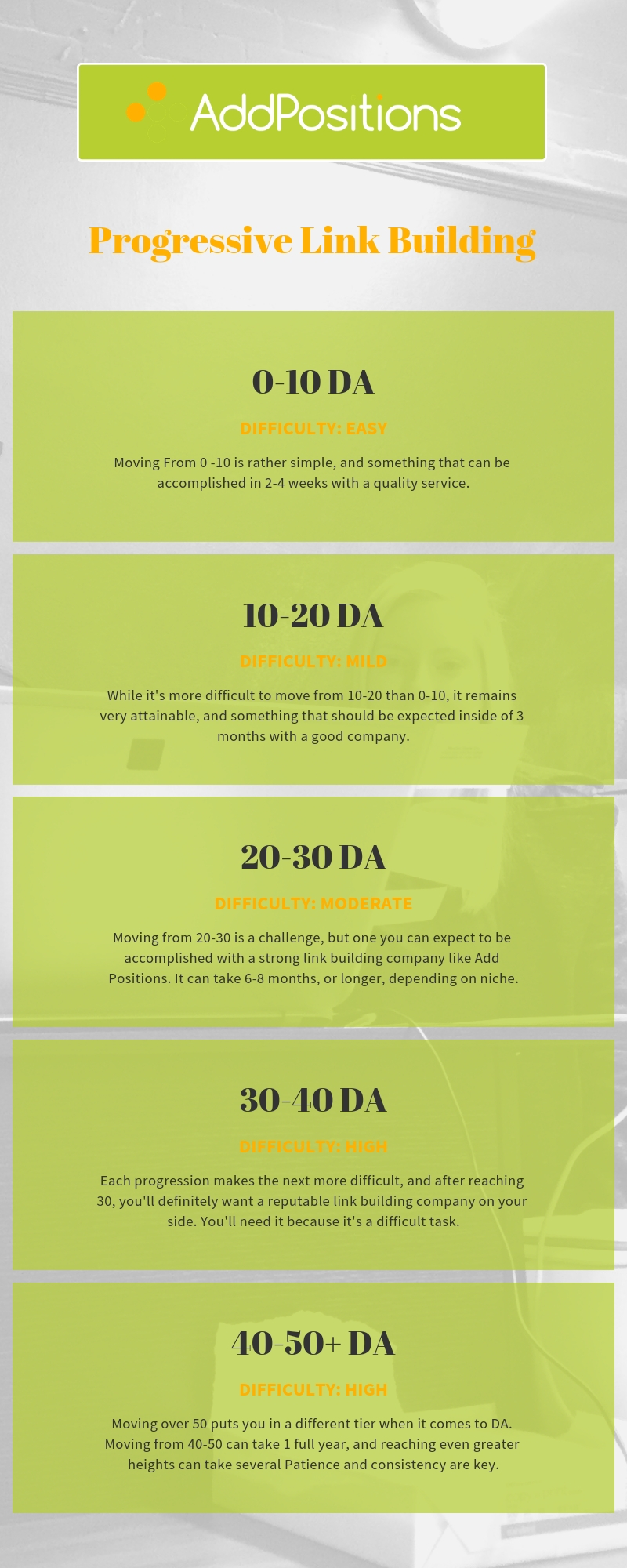 Rome wasn't built in a day, nor was a blog with 70 Domain Authority! To reach that point, you're looking at years and years worth of consistent link building. That doesn't mean it's not worth pursuing, it just means you must have patience. For sites near 50, even incremental improvements can make a difference. Think about it, you're competing against other sites with similar DA's. A 55 might be enough to over take your competitor who sits at a 52. But it must be done measurably and ethically if you hope to sustain success long-term. For lower DA sites, the process is simpler. Moving from a 10 to a 15 can make a major impact on lead generation and search visibility.
What's So Good About Nolen Walker?
We're a white hat link building company that is ready to take your DA to heights it has not yet seen. What's more, we have great experience with SEO, PPC, web design, and social media. As a full service digital marketing company, there's nothing in this business we have not come across. Furthermore, we work with all kinds of industries. From roofers to magicians, there's not much we haven't seen in the world of marketing. That's why we are the ideal choice to build your links and optimize your link profile. Because of our current client-base, we know exactly what it takes to rank toward the top of Google search results. We implement this knowledge into our link building services, and would be honored to assist your website in becoming the best version of itself. See more below: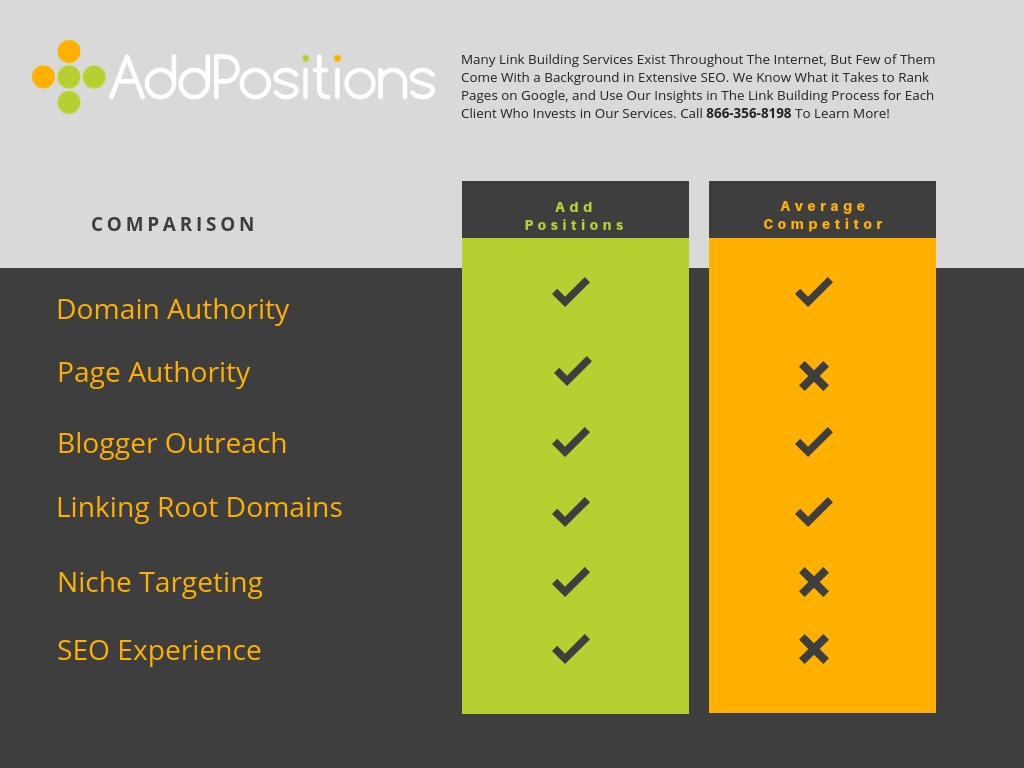 Get your risk-free assessment today by calling 866-356-8198 for your DA evaluation. We'll assess your current DA, free of charge, and help you determine the best plan(s) going forward. You won't have to make a decision on the spot, which means you have nothing to lose. At least now you'll know what your PA and DA is, and be able to make more informed decisions in future internet marketing endeavors, whether it is with us or with another agency. The least you've learned from reading this page is that link building is an important part of digital marketing, and search rankings, and can pay long-term dividends when executed using white-hat methods. Nolen Walker can help you get started today.
Call 866-356-8198 for white hat link building services.