How to Pick Keyword Topics
Keyword Optimization
In our opinion, the best tool to use when it comes time to pick keywords for your site is basic logic. If you have a big, beefy, content rich site that is properly done then you should have dozens to hundreds of keywords that optimize. Keywords are things that should come naturally when you're talking about your business and your services.
Your home page is naturally about the primary services you offer. The interior pages are naturally about all the categories of services you offer. The blog entries naturally talk about recent events related to those services or some other minor detail. If you want to know how to pick keywords then all you really have to do is sit down and brainstorm. The keywords will be those phrases you find yourself repeating most often, or ones that best describe the services your small business offers.
---
Choosing and Implementing Keywords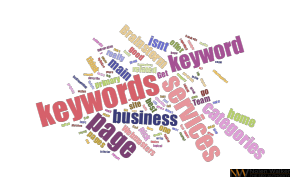 Do not write a phony page just to get a keyword. If the keyword isn't a category by itself then it isn't worthy of a full page but it might be enough for a paragraph within a similar topics page. Get all of your keywords together and break them down into a logical format. The very primary 2 or 3 will go on the index / home page. The major sub categories of services will go on a tab or main button somewhere off the home page or tops of all pages. Then on the main categories you can have links to the sub-categories that are related to the main categories. If you are in the business and you cannot think of the keyword then it isn't a good one. If you are in the business and you can think of a keyword then it is a good one; that's it.
Our methods, dedication and expertise are unmatched. Give us a call today and find out how my Team of webmasters can get you the results online that you have been looking for. – Nolen Walker
Keyword Tools
If you want to know how to pick keywords you can also go to the Google Keyword tool. The Google keyword tool will tell you how many people searched for keywords and give you other similar keyword suggestions. It will also tell you how competitive they are. Again, we really don't like this as much as simply talking to each customer individually and coming up with all keywords and topics that are relevant to his or her services. The Google Keywords tool is just that: a tool. But it's not the only thing you should utilize when picking keywords. The keywords tool is helpful, but even Google can't know about your specific business and your services better than you do, which is why we take the time to talk with you about them. Our Team will research the market and make sure that we have all relevant topics as well as consulting with the client to make sure that we have a great structured website with most or all relevant topics. Then, we build one of the best websites ever built for your service in your city.
Excellent prices | Hard working | Expert webmasters | Results driven