Pest control SEO helps bug extermination companies generate leads online. The SEO process is straightforward. We refine digital content (website, business listings, etc.) to satisfy Google's guidelines and users' needs. Getting customers through Google Search provides superior ROI to buying leads. Instead of paying a 3rd party each time you need a customer, you attract new prospects organically through your own branded platforms.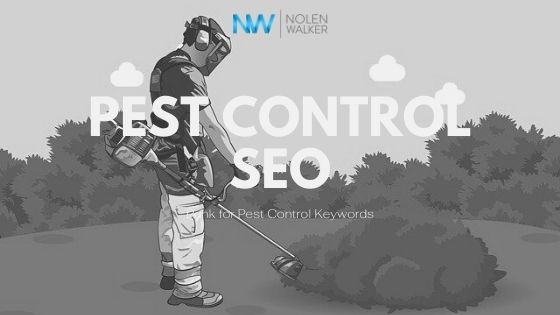 We buy leads. Why switch to SEO?

Thousands of dollars, that's why. If you're using a leads service, odds are you've already spent thousands of dollars (to compete) for leads that earn you money but grow someone else's brand. SEO enables you to develop your own sustainable channel of low-cost, high-quality leads while developing a stronger online brand. It's so much cheaper in the long-run.

How soon do most businesses notice results?

With our team at Nolen Walker, most clients notice significant improvements to their traffic and lead generation within two to three months (after site launch). That's just enough time for Google to recognize their new website and local citation listings. Once the business earns more reviews and posts more content, their leads should come in even faster.

Should we stop advertising?

If you have a good return on your ad investment, keep going! SEO is meant to enhance other marketing channels (not replace them), while also providing a steady supply of cheaper leads. Since it takes a couple months to build momentum, that's the perfect time to advertise on Google Ads or Facebook.
What Does SEO Accomplish for Pest Control Companies?
Although SEO contributes to various branding and reputation exercises, the focus at Nolen Walker is lead generation. We are a bottom-line business that works with contractors like you. As a pest control service, we understand your goals are customer acquisition and business growth, so we cut through the BS to the heart of the matter. How significantly SEO increases your stream of customers depends on where you start.
Brand New Pest Control Company
A brand new extermination company without a website or Google My Business Listing can go from 0 clicks per month to 100 with the proper SEO strategy. How fast your website gains visitors depends on your company's location, service area, and existing competitors' strength.
Existing / Struggling Pest Control Company
An existing but struggling pest control company can grow from an average of 10 monthly clicks to an average of 150 in a relatively short span. That's a 1400% increase. Of course, variables like location and relative competition can increase or decrease such percentages.
Established Pest Control Company
An established pest control company receiving 200 clicks per month can grow to 800 clicks with a few tweaks. That's a 300% increase, which can significantly impact your company's bottom line. The great thing about SEO is that those percentages can increase each month with zero advertising costs.
Organic SEO for Pest Control Contractors
Ranking on Google's first page requires a dedicated process for content creation, link building, and website design. At Nolen Walker, our team of professionals streamlines each component for maximum results. Your domain's existing age may influence how quickly it can climb the organic rankings on Google SERPs. For example, a 10-year-old website can jump from position #20 to position #1 in weeks.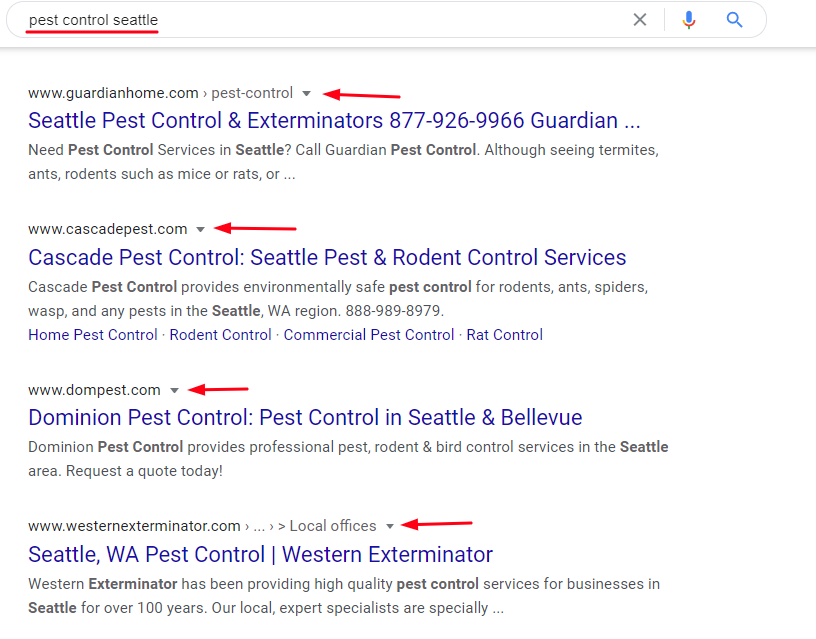 Content Creation
Google crawls web pages for relevant content and determines its value based on quality, relevance, and user experience. In some niches like (health, law, fitness) the standard becomes even higher due to Google's EAT algorithm. It remains imperative to provide detailed and accurate information to inform the user in a category like pest control services. Content can include service pages, blog posts, and video guides.
Link Building
Google's search engine uses links to assign authority to websites and pages. Links can be good and bad for your website. For example, a link from a reputable pest control supplier can boost your authority and rankings. Conversely, a link from a spam blog can potentially hurt your trust. Internal links also influence authority. Creating a logical URL structure helps ensure internal linking boosts SEO.
Website Design
SEO and web design are closely related. Pest control websites that provide a great user experience have a greater chance to rank high on search results. Designs influence site speed, navigation, and metrics like time on site, all of which are direct or indirect ranking factors. Furthermore, a strong Call To Action increases pest control conversions. 
Local SEO for Pest Control Contractors
Google Search has two primary components. The first component is organic results, which are the ten blue links you're used to seeing. The second component is the Local Map Pack, which appears above those organic results. Local pest control companies want to rank in both areas for maximum lead generation. Local SEO helps you rank in the Local Map Pack.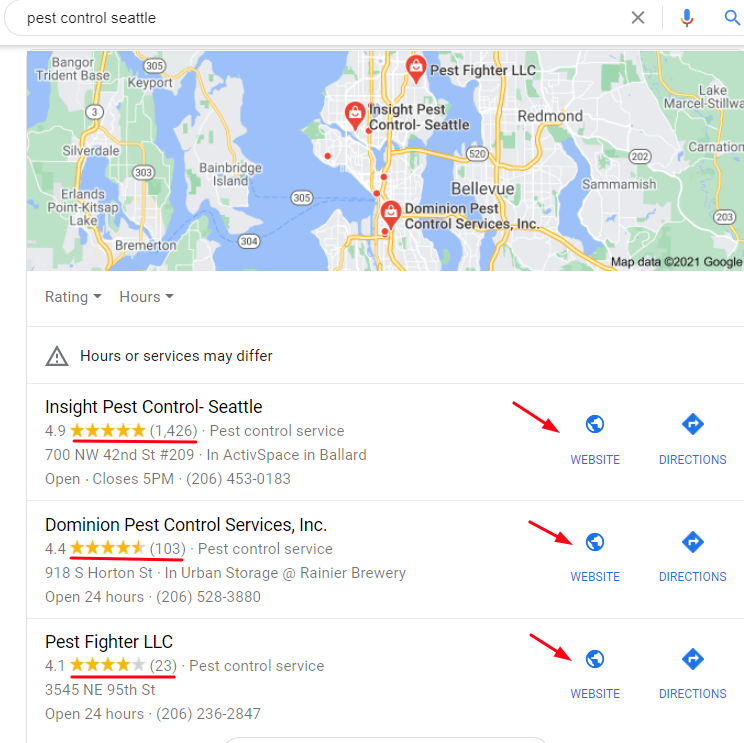 Google My Business Optimization
The most critical component to Local SEO is Google My Business (GMB) optimization. The process includes claiming and optimizing your GMB listing, pairing your company website, sharing Google Posts, and generating reviews. Nolen Walker's Local SEO Services includes BrandREVU software, which allows pest control companies to achieve each on autopilot.
NAP Citations
Registering your business with various online directories helps build trust in your company. Directories like Yelp, BBB, HomeAdvisor, and niche-oriented platforms all contribute to an overall SEO stratagy. Social media platforms like Facebook and LinkedIn also count as NAP citations. Consistent contact information is essential, but the most critical aspect is getting your website linked on each of these websites.
Review Generation
Every Nolen Walker client gets BrandREVU free, which sends automated SMS review requests to satisfied customers. A typical BrandREVU client increases reviews by 420%. OF course, reviews are not the only ranking factor, but they certainly help build your company's authority online.
Best Google Keywords for Pest Control
Some of the top keywords for pest control include:
pest control near me
pest control companies near me
pest control services
home pest control
exterminator near me
professional bug control
best pest control near me
bed bug exterminator near me