Any great online marketing campaign begins and ends with keyword selection. But choosing your law firm SEO keyword list consists of more than just selecting the most common law firm keywords. A successful list includes multiple types and styles of keywords that each serve a purpose in driving traffic to your website. Whether you're developing your attorney PPC strategy or you're creating your law firm's SEO plan, keyword research and development is crucial to get found. The Nolen Walker webmasters are ready to help you devise a keyword plan for your law firm that provides more traffic and increases click-through rates for your site. Call us today at 866-356-8198 to discuss the top keywords for lawyers to use in your online strategy.
Why Keywords Are Crucial for Your Law Firm's SEO and PPC
When searching for a service, product, or other information, searchers use specific phrases or terms called keywords. These words are the most commonly searched terms and phrases relative to particular subject matter and topics. Including these terms throughout your site helps Google index your content and present it to searchers who utilize the terms. For instance, when a searcher in Tampa Bay, Fl, wants to find family law services, they may search for "top family attorneys in Tampa Bay". Google will then present a list of results related to "family attorneys in Tampa Bay". Using accurately researched and productive keywords on your law firm's site can:
Help Google Index and Present Your Site's Information
Increase the Number of Searches in Which Your Law Firm Website Appears
Help Ensure That Your Site Appears in Correct Search Results
Increase the Number of Times Your PPC Ad is Shown
Law Firm Keyword Types and Their Functions
There are multiple types of keywords, each with their own function. Your attorney website's keywords work together to form a funnel of general, secondary, and long-tail keywords that provide an accurate layout of your site's content and subject matter. Without proper keyword usage, your site is unable to be found through search queries, making it extremely difficult to generate online business. However, with the correct implementation of each type of keyword, your site is better ranked and more easily found in SERPs. Because of this, using the top keywords for lawyers' sites is crucial to competing online.
General Keyword Choices
General keywords, also known as national keywords, are general terms that are heavily searched. These law firm keywords provide a generalized basis for your content's subject matter. Keywords like "lawyers", "attorneys", and "law firms" are general keywords that are commonly searched throughout the country. However, these keywords are very generic and also need secondary or service-based keywords in order to rank effectively.
Secondary Keywords
These terms are used to elaborate on the general keywords and provide more specificity for Google. Terms such as "divorce attorney", "child custody lawyer" and "criminal law firm" are secondary keywords that reflect a more specific niche, making it easier to rank on Google and other search engines. Secondary, or service-based, keywords provide a specific field or service that can be more easily searched than general terms and provide more specialized results.
Long-Tail Keyword Phrases
The most specific and productive type of keyword is the long-tail structure. These are created from phrases that relate to the keyword and are often used in searches. They can focus on conversational questions or they can be location-based, each of which produce marked results. Conversational keywords are constructed to reflect search phrases such as "How do I Dispute Child Custody?" or "Do I need a Lawyer for a Criminal Trial?" and can help increase rankings on user intent-based SERPs. These keywords are crucial for local and mobile-based searches and provide specific location information along with a keyword or keyword phrase. Terms like "Trial Lawyers in Dallas, TX" and "Dallas Criminal Attorneys" are both location-based keywords that have a specific key term attached for optimal productivity.
Finding the Ideal Terms Through Productive Keyword Research


Identifying the top keywords for lawyers to use requires thorough research. Along with search volume, other metrics such as cost per click, competition, and difficulty should be considered to ensure the most productive keywords. Luckily, many platforms, both free and paid, deliver keyword analytics tools that provide accurate, easy to read information about each keyword to ensure you choose the best terms for your site. Sites like MOZ and SEMRush offer a complete overview of each keyword including search and cost metrics for both SEO and PPC research. These tools help deliver a balanced view of popularity relative to cost and competition.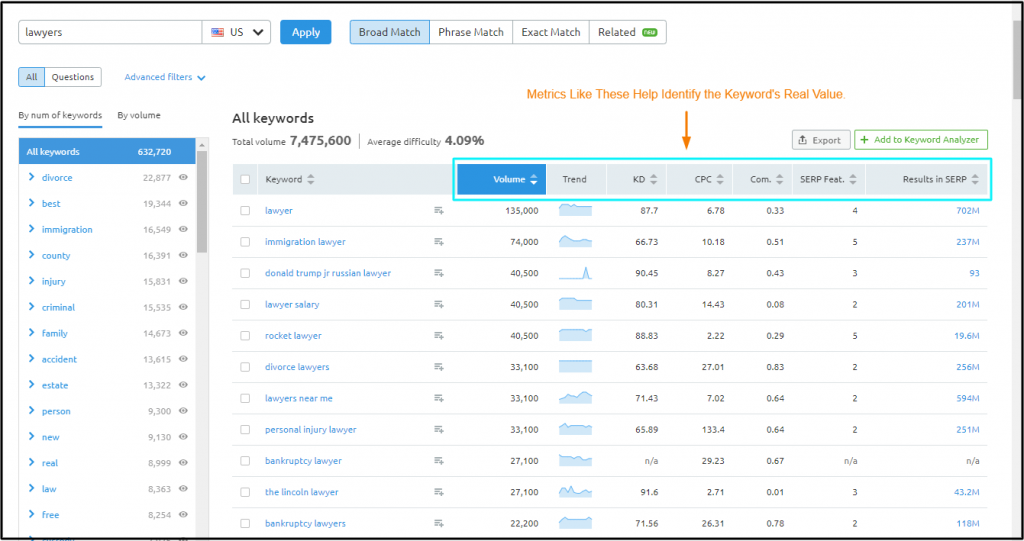 Law Firm Keywords Analytics
Identifying the ideal law firm keywords for your site is only the first step in having a great keyword marketing plan for your site. Once you have selected the best keywords, you must regularly analyze their effectiveness. Using keyword research tools can help you get the information you need to re-evaluate your keywords to ensure you're using the current top keywords for lawyers and attorneys. Google analytics also offers insight into keyword productivity with metrics like acquisition, organic keyword conversions, and queries. Your site's keywords should be evaluated and researched at least once per year to ensure you are always using the most effective terms possible. The Nolen Walker SEO team can perform comprehensive keyword research and re-evaluation so you can rest assured that your site is using the most relevant and productive keywords to attract new business. Call us at 866-356-8198 to find out how keyword analytics can help your site reach new heights in rankings and traffic.
Getting the Top Keywords for Lawyers on Your Site
Your site must have the most relevant and commonly searched terms in order to rank well in SERPs and have productive PPC campaigns. The Nolen Walker team can develop a comprehensive keyword plan to accompany your SEO marketing plan and includes all styles of keyword implementation as well as regular monitoring, evaluation, and revision. Our experts perform full research of your market, audience, and keyword usage to ensure you're reaching the widest and most promising audience you can. When you're looking to implement the top keywords for lawyers and attorneys on your site, call the Nolen Walker professionals at 866-356-8198 to get started.