Electricians used to earn most of their calls from Yellow Page ads and word of mouth referrals. In 2019, both of these lead magnets have been replaced by newer and more technologically advanced concepts. SEO for electricians ensures that leads are acquired through each available online source and business can be maximized within your local service area. Most consumers today will find their next electrician on Google. Here's why SEO matters: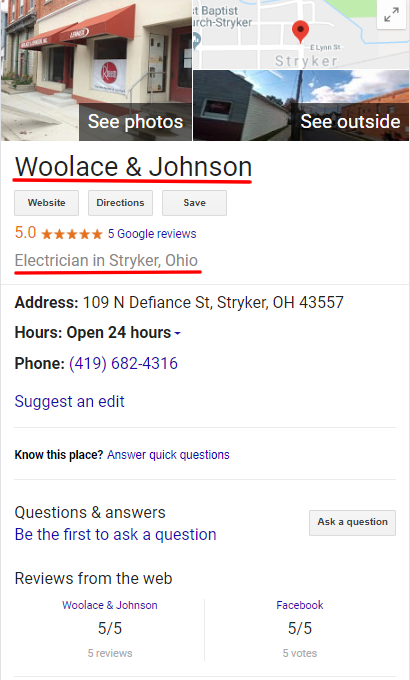 Brand Visibility
By optimizing your business online your brand becomes visible to those searching for it which increases its trust level in the eyes of Google. It also ensures that when customers search for your business name on Google they are greeted with your Google homepage which is a collection of your top organic results and your Google My Business listing in the knowledge graph.
What is SEO for electricians?
Search engine optimization allows your electrician business to show up in consumer Google search results, drawing in more clients to your company! The optimization process focuses heavily on your website, but it should also affect positive change in your GMB account. Unlike many forms of online marketing, SEO generates long-term brand growth for your business.
Why should electricians consider Nolen Walker?
We work with numerous contractors throughout the United States, across multiple industries. Our team produces fantastic ranking improvements and traffic infusions through our holistic approach, touching on over 200 unique points of optimization on and off your website. More importantly, we allow your business to generate your own leads in the long term.
How much time does search marketing take?
Search marketing involves two distinct disciplines: SEO and PPC management. SEO takes two to three months to generate noticeable improvements in your organic search results, while PPC campaigns can offer results in a matter of days. Combine the two to generate immediate leads and create a steady influx of low-cost leads in the long-term.
Lead Generation
The most appealing aspect of SEO is lead generation. Through organic search, electricians can generate new customers who find their business online. They might search for terms like electrician near me and find your business either in the Local Map Pack or within traditional organic results on page one of Google. In either case, they represent high quality leads for your company.
Sustainable Growth / ROI
Short-term advertising endeavors can get results quickly but they rarely last. For example, PPC campaigns can be nice boost for your local service company but having that as your only lead source is a recipe for disaster. Paying per click is not a sustainable way to grow your business. People are so intrigued by SEO because it allows you to scale your business over time.
How SEO Works
It's one thing to know what SEO can do for your business but it's quite another to implement it in a way that will achieve the goals you hope to attain. There are several components of search engine optimization that electricians should be aware of, whether they are hiring a digital marketing firm or attempting to optimize their business on their own. If reputable, an agency can really make life easier on a business owner.

On-Page
On-page factors are the easiest to refine because you have complete control over your own website. From title tags to header tags, there's a lot of simple tasks that go along with on-page SEO. The best way to optimize pages is to insert keywords within each part of the page (title tag, header tag, meta description, and image alt text). Avoid stuffing keywords over and over again which can create a red flag for Google and render your entire website as spam.
Off-Page
The best optimized websites don't always rank the highest. That's because off-page factors matter just as much if not more. These include links, social media signals, and other forms of brand endorsement and recognition. The more popular a particular electrical company is, the more Google will prioritize them on search results. Links from relevant and trustworthy sources can work wonders for your website.
Local
If there's one aspect of SEO most important to electrical workers it is local search engine optimization. This includes the claiming and optimizing of Google My Business as well as Google Maps. The goal is to appear in the Local 3 Pack and to rank for geo-keywords. For example when someone searches for electrical repair in brooklyn, contractors in the Brooklyn, NY area should be optimized to show up on both Maps and organic results.
Technical
Because users can only see the front part of a website, businesses assume that it is the only part that matters. This couldn't be further from the truth especially as it pertains to search engine optimization. The back-end of a website (HTML, CSS, Schema Markup, Etc.) all contribute to the ranking of a website. Sites with marked up content communicate to Google better and enjoy a more optimal promotion of their services.