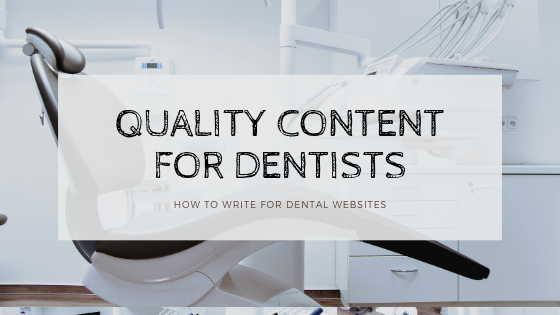 Ranking #1 on Google in 2019 is about more than keywords and link building. Content quality is one of the top considerations used to determine ranking position. Dental websites that have unique, engaging, and valuable content are going to outrank their competitors for keyword terms. The Google Webmasters Guidelines lists basic principles for what constitutes quality but they remain vague on specifics. The professionals at Nolen Walker have been writing original content for businesses for the better part of the decade and understand what the checkpoints are. Yes, keywords are important but not at the expense of readability and grammar. When keywords are implemented naturally within the content it fosters a superior user experience while maintaining the proper targeting measures. Here are some of the keys to quality writing:
Speak To Your Audience
Content should be written for your target audience rather than for Google. That's why it's important to define the target reader of each page of content you write. For a dental implants services page you will be speaking to individuals in need of implants and who have questions about the process. You should work to provide valuable information on the subject and answer the most likely questions. A blog post might differ entirely because your audience will be more diverse and therefore you will be speaking to a wider range of consumers. Content should reflect these subtle differences.
Edit With Precision
One mistake websites make in 2019 is neglecting to edit their content prior to publishing. You might think you wrote an error-free page or post but studies show that over half of all websites at least one typo. While Google has stated that typos are not a ranking factor, they can be a factor in conversions. Potential patients that are assessing the legitimacy of your practice are going to form an opinion based on things like professionalism. Excessive typos are unprofessional and that's why editing must be part of every dentists quality control process. Keeping readers engaged with quality content improves overall site health.
Utilize LSI Keywords
If you can narrow down poor content to one misguided strategy it would be keyword stuffing. The overuse of keywords within content is the fastest way to be flagged as spam and discourage readers and search engines from legitimizing your site. Writing in a natural tone should be a point of emphasis but one way to ensure this occurs is to use LSI keywords. These semantically related terms are associated with your main term but not an identical instance of it. Dispersing these words throughout your page (without ever using them more than once) is a great way to ensure keyword diversity.
Format & Organize
Content is not just about verbatim text but also how it is presented. For example, formatting and organization can make or break a page's presentation. Readiabilty is not just about if you used the proper grammar but also if you used the proper header to separate sections of the page. If you have a services page you might have sections for dental implants, general dentistry, cosmetic dentistry, etc. Each should be clearly separated and organized so that the reader can easily follow and find the information they seek. Headers are subject to the same scrutiny as body text, so avoid keyword stuffing and other spam-like strategies.
Enhance With Images
We think about content as written text but images and videos are also content. A visual component to your pages is very important for user experience and can actually enhance your text and make it easier to read. Aside from the text enhancement, original images of your dentist staff can help establish trust for would-be patients. We stress the importance of original custom images instead of stock photos. Readers will notice the difference immediately and can have an impact on website conversion rate. Photos can be optimized for SEO by refining their file name, image alt text, and page placement.
Content Writing Services for Dental Websites
If you're looking for a solution to your web content look no further than Nolen Walker. Our service includes professional content writing which features original, unique, and niche-specific content for dentists. Every one of our client websites passes Copyscape for proof of originality. Our writers are in-house and on-staff having worked as professional writers prior to joining our team. They are managed by an in-house editor who proofreads and verifies their work to ensure client satisfaction. Our writing services are part of our SEO package which also includes custom web design, search engine optimization, and local mapping (Google Maps). These services are an all-in-one solution and we don't offer them as standalone purchase. We have thrived as the premier digital marketing company in the United States for the better part of a decade. We look forward to making your dentist website dominate local search rankings in 2019.