Dental websites that succeed online share tested principles that highlight their strengths. At Nolen Walker SEO, we can spot an effective website by reviewing a few key components. First we look at the codebase which tells us whether or not the site is using a template design — in which case it is unlikely to dominate search results. Second, we look at the amount of schema microdata tags within the page — which will tell us whether or not Google can properly parcel the data. Next, we assess the visual presentation of the site including the presence of calls to action, navigational menus and overall visual appeal. Finally, we test the site on a mobile device and get a feel for the user experience… including responsiveness, site speed, navigation and click-to-call functionality. To form a better understanding of a website design evaluation process, consider these principles: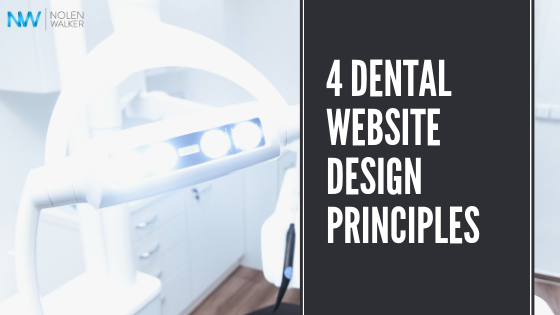 #1 Codebase
The user only sees the front-end of a website but Google sees all of it. In fact, in the eyes of Google the back-end of a website is most important. So what exactly is the back-end? It is the codebase of a dental website. CSS, HTML, JavaScript, Schema Markup, etcetera… it is all part of codebase. There's a few core elements to SEO-friendly codebase and they are oftentimes ignored by template website creators. For businesses looking to take their practice to the next level in 2019, they should stay true to optimized codebase concepts. Good codebase is:
Clean: Fast and simple for Google crawlerbots to crawl and index
Custom: Built from scratch, rather than with a template
Modern: Conducive to modern search engine standards including schema markup
#2 Schema Markup
Yes, schema is technically a part of your site's codebase but it so important that it needs its own category. In 2019, websites with schema markup are going to communicate their purpose to Google and that can make all the difference. For professionals who have no experience with coding, the concept of schema can seem foreign. But to put it in perspective, Google and other search engines collaborated with industry professionals to create the schema.org tag language. Marking up points of your site's content makes it easier for Google to promote you appropriately.
Communication: Effectively communicate with Google in a language it understands
Designation: Define your practice and what it offers to consumers in your area
Relevance: Encourage Google to promote your website to the most  relevant users
#3 Visual Presentation
Google sees the codebase of your website but users see what's actually displaying on their screens. It's nice to get the right people visiting through clean design and SEO but it will be moot if you cannot convert them into leads. Visual presentation is what will turn relevant traffic into new clients. Having a design that looks good is somewhat subjective but not completely. Professional level graphics and HTML should be a given but it is concepts like calls to action and navigation menus that really separate the best of the best. Here's what to look for:
Aesthetics: The "feel" of a website — typically highlighted by graphics, white space, and color
CTA: Showcased calls to action displayed prominently on the top of the homepage
Menu: A clear and visually inspiring navigational menu to help users find other pages
#4 Mobile Usability
Responsive designs will adjust to the device on which they are accessed. In 2019, a website should always display optimally on mobile. After all, more than half of all visitors will be browsing on mobile. The keys to a strong mobile design are convenience, speed, and navigation. Fast loading mobile sites are an expectation nowadays. Any page taking more than 3 seconds to load is likely to be abandoned immediately. Navigation is perhaps the most important aspect of mobile display and users who can navigate with ease are far more likely to convert than those who struggle. It is the job of the designer to make the experience great. Mobile concepts include:
Convenience: Simple to browse, click, and engage with
Navigation: Ease of movement including scrolling and page-to-page browsing
Speed: Fast loading to appease increasingly short attention spans
Dental Website Design Cost
There's different ways to invest in a website for your dental clinic. If you are looking for a standalone website only, it may cost you anywhere from $100-$1000 dollars. But many of these kinds of investments are for template websites that don't provide ongoing web work to maximize your spending. A superior option for dentist websites is to go with a monthly plan that includes design, content, SEO, and local mapping. This can cost you anywhere from $1000 to $1500 per month but the ROI projection is going to be very attractive for dentist professionals. Nolen Walker digital marketing company provides this all-in-one service across the nation and provides custom solutions to help your practice grow in 2019 and for years to come.