Social media can be a very useful marketing tool for dentists. As you may know, dental professionals who can brand themselves as inviting and trustworthy will earn the most clients over time. There are several social platforms that can help you, your office, and your clinic, brand itself on the digital marketplace. Remember, social media for businesses is different than personal social media. As a business page or profile you will be interacting with people's personal accounts since they will be existing or future clients of yours. But your page is for professional use only and to help make announcements, run promotions, and increase brand awareness. Here are 5 social media platforms that DDS's can use to grow their brand in 2019:
#1 Twitter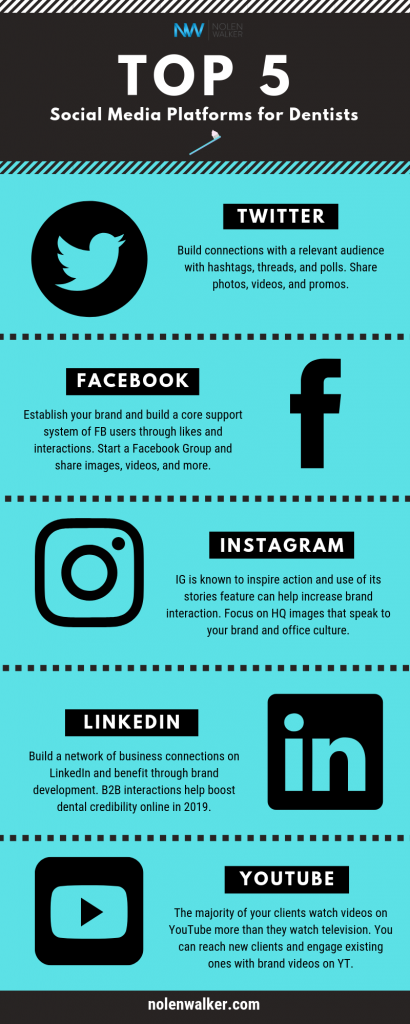 Twitter doesn't have the greatest reputation for interactions but it can be a valuable platform for DDS's in 2019. Though the use of hashtags, threats, pools, and rich media, dentists can get their message across to a target consumers. Because Twitter is considered one of the most popular social media platforms on the web, a business presence is important for branding reasons alone. Even if you end up not interacting with many clients on the app, your logo and activity will help legitimize your practice and can even influence search engine optimization.
#2 Facebook
Your Facebook Business Page will be your ultimate social engagement center. Patients of yours can follow or like your brand page and opt-in to seeing your posts on their personal timeline. Furthermore, Facebook is an ideal place to generate company reviews. When your clients are satisfied with their experience you should ask them to leave a Facebook review (now called recommendation) which will inspire their Facebook friends to look into using your practice as well on their next dental appointment. Sharing content like blog posts, images, and video is encouraged.
#3 Instagram
IG is the fastest growing social platform on the internet and dentists can take advantage. Because it is a highly visual medium, Instagram is an ideal place to brand your business through images. They also offer the IG Stories feature which empowers dentists to showcase their in-office work environment. Go through and record yourself talking to employees and even patients (with their permission) so that you can create that inviting feel that every person looks for in a local DDS. Additionally, running promos with still images can be a great way to increase online engagement in 2019.
#4 LinkedIn
B2B networking is important for dental practitioners. Why? Because they need to work with suppliers and vendors across the nation to run the best clinic possible. The network you build on LinkedIn can help your business grow in more ways than one. Aside from the relationships you form with potential suppliers you can also grow brand awareness and even improve local SEO. Many ignore LinkedIn as a social media platform because they believe it is only for hiring purposes. It is more in-depth than that but the hiring component can also be useful for dentists.
#5 YouTube
Did you know that there are more than 30 million daily active YouTube users? That's right, most of your current and future clients will be watching YouTube today. What if your practice had engaging videos that both inspired new patients and retained existing ones? It's achievable with YouTube social media marketing. Most users watch on their mobile device and it is a great way to reach a demographic that will comprise much of your clientbase going forward. Think of YouTube is the new television but you can gain access to more of the viewers than ever before. You can embed YT videos on other social platforms as well as your own business website.