Digital marketing is one of the most efficient ways to promote dental services to a target audience. Consumers seek dentists on Google — the most popular search engine in the world, a task they can complete from anywhere at anytime with the normalization of smartphone ownership and 24/7 internet access. With an abundance of dental practitioners vying for the top spot in their local market, Google rewards the most optimal website and or web presence with a #1 ranking.
The process of refining a website and web presence to achieve top rankings is known as Search Engine Optimization, or SEO for short. SEO for dentists is a highly affordable option as its cost is a major bargain when compared to other forms of promotion like paid advertising, for example. Since SEO is "organic" in that Google's algorithm determines the rankings based not on money spent, but on quality showcased, dentists looking to jumpstart their brand in 2019 have an opportunity to capitalize.
What is dental SEO?
Search engine optimization is a marketing technique for building stronger connections between Google Search results and your company website. Much of it centers on creating an optimized website that aligns with industry standards and offers a friendly user experience. Done right, SEO creates long-term, sustainable growth for your client base and company brand.
Why should my business consider Nolen Walker?
Work with us for our exceptional results! Our extensive optimization process deals with over 200 points across your practice's website, GMB account, citations, and reputation. Put simply: our thorough process produces better results for businesses both in general search results and local listings. We've worked with businesses all over the country, and we can't wait to serve you too!
Does search marketing take time?
SEO does take a few months to produce noticeable results, while PPC campaigns can generate opportunities more quickly. Combining the two allows you to start producing new business while your online brand develops gradually over time. Give search marketing a few months however, and you'll notice a steady stream of clients coming in through your website.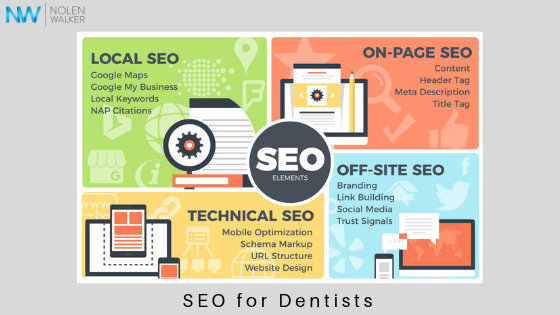 What is Dental SEO?
Dental SEO refers to improvements made to a website or web presence in order to rank higher on Google search engine results for target keywords.
Why SEO for Dentists is Important
Ranking towards the top of search results for relevant keywords drives consumers to your website and accelerates business growth. For example, if you own and operate a dental office in Seattle, WA ranking #1 for "dentist in seattle" is going to make a major difference in your traffic, leads, and eventually; your clientele. There's multiple ways to rank near the top organically because of the Google Maps 3 pack as well as the traditional organic results underneath them. Both platforms represent an opportunity to expose your office contact information to prospective clients. Unlike paid advertising, organic SEO does not cost dentists on a per click basis and therefore has a much higher long-term growth projection.
Once a user finds your website or business listing on search results, the next step is to convert that lead into a client. Generally the user will call you on the phone, especially since your number will be conveniently linked to your site or listing and the visitor is more than likely accessing either one via smartphone device. They can simply click on your phone number or the "call now" button and immediately connect to your office line. If SEO is properly executed, chances are the caller needs dental services which is why they came across your information in the first place. For this reason, converting them from lead to client is not especially difficult.
There's two macro-scale marketing methods; inbound and outbound. SEO is an inbound marketing concept because it empowers the consumer to find your services on their own rather than going out and "grabbing" them. Outbound marketing in contrast, involves older-school tactics such as telemarketing and paid advertising. Outbound marketing has become less effective as consumers have more options. The average client wants to make decisions about which dental services they use according to their own research and findings. With platforms like Google, Facebook, & Yelp providing reviews of local businesses, they have ample time to check out and compare one business against another. SEO is effective in 2019 because it makes the visitor feel as if they've found your services based on their own doing.
How Fast Does SEO Work?
How quickly SEO impacts your rankings depends on several factors. One is the age of your domain (which can be checked on who.is). Professionals who've had websites online for years or decades will typically enjoy the benefits of SEO quickly… even if their website was not properly optimized beforehand. Those who are just now launching a domain will have to wait longer to establish rankings on Google. This process can take anywhere from 6 months to a year for competitive keyword terms. As your website earns trust during this grace period it can still rank for less competitive terms in your industry. In rare cases a new domain can rank ahead of schedule within a month or less.
Another factor in how fast a site ranks is competition. Dentists in low population cities for example can make progress quicker than those in massive metropolitan areas. That is of course a double edged sword at times since a lower population produces less search volume overall. Despite this, a lack of competition can be a major benefit for dental professionals. Becoming Google's trusted industry choice in your service area allows you to convert a high percentage of online users. Your trust will be showcased not only through traditional organic rankings but also on Google Maps via the Local Map Pack. Keep in mind that searches vary by the user's location and that radius will play a factor in which consumers see your listing.
In recent years Google has become more equipped at gauging a businesses' standing in the community. Things like Facebook and Google reviews can expedite your ranking process because it shows that customers in your community both know who you are and are willing to leave positive feedback for your services. Not all reviews are going to be positive but generating consistent feedback is going to benefit your optimization overall. Ask patients of yours to leave reviews on Google My Business, Facebook, Yelp, or their platform of choice. Other ways to get your name visible in the community is to run Facebook ads or Google ads which can boost appeal and energize brand recognition.
Keyword Research for Dentists
Choosing dental SEO keywords is a process that cannot be overlooked. Using tools like MOZ, SEMRush, and UberSuggest, the top keywords in your industry and location should be identified. As a business owner you will want to target keyword terms that are both high volume and high opportunity. Furthermore, you will want to select keywords that have a quality known as buyer intent. These terms imply that the searcher intends to spend money rather than simply gather information about a subject. Targeting buyer intent words increases conversion rates since it attracts the right type of traffic. For websites newer than 6 months, targeting long tail keywords for dentists can earn you some rankings fast and buy you some time while you secure rankings for primary terms which will take a little bit longer.

Primary Keywords
Your main terms should have buyer intent which means that the searcher intends to spend money. As a dentist, you are not selling a product but rather a service. The fact remains that the consumer must be ready to spend in order for their traffic to be worth your marketing investment. Keywords worthy of primary status have a high volume on research tools like MOZ and SEMRush. Keep in mind that volumes are registered at a national level so you must use some deductive reasoning to estimate what the monthly search volume would be in your area.
Secondary Keywords
While your primary targets will bring in the most business, secondary terms can bring in what is known as supplementary traffic. Terms that don't necessarily have buyer intent but do have high volume and high opportunity are considered secondary keywords. These terms should be used with discretion. An example of this is crafting a blog post about the latest news in the dental community. You can't expect to earn a direct sale from keywords related to the post but you may appeal to the community as a whole, earn quality inbound links to your domain, and brand yourself.

Semantic (LSI) Keywords
The antidote to keyword stuffing in 2019 is the use of LSI keywords for semantic search. Google values user intent within search queries and there's no more effective way to establish intent than to use LSI keywords throughout your content. Semantic terms are similar to synonyms but are registered based on their association with a primary term. Using tools like LSIGraph.com you can generate a list of semantically related terms to your primary target. Using these words throughout the page as supplementary keywords can boost the ranking of the overall page.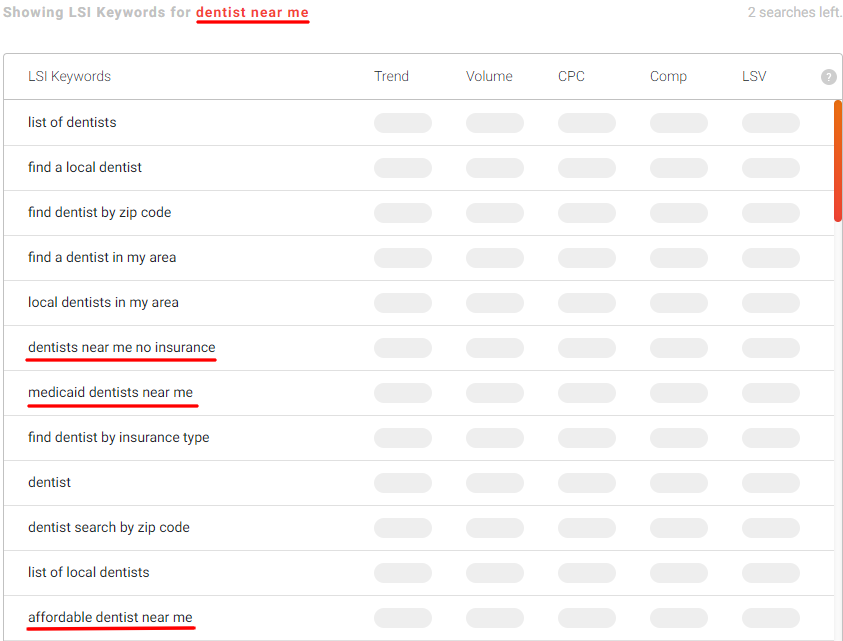 On-Page SEO for Dental Websites
The bread and butter of a dental SEO campaign is on-page optimization. This includes the refinement of title tags, header tags, meta descriptions, image alt text, permalinks, and content. Page level refinement never involves off-site factors like business listings, inbound links or paid advertising. When a practitioner pays a marketing firm for SEO they should expect the most professional level of on-page optimization. While other factors will ultimately separate your website from competitors, Google will not even consider you if you aren't optimized on-page. Think of this a baseline requirement for consideration for Google search rankings. Without the baseline, all subsequent actions are rendered useless and become a wasted effort.
Content Writing
Google values content quality on web pages and can detect the differences between spam and valuable information. Overuse of keywords… a tactic known as keyword stuffing is prohibited by Google's Webmaster Guidelines and will prevent a page from ranking for relevant terms. Unique, engaging, and valuable content should be written on each page of your website and it should align directly with your other on-page tasks such as title tag, header tag, and meta description optimization. All content should pass Copyscape.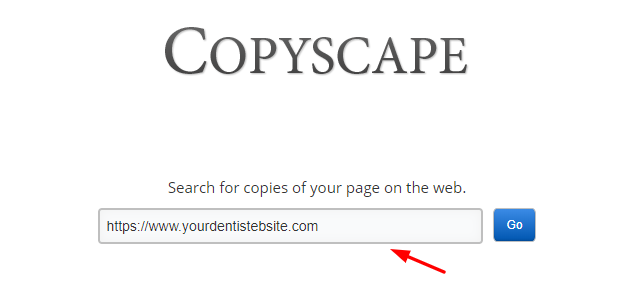 Header Tags
Much like your titles, your headers should contain keywords. But they also serve another purpose which is content organization. Headers separate sections of a page by their content relevance. For SEO purposes, the header tags that matter most are the H1 and H2 but H3s and higher can still be effective for formatting and stylization. Never stuff keywords within your headers as it will disrupt the flow of the reader and dissuade them from consuming the content.

Image Alt Text
Some text on a page is not immediately visible to the user but still exists in the source code and is therefore scanned by Google crawlerbots. One such example of this is image alt text. This text exists to describe to search engines and users what an image is displaying. A picture of your office for example should be renamed to a relevant file name such as dental-office.jpg. The alt text should be entered as Dental Office so that Google scans the keyword and visually impaired users can understand the context.

Meta Descriptions
Organic search results showcase a preview of what the page is about which is known as a meta description. It appears beneath the link for your result and its purpose is to preview the page's content. Some use the meta description to try to sell their service right there while others focus on luring the visitor into the page where they can later be converted. Ideal meta descriptions are between 150-160 characters and refrain from keyword stuffing or misleading advertising.

Title Tags
A page title tag is the most basic way for a search engine or user to identify the topic. Even in 2019, title tags are one of the strongest influences on where a page ranks on search results. Your page title show always contain a keyword and be relevant to the content written on the page itself. Titles should be between 50-60 characters so that it does not cut off on Google SERPs. Aside from your title, adding a pipe bar and dash followed by our company name is a good strategy to improve rankings.

URL Structure
Page optimization starts with a URL structure and hierarchy. You might have services as a top level page and general dentistry and cosmetic dentistry as subpages beneath it. Google needs structure to properly index your pages and promote them to users searching for specific keywords. Staying organized and consistent goes a long way towards establishing your site and pages as trustworthy in the eyes of Google. Concise URLs are superior for indexing purposes.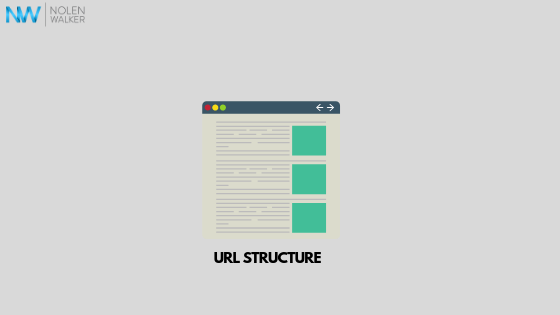 Off-Site SEO for Dental Professionals
Much of your online success is predicated by what happens away from your domain. While on-page SEO is the foundation of optimization it is not what ultimately separates competitors from one another on search ranking. On-page tasks help establish a baseline so that Google will consider your site. But it is off-page factors that really move the needle so to speak. This can include everything from business listing optimization to inbound link building from relevant and trustworthy domains. Google has moved more towards isolating the value of a dentist's online presence in 2019. It's not enough to have pages with the proper tags and keywords because that doesn't prove your worth in the community that will occupy most of your clients.
Link Building
Don't be fooled by the rhetoric that links don't matter because they absolutely do. The problem with link building in 2019 is that it is far from a black and white process. Many links are toxic for your website and Google will penalize the manipulative formation of such links. Others are highly valuable for your domain and can boost your rankings more than any other single SEO factor. The key to link building is targeting links that are relevant, valuable, and trustworthy. The truth about links is that the best ones happen naturally through the creation of quality content.
NAP Citations
Having a consistent and uniform web presence is important for trust and one way to achieve this is through NAP citations. For those who are unaware, NAP stands for name, address, and phone number. It refers to business citations across the web which are often disseminated by data aggregators like Acxiom and Localeze. These aggregators disperse info to 3rd party directories like Yelp, MapQuest and Thumbtack. Keeping this info accurate and consistent is critical to off-site SEO.
Social Media
Social media is worthwhile for more than lead generation and advertising. It also helps build trust in your company online. Having established business profiles on Facebook. Instagram, LinkedIn, Twitter, and YouTube enhances your brand on the web. Sure, these networks are great for running advertisements but they also serve a similar function to NAP citations. They are valuable platforms on which to prove the legitimacy of your company both by displaying consistent contact information as well as interacting with customers and sharing valuable content.

Local SEO for Dentists
For dentists, attracting new clientele online starts with local SEO. National traffic is great for blog posts so that you can improve brand recognition and improve rankings but the customer conversion process occurs on a local level. You must target local clients in need of dentistry for SEO to work its magic. This necessitates a focus on Google My Business, Google Maps and local keywords. The goal of every local business should be to show up on the Local 3 Pack for Google Maps results. Generating customer reviews is one of the most efficient ways to achieve this Maps ranking and can also have an impact on traditional organic results on a local level. Every potential customer should understand what your business provides and where it is located.
Google Maps
Google Maps and Google My Business are interrelated and one cannot exist without the other. To appear on the Local 3 Pack you must have an optimized GMB listing and a verified service location. Dentists should list their office address so that Maps can pinpoint the precise location and promote it to nearby searchers. GMB does provide the option to list service areas rather than a physical address but this option is irrelevant to dentists who operate from an office space.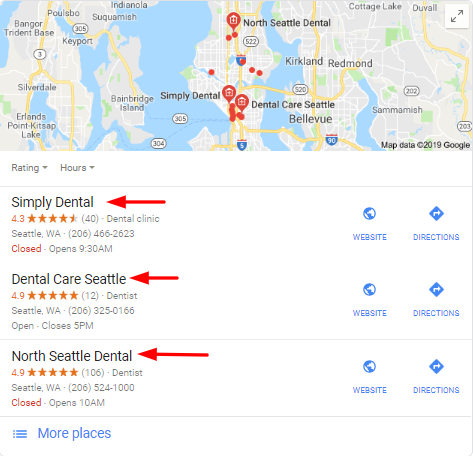 Google My Business
When someone searches your business name on Google they should see your Google My Business profile appear on the right hand side of search results… which is known as the knowledge graph. An optimized GMB listing goes a long way towards enhancing your appeal on SERPs and can also influence the rankings themselves. An optimized GMB listing has accurate contact information, relevant photos and proper business hours. Each contributes to conversions.
Location Pages
Some dental professionals have multiple offices in a region. In cases like these your website will need individual pages for each location. These pages should be linked to their corresponding Google My Business listing. For example, a dentist with offices in Dallas and Irving should have one page for Dallas and one for Irving. The GMB listing for the Dallas office should link back to the Dallas location page and the Irving listing should follow suit. This helps current and future clients avoid confusion and contributes to search ranking in both areas.

Reviews Management
In 2019, most consumers use online reviews to inform their purchase decision. This extends to who they choose as their new dentist. Positive reviews are great for SEO but the presence of reviews themselves are the first order of business. You can't worry as much about what reviews are being left at first but more so that reviews are being left in the first place. You can encourage your patients to leave reviews by asking them in person and also by investing in the Righteous Reviews app from Nolen Walker which sends out auto-text reminders with review links.

Technical SEO for Dentist Websites
Some business professionals believe that SEO and web design are separate concepts but they are actually very much connected. The technical components of optimization are as important as any of the others. Custom websites are superior to templates for this very reason. Implementing schema markup within a clean and fast-loading codebase is critical for search ranking. The same can be said about responsive and mobile design which are now at the forefront of every user's experience in 2019. And make no mistake, attention spans have decreased progressively over the past decade and site speed is now more important than ever. Any website that takes more than 3 seconds to load is going to be exited by the majority of web users.
Custom Design
Google prefers to rank websites with clean codebase that can be easily crawled and indexed. Custom sites typically do a better job at meeting this standard since templates are often duplicates of other themes and used by a wide range of businesses. Because the back-end of a website is invisible the user, it is often overlooked by companies looking to build their own site. But the reality is that Google very much considered the codebase of a website when ascribing value. Another benefit of custom design is the ability to control your own design elements.
Mobile Design
In 2019 every website should be responsive which means that it displays optimally across all devices. But most importantly, it should appear in its ideal form on mobile. Most dental patients will look for their next dentist on a mobile device and those that are tailored to their experience will reap the benefits most. A mobile experience is founded on a concise viewport and convenient navigation. If either of these becomes a nuisance for the user, expect to drop in rankings and lose conversions.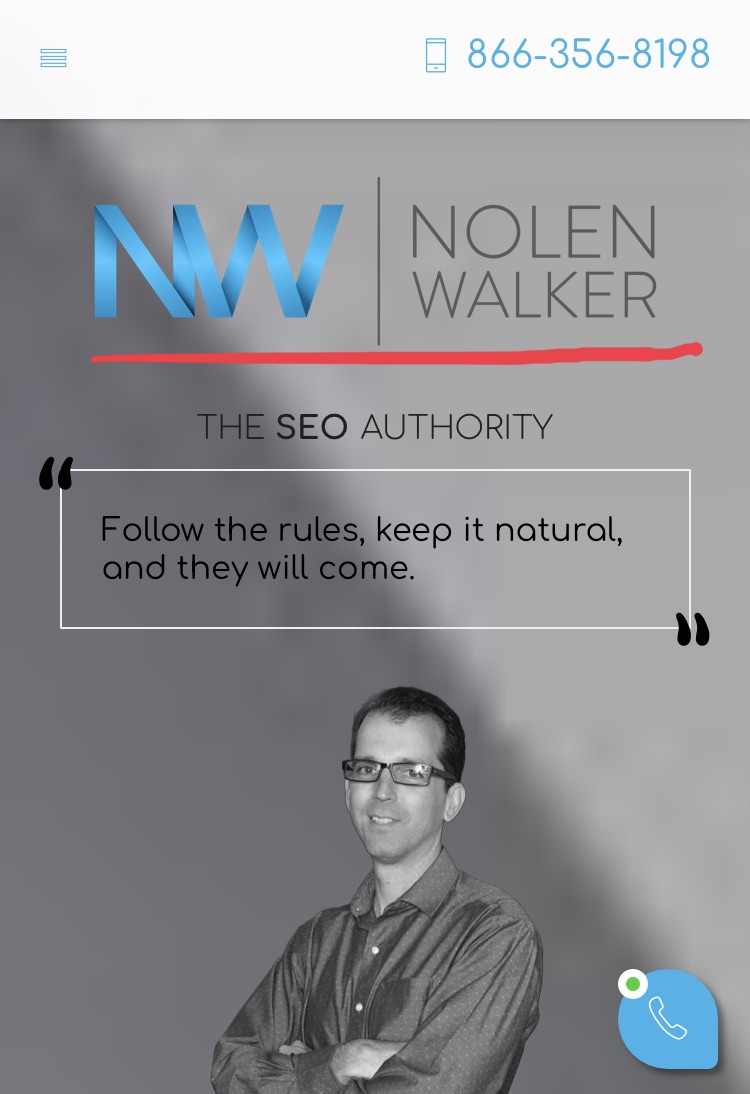 Schema Markup
Google's understanding of a website is greatly enhanced by schema markup. Schema is a microdata language that supports the use of tags to "mark up" elements of a website. IT helps Google understand what a website's purpose is which in the case of dental professionals will be crucial for promotion. Sites without schema markup in 2019 are at a major disadvantage over those who do have it. Custom websites can have as much schema markup as the webmaster chooses. Template sites, in contrast, are often restricted to a certain number of microdata tags.

Site Speed Optimization
Websites must load quickly for the modern consumer. We noted that sites that take longer than 3 seconds to load have a high bounce rate. This is the result of several factors which include the emergence of mobile devices as the top way to access the web along with the dwindling attention spans of the modern human being. Google provides tools to test the speed of your existing website including Pagespeed Insights and Test My Mobile Site.
Nolen Walker Digital Marketing for Dentists
The solution for dental marketing in 2019 is Nolen Walker. With high-end custom web design, content writing, and SEO, there's no service that compares. If you are looking to put your dental practice on the map both literally and figuratively, Nolen Walker SEO is the ideal solution. Each of our sites are custom designed and tailored specifically to your brand, local market, and target customer. We align local business listings including GMB with your primary site to create the ultimate digital marketing campaign. You will reap the rewards with organic rankings, Maps rankings, and increased conversions. Take the first step to outrank your competitors in 2019.
Call 866-356-8198 for Dental SEO Services