Carper cleaners who want to rank #1 on Google should implement search engine optimization (SEO). Applying SEO to a carpet cleaning business is a tall task in 2019. It is not as simple as simply putting up a website and hoping that people find you. There's a lot more that goes into it than that. Not only are cleaners competing against their local competitors for organic search rankings but also for Google Maps positions on the Local Map Pack. To succeed as a small business you must generate clicks from a variety of sources. You're going to need organic clicks, Maps clicks, and branded clicks to dominate your local area.
What is SEO for carpet cleaners?
Search engine optimization seeks to connect local consumers on Google with your carpet cleaning services. Through professional website design, coding, content development, and numerous other optimization factors, SEO generates a stronger connection between your website and qualified prospects. Like any other form of marketing, SEO results are measured by revenue generated and brand growth.
Why should we consider SEO from Nolen Walker?
Besides our outstanding web design team and custom schema coding, Nolen Walker provides a holistic perspective for aligning your brand with Google's search guidelines. We touch over 200 unique points of optimization! We even provide reputation management software (which has a proven impact on local search results). Finally, our month to month billing lowers your investment risk.
Is search marketing worth the time and money?
Definitely! Not only is there an enormous percentage of the population depending on Google Search for their services, there's an equally impressive opportunity to earn their business. Search marketing offers impressive lead generation at low cost, creating long-term growth for your company brand. Even if it takes time, it's worth the investment.
Here are some of the components of SEO for carpet cleaners:
Branded Clicks
Clicks that occur when an individual searches for your brand name or some variation of it. This is known as a transnational query and reveals that the person had pre-existing knowledge of your business. These clicks are often overlooked in SEO because they are somewhat reliant on external marketing. But without optimizing for branded searches, your SEO strategy falls flat and organic search volume weakens as a result.
Featured Snippet Clicks
Ranking #1 is a very difficult task but for websites that appear in any of the top 10 spots there is an alternative way to appear above the rest. It is known as the featured snippet and it is earned through content optimization. Google programatically features an answer to a common query and displays it on the SERP along with a link to the corresponding page. This snippet is above the #1 organic ranking make it the de facto top spot.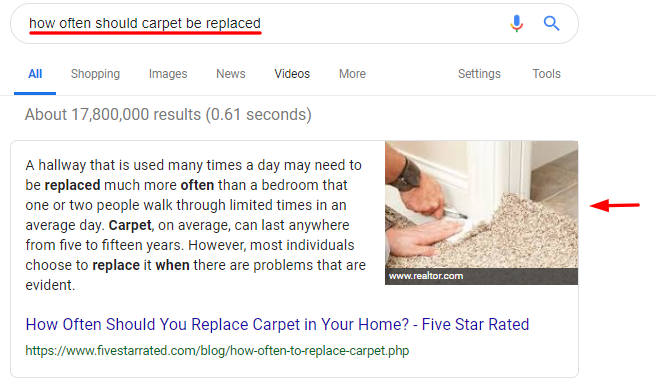 Google Maps Clicks
When locals need carpet cleaning they are going to search for queries like carpet cleaning near me. Above organic results is the Google Map Pack which shows the top 3 Google My Business listings in the searcher's general radius. Getting on the Map Pack requires the claiming and optimization of your GMB listing as well as the generation of reviews from your customer base. You can use a widget like Righteous Reviews to streamline the process.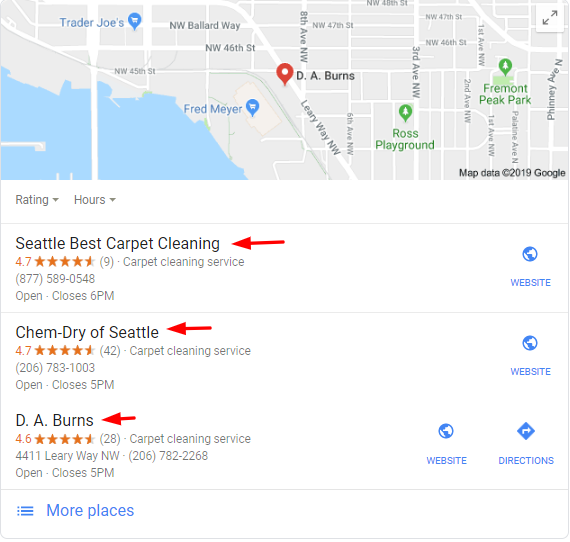 Organic Clicks
When businesses think of SEO they think of organic clicks. These are the traditional search results on a Google SERP and used to be the only way for a user to reach a business. With several new SERP features having since been added to the fold, the organic results are clicked on less. Still, the top 3 spots generate a high percentage of clicks and considerably more clicks than PPC ads. Consumers still trust organic results over paid advertisements.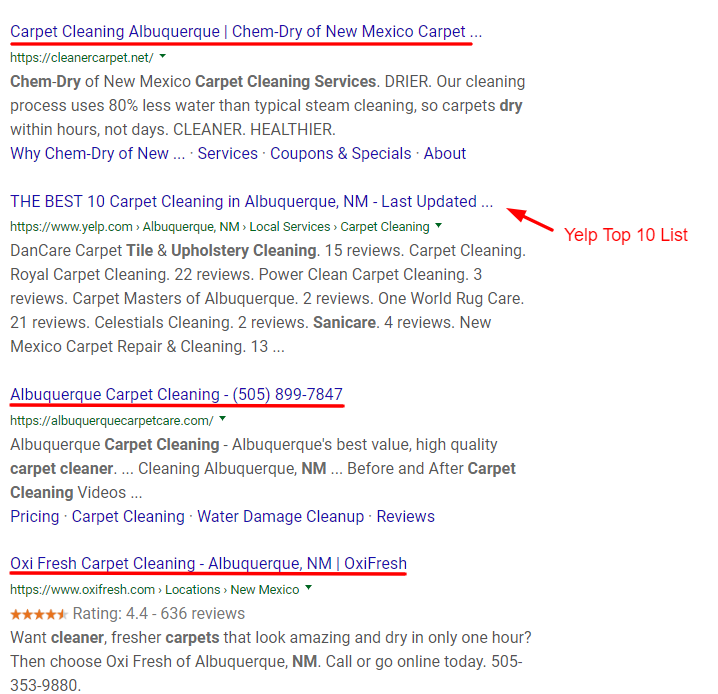 Referral Clicks
Organic results should not be the only way to reach your company website. You should have your homepage linked to your Google My Business listing, your social media profiles (especially Facebook) and all of your NAP citations. Whether it is Yelp, HomeAdvisor, or anything else… make sure that your website is properly linked. Clicks coming from these web 2.0 sources are known as referral clicks but are considered a major SEO factor in 2019.
Components of SEO for Carpet Cleaners
So how do you start generating the types of clicks listed above? You implement a full-scale SEO strategy, something we do at Nolen Walker for each and every client. From local optimization to technical optimization, we know what it takes to rank a website on the first page of search results. We also know how to identify the highest priority keywords that will yield the most substantial ROI for your business. Using tools like MOZ Keyword Explorer, SEMRush, and Ubersuggest, we target the best possible terms for your carpet cleaning establishment. The following are components of SEO that we focus on here at Nolen Walker and have proven to benefit clients:
Keyword Research
Using tools like MOZ, SEMrush, and Ubersuggest, we can identify high opportunity terms in your service area. It is important to know which words you are targeting prior to optimizing and of your pages. To fully optimize a page, the keyword term must be present in the URL slug, the page content, the title tag, the meta description, the header tag, and even the image alt text. You should avoid the overuse of keywords however which is considered to be stuffing and a violation of Google's Webmaster Guidelines.
Local SEO
Google My Business is the most important part of ranking for local businesses. If you could do only one think for online promotion it should be local SEO. Claiming and optimizing your GMB listing will give you a chance to appear in the Local 3 Pack and generate call volume from your Maps listing. This becomes much more likely if you can generate a good quantity of customer reviews. A widget like Righteous Reviews can help with that challenge and it is included in each Nolen Walker SEO package.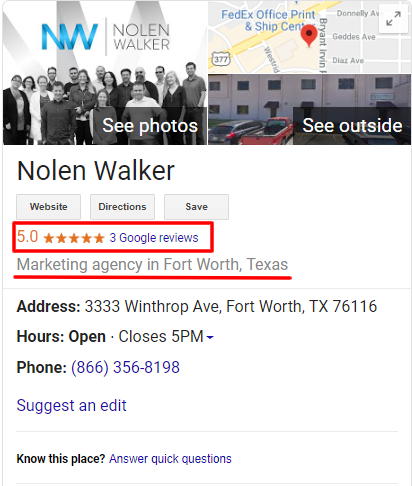 Off-Site SEO
Much of your ranking success has to do with off-site factors that exist away from your website itself. This includes everything from social media and NAP signals to inbound links from reputable 3rd party domains. Google sees links as votes of confidence from one entity to another. If a major news outlet links back to your carpet cleaning website it establishes that you are trusted by your local community. A news website tends to carry great weight in the eyes of Google and their endorsement can be a major SEO victory for your business. Other types of inbound links come from business directories like HomeAdvisor.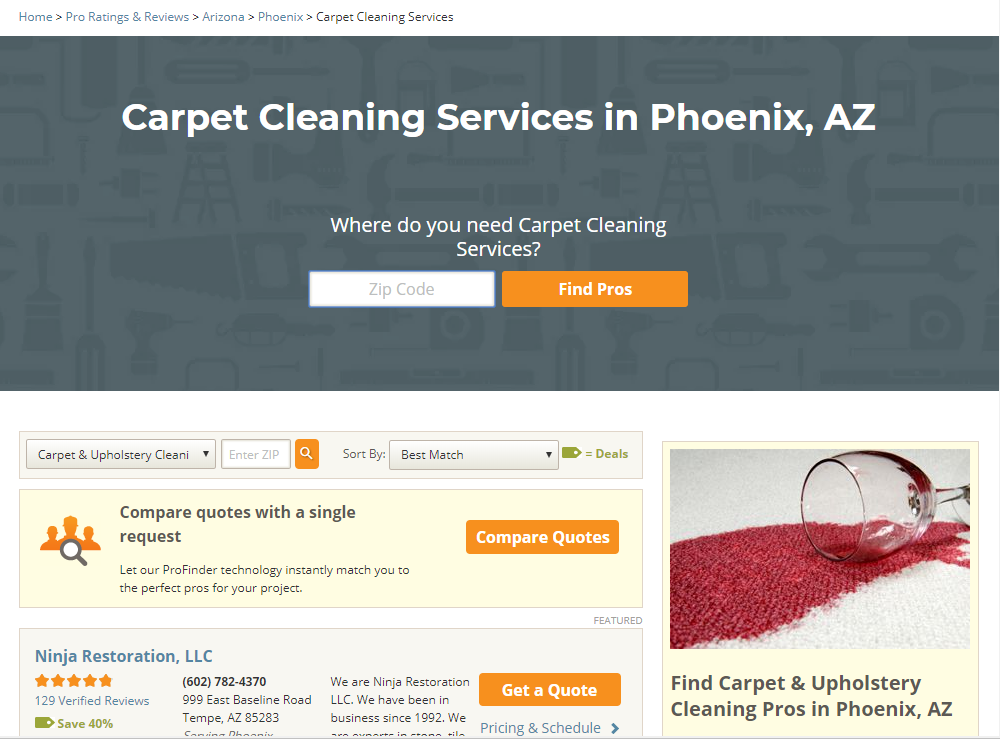 On-Page SEO
The foundation of SEO remains on-page with title tags, header tags, meta descriptions, body content, and image alt text. This is where knowledge of your keywords is most pertinent. When you optimize your site with the proper keywords your pages can begin to rank on Google SERPs. While other factors will come into play, the baseline requirement of Google is that your pages can properly illustrate a relevance to the topic and a value to the user. Part of great on-page optimization is quality content and that is something cleaners cannot overlook.
Technical SEO
Users only see the front-end of a website but Google crawlerbots see the back-end as well. The source code, HTML, and CSS of your website is part of search engine optimization too. Clean coding, schema markup, and site speed optimization each have an impact on where your page will rank. Slow sites generally perform poorly on search because users will exit from them immediately… especially on mobile devices. Schema markup is a microdata language that allows for Google to parcel the contents of your website and best promote it to relevant users. This helps both parties by increasing conversion rate and keeping users satisfied.

What About Google Ads?
Paid advertising clicks are not a product of SEO but rather PPC campaigns. They are still useful for businesses and investing in paid ads whether on Google Ads or social media platforms like Facebook Ads can be a produce a good ROI for carpet cleaning professionals. What makes them a different is that they cost per click. You must pay every time someone clicks your ad.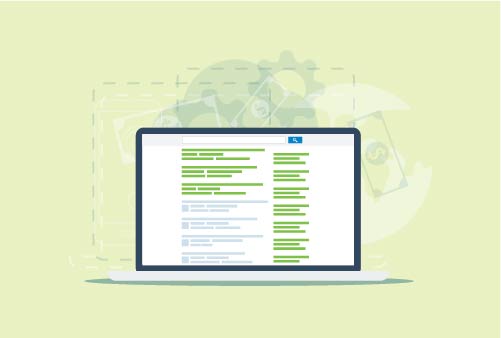 In contrast, SEO is organic which means you cannot buy your way to the top of search rankings. This gives every carpet cleaner a chance to rank as long as they have a good business and a proper SEO strategy for 2019. How Google determines whether or not you're a good business directly ties in with search engine optimization, especially local. They see brand, presence, and reviews as identifiers of trust.
Call 866-356-8198 for SEO Services for Carpet Cleaning Companies