Curb appeal is an important part of both residential and commercial properties both for aesthetics and resale value. For this reason, arborists have a wide open market to provide services. The problem for many is that they can't get themselves the exposure necessary to garner interest. While some industries have tackled the SEO industry head on, others have lagged behind. Arborists have a great opportunity to rank at the top of Google search results with SEO services from Nolen Walker.
Custom Website: Customized website built with WordPress CMS by our in-house designers
Keyword Placement: Integration of buyer-intent keywords that drive relevant traffic to your site
Quality Content: Original and niche-specific content written by in-house content marketers
Schema Markup: Special coding to appropriately communicate context to Google and its users
These are of course only 4 elements of a much more wide ranging concept that is search engine optimization (SEO). There are many other aspects and details that combine to create a robust digital marketing campaign for arborists. Nolen Walker is uniquely qualified to handle each of them in unison. Our team of about 15 employees are diversely skilled in web design, optimization, and content writing. Every piece of content published on a client's site passes Copyscape meaning it is original, unique, and NOT scraped from other sources.
Why Do Arborists Need SEO?
Arborists need SEO to rank higher in search results and generate exclusive leads. Many properties both commercial and residential demand services like arborists offer, but don't see them available in online search. If they do, they will begin to call at a higher clip and your business can multiply its client base. Not everyone is familiar with the term arborist so your website would also target keywords like tree health and similar terms.
Brand Development: Becoming more visible online creates more notoriety offline
Lead Generation: The number one reasons for online marketing is lead generation
Search Visibility: Every company to be visible on Google, both organically and through Maps
Online marketing is a technologically advanced version of traditional marketing. Yes, consumers are more educated today, and have more options, and that's why companies are subject to more scrutiny than in decades prior. Still, the concept of marketing remains undeterred. As an arborist, you want to do business with people and companies who need your services. SEO and digital marketing from Nolen Walker helps you do exactly that.
What is arborist SEO?
Arborist SEO focuses on connecting your company website with consumers from Google Search. Search engine optimization includes keyword research, website design, coding, content development, and even more! Arborist SEO is specifically tailored to the services within the tree care industry, making it easier to find qualified clients in need of your team's talents.
Why should we consider SEO from Nolen Walker?
We build from scratch, starting with custom coding and website design. Our design and content development teams touch on over 200 unique points of optimization on and off your website (such as your Google My Business account). We also lower your investment risk through month to month billing. No annual contracts for us!
Is search marketing worth the investment?
Absolutely! Your top competitors are on Google. More importantly, your customers are on Google. If you want to take advantage of the revenue opportunities available online, you'll need the proper foundations. Done right, search marketing provides years of high returns on your investment, along with sustained brand growth. So what are you waiting for?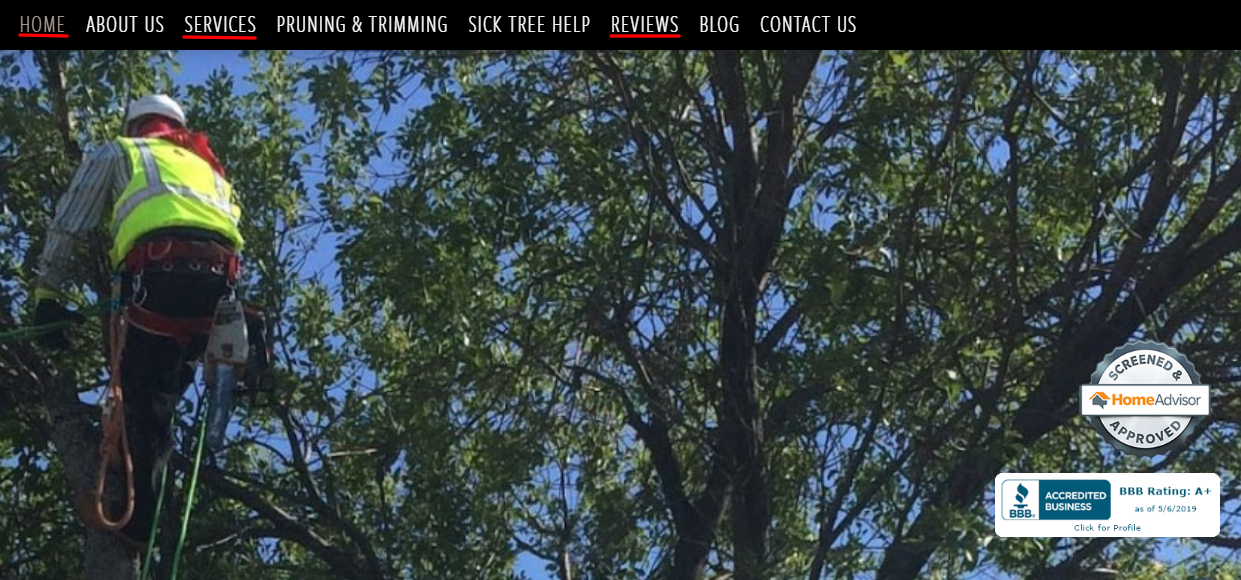 SEO-Friendly Custom Websites
Websites and search engine optimization are inherently joined. One cannot thrive without the other and in many ways, SEO processes are involved in website design itself. Custom sites have a greater chance of ranking on Google because of original codebase, schema markup, and site speed optimization. While templates are more popular in 2019 because they are fast, simple, and can be published by business owners with no design experience, they do not project as well from a rankings standpoint which is to their ultimate detriment — and to yours as a small business owner.

It's a great step to drive relevant consumers to your website but converting them is a skill of its own. The best sites can not only bring in traffic through SEO but can convert that traffic into paying customers. The best way to increase conversion rate is to optimize your homepage with calls to action… including click-to-call functionality for your phone number. Mobile users will see your number displayed prominently on your page and simply click on it to reach you via smartphone. That's the highest quality lead you can find in today's marketplace and it can really energize your business as you start to receive more of them.
Nolen Walker is a Digital Marketing Agency for Arborists