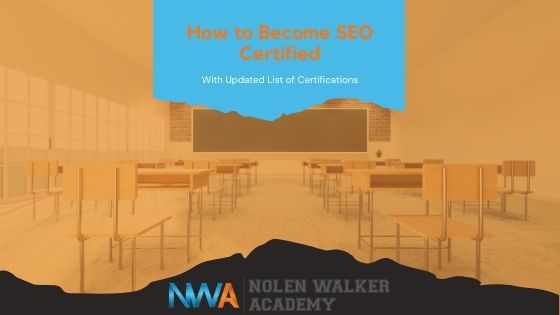 In 2021, everyone is talking about SEO. Search Engine Optimization has become a significant focus for business owners and marketing agencies alike because it drives actual results. So it's only natural for people to be curious about how to become SEO certified.
You may want to optimize your website for more traffic, or you might want to start a little business helping people with their SEO. In either case, you may be at a crossroads. So, where does one begin with learning SEO?
It's still a relatively new concept, so there aren't accredited degrees you can get in SEO. However, you may wonder what it means to become SEO certified and how to become SEO certified in the first place.
In the following post, we will answer all of these questions and share some of the best online certification courses currently available. Of course, you can always get started with Nolen Walker Academy to be your SEO certification journey with lessons from industry experts in the agency niche. For now, though, let's begin by answering some basic SEO certification questions. 
What Does it Mean to Become SEO Certified?
Does it mean getting some fancy diploma that you can frame and hang in your office? While nothing stops you from doing so, it won't exactly carry the same weight or prestige as a legit diploma from an accredited school.
All it means to become SEO certified is that you took an online course, studied the materials, took a test, and passed it. SEO certification varies depending on what program you sign up for, and there is no universal regulation or accreditation system for the certification.
Private companies offer certifications and can vary in length, subject material, price, and curriculum. Some may not even have exams at the end.
So what can you do with an SEO certification? While an SEO certification may open many career opportunity doors for you, it will at minimum give you a solid foundation of SEO knowledge that you can then apply for yourself and your clients.
The good thing about modern SEO certification programs is that many come from experts in the field. Thus, a certification program will teach you how to apply SEO to the actual (or digital if you want to be technical) world and use the methods effectively.
So while getting an SEO certification won't win you a cap and gown, it will provide you with something more valuable: practical knowledge of a skill-set that is in very high demand right now. So now here are some of the best SEO certification programs available today:
List of Top Certification Programs
HubSpot Academy
The nice thing about HubSpot Academy is that they segment their topics very neatly. So if you are a complete newb at SEO, this would be a great option because HubSpot Academy won't overwhelm you with a bloated single course.
Instead, the constituent parts of SEO are broken down into different course batteries so you can take them at your own pace. HubSpot does an excellent job of dissecting SEO so that you can focus on it in a segmented manner.
For instance, they have separate certification courses for inbound marketing, content marketing, and web design. The only downside with HubSpot Academy is that they don't have a specific SEO course. So while it would be great for someone with little to no SEO knowledge, it might not be a great benefit for someone who is intermediate with SEO.
In a Nutshell:
The courses are free
Breaks down digital marketing tactics into segmented courses
Great for anyone just starting with SEO
Moz SEO Essentials Certificate
The Moz SEO, Essential Certificate program is another online course that would be great for SEO neophytes. Over six instructor-led hours, you will learn SEO basics, like keyword research and link building.
The Moz SEO Essentials Certificate program is a 6-part course. Each of the six parts focuses on a single area of basic SEO to be too overwhelming for beginners. There are also five exams to go through to get your certificate.
The good thing about the Moz SEO Essentials Certificate program is that you can learn SEO basics rather quickly. Some people complete the course in a day. The not-so-good news is that it doesn't cover any advanced topics like SEO auditing or optimal site architecture. It's also not free. The course will cost you almost $600.
In a Nutshell:
Another good course for SEO beginners
Instructor-guided courses
You can learn the basics of SEO relatively quickly
Google Digital Garage
Who better to learn SEO than the people behind the search engine that gets used more than any other search engine in the world? So when most people are talking about Search Engine Optimization, they are specifically talking about Google Search Engine Optimization.
So what else makes the Google Digital Garage a good choice for SEO certification? First, they don't just focus on SEO but also on the periphery subjects that affect SEO. For instance, in the Google Digital Garage, you can learn about things like User Experience (UX), content marketing, and even Pay Per Click Advertising.
Overall this is a fantastic course because it goes through the basics and the technical aspects of SEO. During the course, you will learn skills that you can apply to yourself or your clients. The best part about all of it is that the course is free!
In a Nutshell:
It covers indirect SEO topics that you will eventually need to know
Great for SEO beginners and intermediates
It's free
Nolen Walker Academy
For students looking to learn from top industry experts, NWA provides the most extensive training available. With applicable SEO techniques from agency professionals who use them every day, the knowledge obtained from these over-the-shoulder courses is unmatched by other platforms.
In addition, NWA expands beyond technical SEO concepts and delves into the process of creating a million-dollar marketing agency. Having SEO skills is imperative, and the course teaches you every craft imaginable, but applying these skills as a business model gets messy for many aspiring SEO professionals. NWA simplifies the process for consumption.
NWA also provides non-course material that keeps students engaged and helps motivate them to apply their education. For example, members gain access to hundreds of exclusive videos, podcasts, and real-time sales calls from Nolen Walker himself. It's not often that the top agency owner in the United States shares such restricted information. However, NWA presents a blueprint for anyone looking to make a living in SEO.
In a Nutshell:
It covers every SEO craft along with agency sales, and operation
Provides exclusive non-course material to keep students engaged
Offers a reputable certification to students who pass challenging exams
The Good and Bad of SEO Certification
There are two sides to every coin – SEO certification courses are no exception. There are pros and cons to putting the time (and possibly money) into getting certified.
First, the good stuff:
You get to learn SEO in a structured manner instead of piece together knowledge from blogs and forum posts.
Many online SEO certification programs come from SEO experts who have excelled in the field.
You learn skills that you can apply for yourself and your clients.
Now the not-so-good:
These types of certifications do not come from accredited institutions, so while they might provide a boost to your resume, don't expect them to land you any jobs in and of themselves.
A certification only means that you took a course and passed exams. Real-world SEO skills will require practice and experience that a certificate cannot replicate.
The Bottom Line for SEO Certifications in 2021
With more businesses transitioning to the online world, the demand for skilled SEO work is higher than ever before. In addition, more people are looking to work remotely, which SEO allows for more than other types of jobs. Still, learning SEO from free blog posts and forums doesn't translate to advanced knowledge and can limit job opportunities and performance.
Achieving a certification from a structured course can give aspiring SEO's the confidence they need to improve their client's performance and advance their career. The great thing about certificates is downloading the PDF and attaching it to your resume or promotional materials for your business. If nothing else, earning a certificate will boost confidence and help aspiring SEO pros find their niche and apply proven methods for success.