If you're reading this post, you probably wonder how long it takes to learn SEO. Unfortunately, the answer to this question, like many others, is; it depends.
There are countless free SEO resources online, including guides from reputable platforms like MOZ, Search Engine Land, and even Google.
The main problem is that Google hides its algorithm from the public and privately makes changes 6 times per day. As a result, SEO is somewhat of a guessing game where guides can become obsolete in 24 hours.
Despite the constant changes, there are elements of SEO that don't change. These elements are known as evergreen components. These kinds of SEO tactics worked 5 years ago, and they will work 5 years from now.
Learning these evergreen SEO tactics can take anywhere from 90 days to 10 years. It all depends on where you access your information and the credibility of the data presented.
SEO Learning Curve by Levels
When individuals set out to learn SEO, they may have different goals in mind. For example, someone may only want to learn basic SEO tasks since that's all they are asked to provide for their current employer.
On the other hand, entrepreneurs may want to learn in-depth SEO processes to start their own digital marketing agency one day. But, unfortunately, these people are going to have to endure a much more grueling education.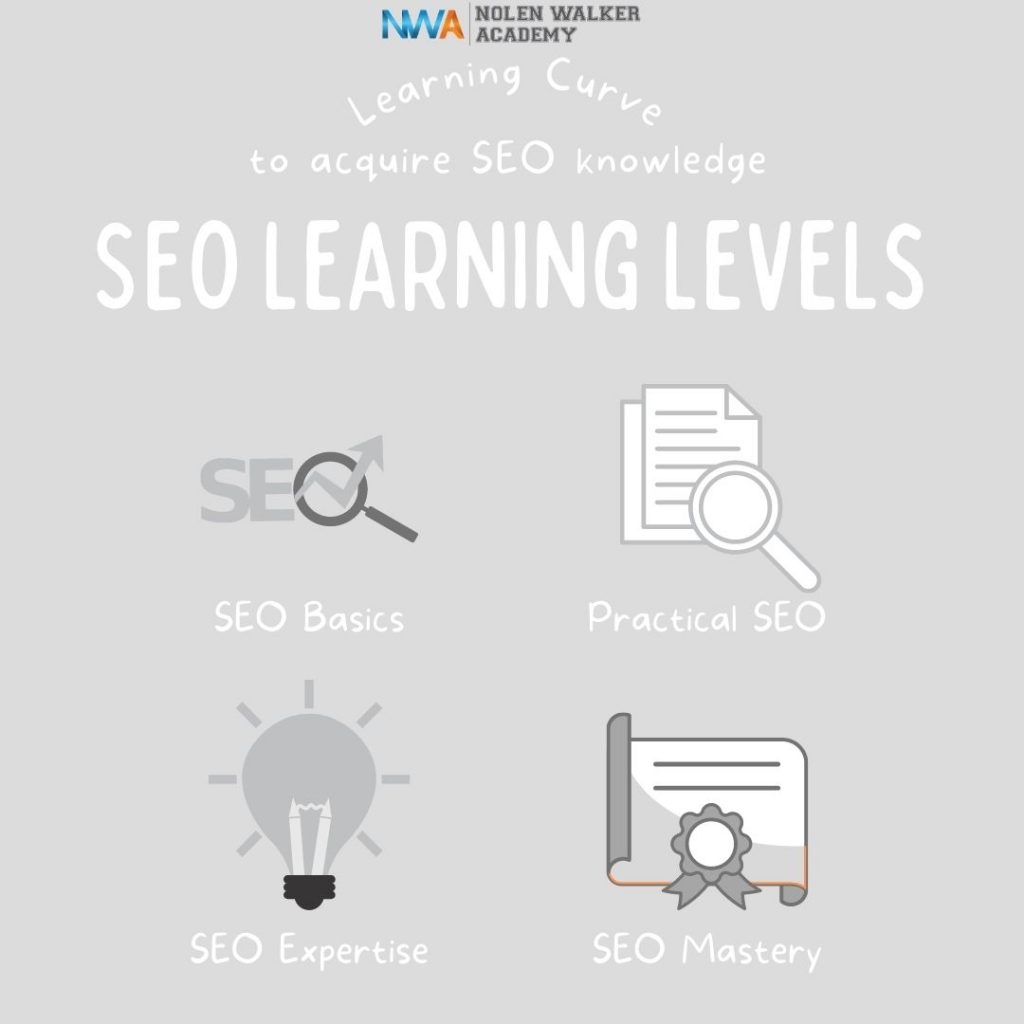 Basic SEO Tasks
Learning basic SEO tasks like updating meta descriptions can take less than 10 minutes. Similar lessons like title tag optimization and keyword placement can be learned in as little as 4 weeks.
Practical SEO Knowledge
Acquiring enough knowledge to comfortably work on a client's SEO campaign generally takes 4-6 months. Of course, you can expedite this process by investing in course materials like Nolen Walker Academy, LLC.
SEO Expertise
Becoming a genuine SEO expert typically takes 3-5 years of learning and performing SEO. One of the main factors clients look for is experience which you can only obtain through years of working on campaigns.
SEO Mastery
An SEO master exists in the 95 percentile of all SEO professionals. Most SEO masters have performed high-level SEO campaigns for at least 8 years, and most have more than a decade in the SEO industry.
What Can Affect the Time it Takes to Learn SEO?
There are a lot of variables to the equation. Some people take years just to learn the basics of SEO. On the other hand, we have seen some people become SEO wizards in as little as 3 years.
It all depends on a combination of factors that include:
Technical Acumen
Technically savvy individuals, particularly those with engineering or high-tech backgrounds, will grasp SEO much faster than someone lacking those qualities. Thus, computer literacy is another aspect of technical understanding.
Free Time
People with time on their hands will learn SEO faster than those working full-time jobs or raising 5 kids, for example. Time is the currency of education, so those with enough of it can learn SEO much faster.
Marketing Experience
An understanding of marketing can expedite the SEO learning process. For example, people with degrees in marketing will understand the basic principles of SEO. While they will have to learn technical tasks, the rest will come easier.
Mentorship
The most effective way to skip the line, so to speak, is to find an SEO mentor who has already gone through the trials and tribulations. Learning from an industry veteran can save you years of learning and put you on the fast track to success.
The #1 Shortcut for Learning SEO Faster
Mentorship is the best way to learn SEO fast. You can enroll in Nolen Walker Academy LLC to get your digital mentorship program. With NWAcademy, LLC, you will skip over years of mistakes and learn real-time agency practices.
Nolen Walker Academy provides a complete blueprint from an active digital marketing agency with hundreds of clients. Let's be realistic; you cant' find courses like this anywhere else. No other SEO membership platform has 200+ SEO clients that pay their monthly fee on time.
At Nolen Walker Academy, LLC, the 90-day challenge is a lifestyle. We challenge our members to become DMA pros in 90 days and help them start putting their skills to work. In addition, members can earn 40% commissions on affiliate sales.
FAQ's about Learning SEO
SEO is an industry filled with questions. Perform a search on Google, and you will see a box that says People Also Ask. At its core, search engines produce answers to questions. On that note, let's answer some of yours.
Is Learning SEO Worth It?
Learning SEO is a worthwhile skill for just about anyone. However, business owners and entrepreneurs should be primarily concerned with their SEO knowledge. Not having it typically reflects a poorly managed online presence.
SEO is also a beneficial skill for people looking to change careers. The SEO industry is growing, and people can acquire an in-demand skill to gain employment from marketing agencies and businesses looking for in-house marketing specialists.
Finally, SEO is a long-term skill that increases the value of its education. With more people using the internet each day, SEO isn't going anywhere anytime soon. Some claim SEO is dead, but they mean it in a different context. Learning SEO can only help your career and business in 2022.
How Hard is SEO?
SEO basics are easy to learn and implement. More advanced SEO strategies do require more education, but the experience is the best teacher. Depending on your SEO goals, the industry is complex or straightforward.
For example, a massive brand looking to expand its online presence will find SEO easy. Why? Because people already know about their brand and seek it out online. Only Google needs is fundamental SEO to help you rank.
On the other hand, starting an SEO campaign for an unknown business can be highly challenging. With these campaigns, you may need to deploy cutting-edge strategies only known to top SEO experts.