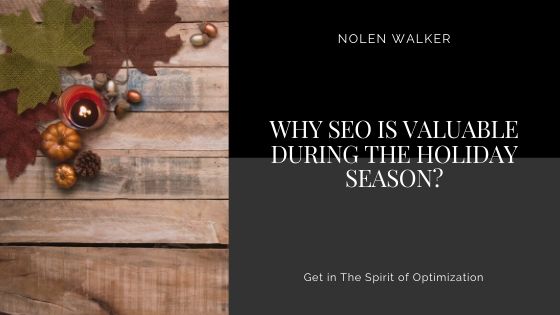 When the holiday season rolls around, it can either be a merry time for businesses or one of a stocking full of coal. It depends on a few things, like the line of business you are in and when those dips in sales or activity tend to arise.
It can also depend on your holiday SEO strategy. If you are not taking advantage of all that a quality SEO campaign can do for you, your business might find itself wishing for Santa to bring more customers to its doorstep.
But don't let the holidays be anything less than merry for your business. Here is why you need to make sure that your website is optimized around the holidays and just how to make certain that your holidays are the very best that they can be for your business.
Holidays are the biggest spending seasons for customers
This does not just apply to the retail sector: right around Thanksgiving and Christmas is when the vast majority of people are spending more money than they have all year on projects for their home as well as those holiday gifts that we are all so fond of.
Ensuring that your business is getting as many of those holiday dollars as possible should be one of your top priorities. If you have a service or product, this should be one of the best times of the year for you, not one of the worst.
Being able to hone in and bring customers to your business during this busy time can make or break a year for any business, especially one that operates on a smaller bottom line and budget. Thankfully, there are a number of steps that you can take to ensure that your business is prepared for the holiday season by having the best SEO plan available to you.
Update Your GMB
If you have registered your business on Google My Business (GMB) then you are likely to receive emails during the holiday asking you about your business hours. If you are open during the holiday season, you can broadcast this information to those who look you up on Google. Since many companies close down during the holiday break, you have a chance to attract customers who would have otherwise spent their dollars elsewhere.
Aside from business hours, you can also enhance your GMB with holiday-themed Google Posts. Whether it is Thanksgiving, Christmas, or another National holiday, you can show your customers that you are thankful for them in the holiday season. The great thing about Google Posts is that you can include a Call To Action (CTA) with each one, which allows you to run a themed promotion that will resonate with consumers.

Take a look at your current SEO standing
One of the best things that you can do for the holiday season is to know where you stand with your overall SEO state. Maybe there are some areas of your website that have been left less than optimized that you could put some attention into. Even the simplest of changes can have a huge impact on your SEO rankings overall, so take a look at where you can improve.
But don't just focus on areas where you need improvement. Take a look at where you are strongest. When you have a good idea of what it is you are doing well with, you can apply those same principles to your other pages, even holiday pages that may be highlighting deals or product specials you are running.
Refine your titles and product descriptions
During the holiday season, browsing is busiest. This is because more people than ever are online looking for holiday gifts for friends and family. Because this is one of the busiest times of the year, you need to ensure that your website is optimized so that it can grab some of that extra traffic.
One great way to do this is through product titles and descriptions. These can have a direct impact on the click-through rates for your website, so ensuring that your titles and product descriptions are optimized should be a priority.
A good strategy here is to not necessarily optimize for keywords, but to optimize for the user instead. Write quality titles and good descriptions to draw in visitors to your website while still using those keywords that work so well for search engines.
To do this, you need to really know your customer base and understand what they are looking for during the holiday season. This way, you can tailor your titles and product descriptions to those people who are buying gifts, instead of your normal audience.
Make mobile a priority
Now more than ever, users are turning to their mobile devices for their web browsing. This means searching for gifts for their loved ones or looking to make an immediate purchase. Being mobile-friendly is critical this time of year because those users are looking for something quick and not wanting to fiddle with a poorly optimized mobile site.
That number will likely only increase over the coming years. The vast majority of the North American population has a smartphone or tablet now and mobile optimization is becoming more critical for businesses than ever before.
If your website can't handle the mobile platform, you need to take a look at that immediately and optimize it before it becomes a major hindrance.
Embrace social media
Social media is a growing form of digital marketing because of the ways it drives traffic to your website as well as the direct interaction potential that it has with customers. That direct line of accessibility is something that more and more customers are finding valuable these days and not having a social media presence can be critical.
Best of all, you can use the social media platform to share any specials or deals that you are running on products or services; customers are looking for deals more than ever during this time of year. These kinds of specials are a great way to drive traffic to your website, getting not only valuable information and leads but a much higher chance at converting those leads into sales.
Watch your load times
There have been recent studies that have shown that even a second of delay time can drastically decrease customer satisfaction and can have just as substantial an impact on your conversion rates. People simply do not like to wait for your website to load, even if it is 10 seconds or so.
While there is no solid number where people will give up on your website, but one thing is clear: the faster your website's load speeds, the better for your business overall. Look into ways to optimize the speed of your website so that you can keep those potential customers instead of seeing them leave to go somewhere else. Load speed is becoming more and more important.