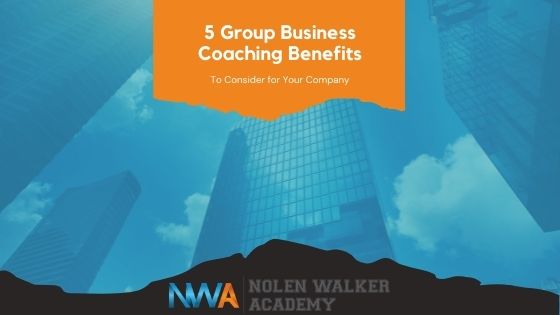 Did you know that nearly 20% of all businesses fail within the first year? The number actually gets higher with time too. This is because it takes a lot to succeed in the business world: a good business plan, capital, wise decision-making, and the ability to take necessary risks, just for starters.
Not everyone will have all the skills and wisdom they will need to make it – even if their heart is 100% in it.
You may have heard of group business coaching but shrugged it off for various reasons. And while the truth is that group coaching really isn't for everyone, we at least want to take some time to talk about its merits. 
At Nolen Walker Academy, we have helped many businesses thrive through professional marketing practices. We also know group coaching to work for many large and small businesses. 
In the following post, Nolen Walker outlines some of the best benefits that group business coaching could hold for your operation. Join Nolen Walker Academy today to gain access to Nolen's DMA blueprint.
What is Group Business Coaching?
Group business coaching guides multiple people within the same company for accountability, KPIs, and professional development. A group business coach works with three or more colleagues in attaining business goals and facilitating a superior work environment.
Group coaching can be advantageous because you simply get more resources. With group business coaching, you can draw from the collective experience of a few or several business professionals with expertise in different fields. Some of it will depend on the coaching service you choose.
In general, though, you should be able to receive coaching from more than one source in group business coaching. For example, your group coaching team could consist of an accounting expert, a marketing whiz, and a business development coach.
Of course, the goal of group business coaching is to help your business succeed. Therefore, it tends to be inherently more advantageous than one-on-one business coaching because of the wealth of experience and knowledge you are made privy to.
Advantages of Group Business Coaching
While group coaching may not be for everyone, we believe that every business should consider it at one time or another. Here are just a few reasons why:
Perspective
Many small businesses get so swamped that they develop tunnel vision. In other words, you are so focused on one or a small handful of things that they become all-consuming.
With group coaching, it's much easier to gain an outside perspective that can help remind you of the bigger picture. It's common to lose sight of your larger business goals when you start to get mired in the minute details.
There's nothing wrong with that – it means you're working hard. But it can be a great advantage to have more than one person on your team that can see your business and work from the outside and helps keep you on the grander path.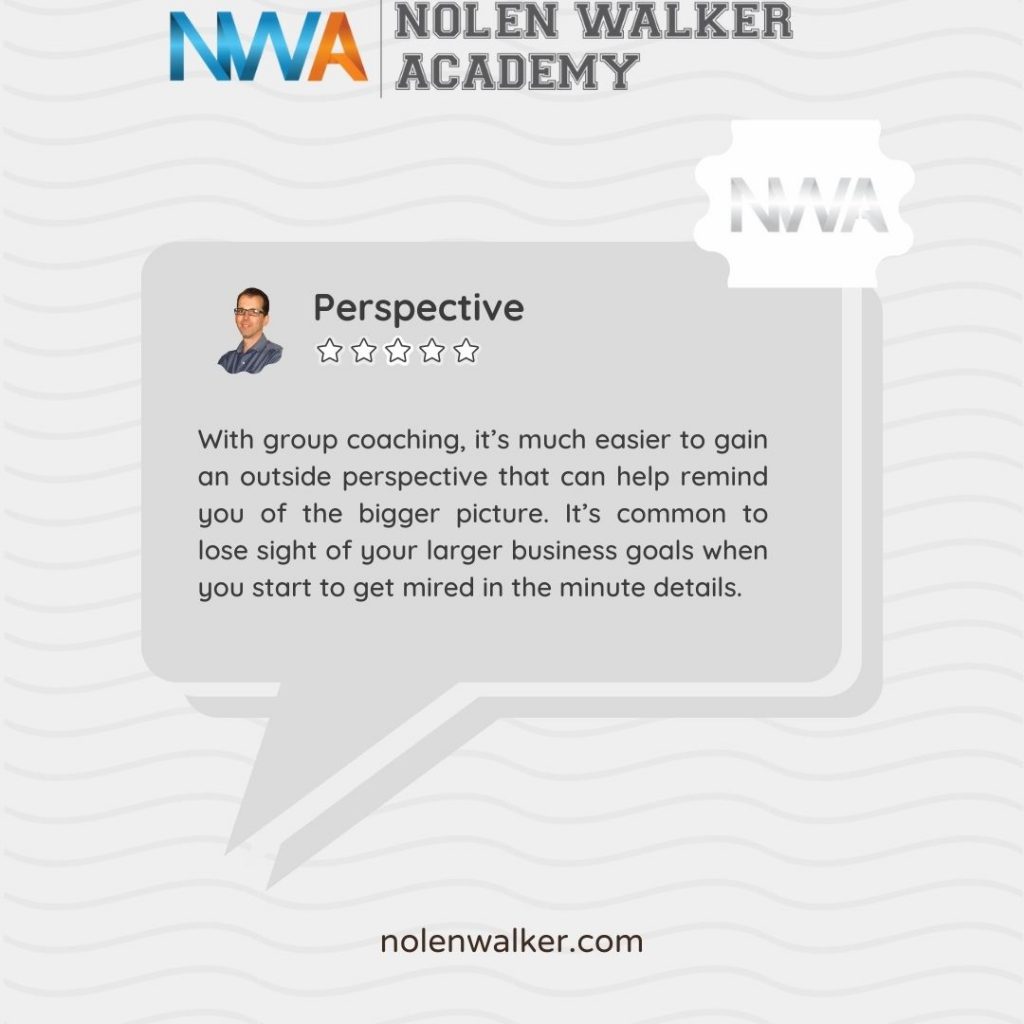 Comprehensive Support
It really comes down to that tired old adage, "two heads are better than one." Group business coaching will put multiple people on your team dedicated to making your business thrive.
Having multiple coaches means that you will be able to bend the ear of one of them at any time. When one person isn't available, you can talk to someone else.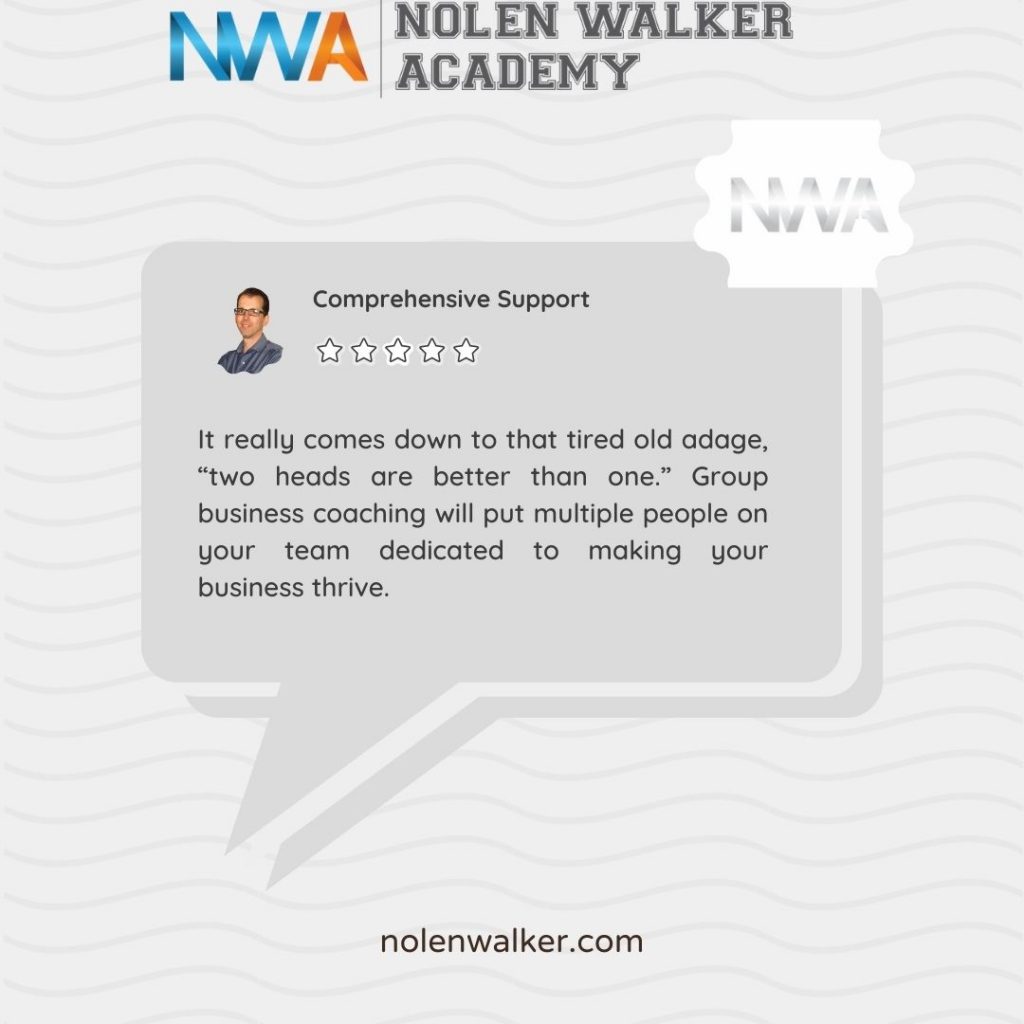 Areas of Expertise
The problem with many one-on-one business coaching programs is that the coach will have a narrow area of business expertise. As a result, you get a diverse team with different backgrounds with better group coaching services.
Business is dynamic and requires skills in many fields, especially as your business grows. A group business coaching system will allow you to draw on the knowledge of experts in different areas.
It may not seem that important when running a brand new, one-person business. But having multiple experts on your side could be a considerable benefit as your business starts to expand.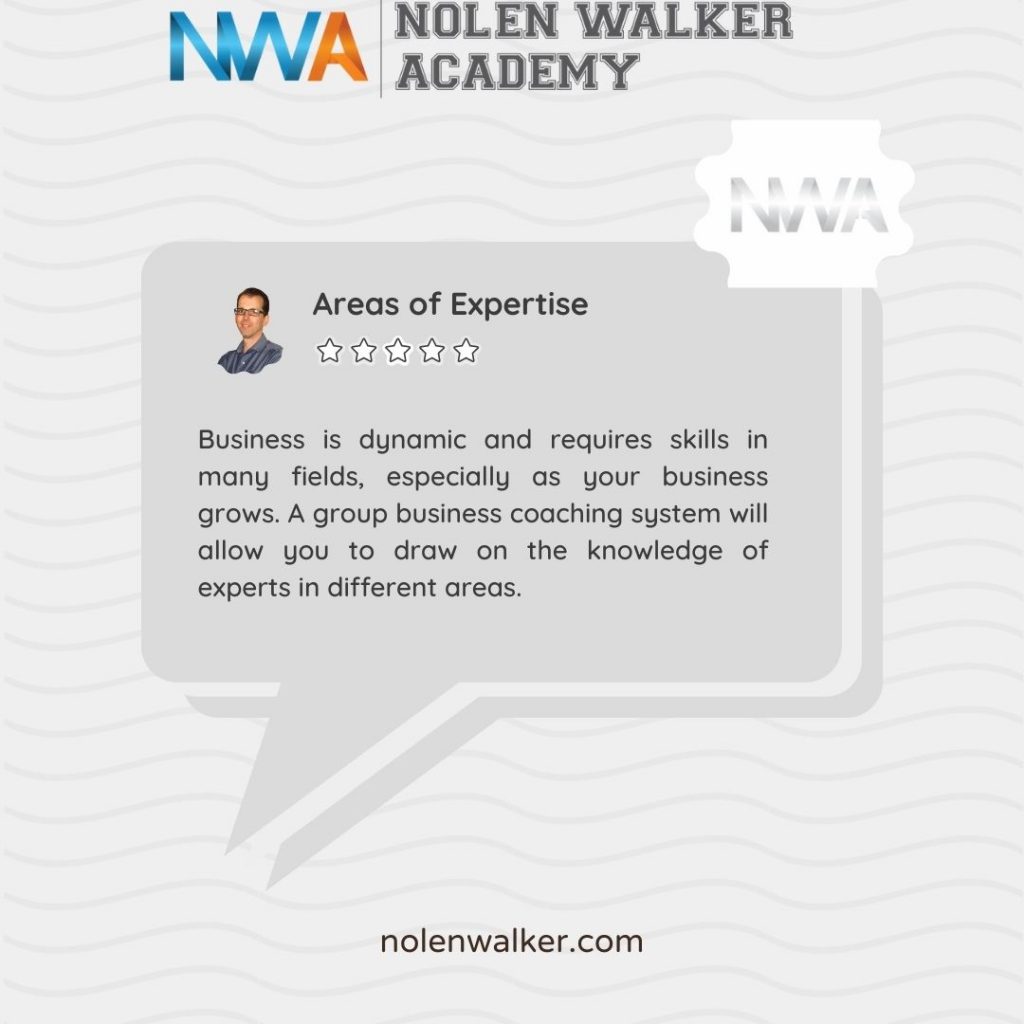 Goal-Setting
It is common to go adrift while operating your business. It's good to set goals, but what comes next after reaching them? Even worse, what happens when you aren't sure what your next business goal should be.
A sound group business coaching system will consist of experienced business professionals with proven track records of success. One of the most valuable assets we have seen these group systems offer to business owners is goal guidance. 
With a group coaching system, you will have experts helping you develop your business goals for prolonged and sustainable success. Short-term goals are easy, but with a group of professionals, you can set realistic goals that will set your business up for long-term success.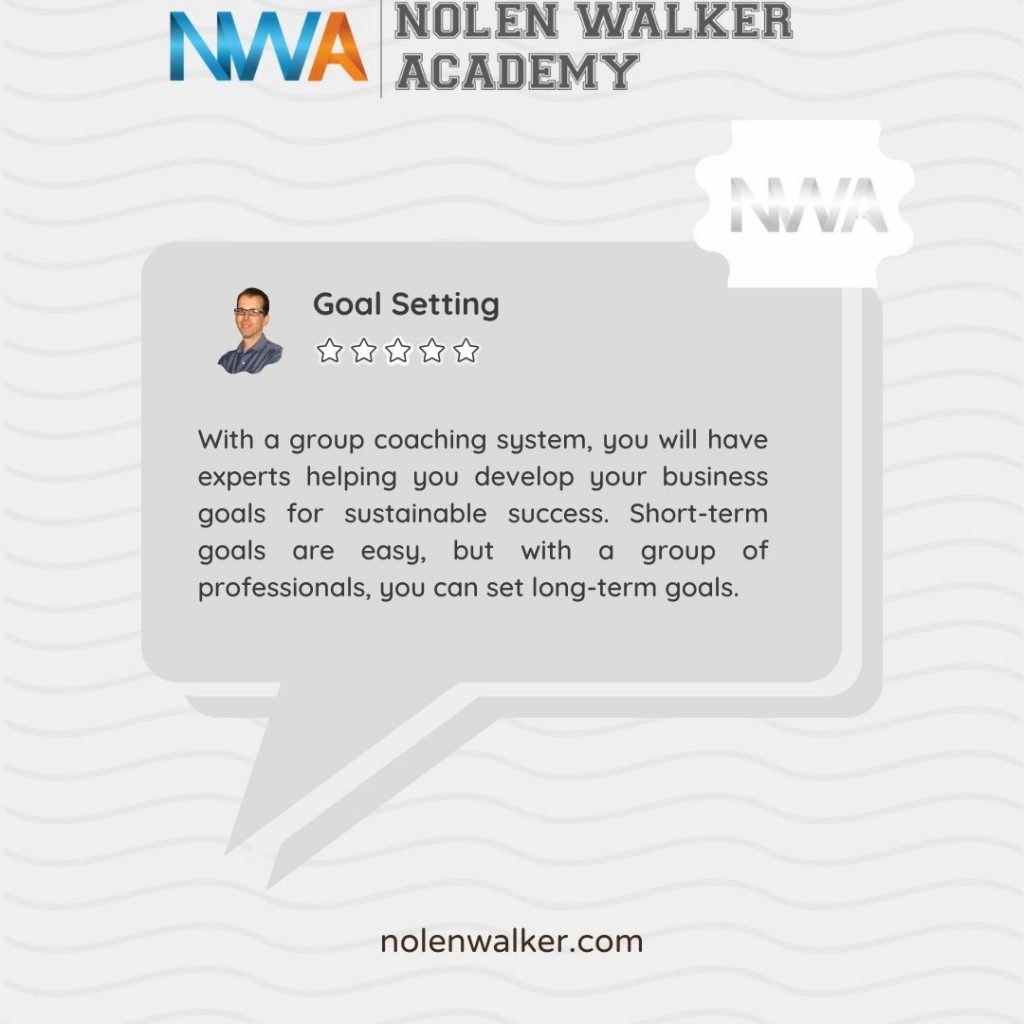 Support
Perhaps the most valuable advantage of group business training is support. Getting a business off the ground is an uphill battle, and it can be typical to lose heart.
Drawing on the experience of multiple professionals can show you how they struggled and overcame challenges. Plus, you get support in various fields of business operation. Sometimes all you need is the encouragement to push through.
Group business coaching can provide you with the support and guidance you need to succeed.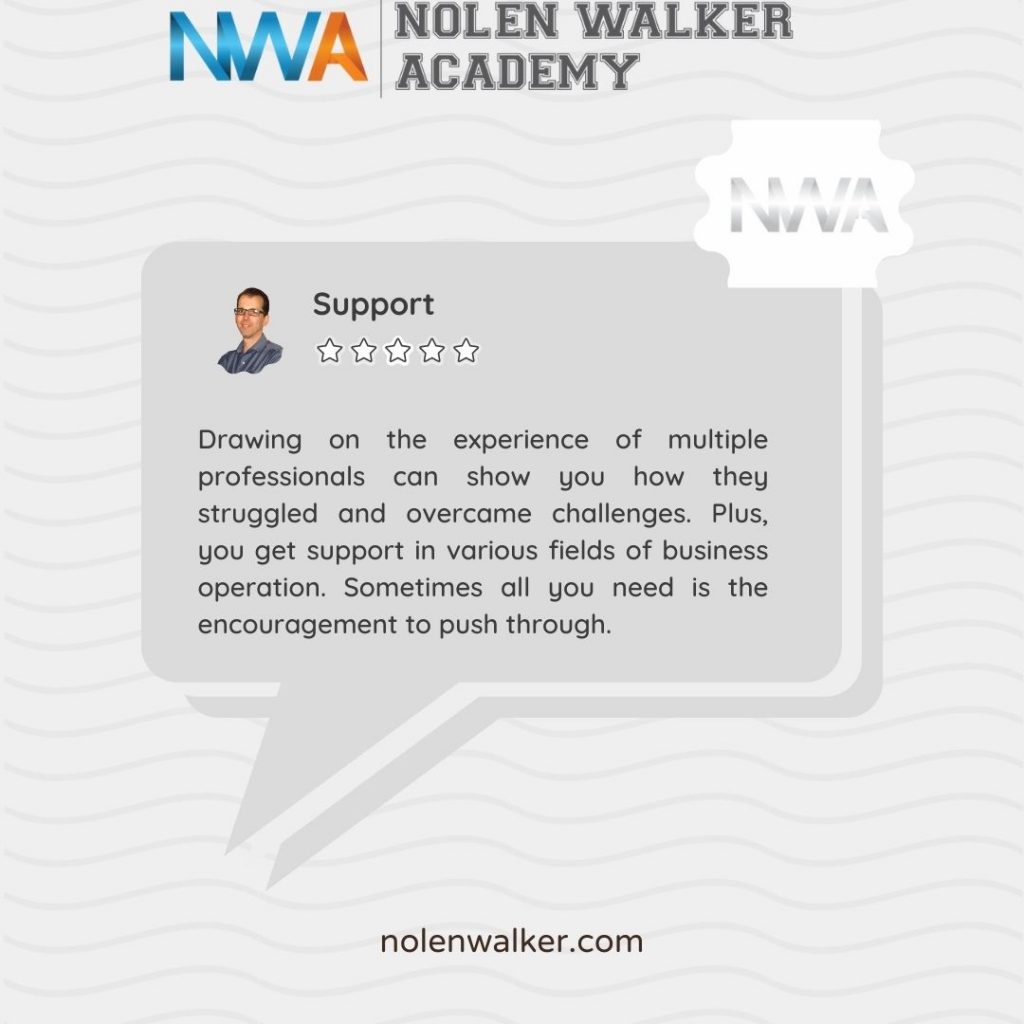 Final Thoughts
Of the people who have used professional business coaching, 70% reported a valuable experience. Now just imagine having multiple coaches in your corner. That's what you get with Nolen Walker Academy. Experts in different areas of digital marketing coach you on success.
Group business coaching can help your company regardless of its current state. For example, you may be launching a new business, like an SEO agency, or growing your existing business online. In either case, enroll in the academy today.