What is Your Google Homepage?
When a user performs a branded search of a well optimized business on Google, they are exposed to what is known as your "Google home page." The Google home page consists of the knowledge graph (the right sidebar), along with organic results of your website, and citations on other platforms, each with schema-enabled review snippets. As a first impression to your potential customers online, it is critical to have an engaging "GHP"
Knowledge Panel: The right sidebar that displays your GMB info
Mapping: A placement on Google Maps
My Business: A well optimized My Business page
Review Snippets: Organic results with schema-enabled reviews snippets
Google is the central headquarters of every online presence. Not only is it the first place users look when studying a business, but it also pulls information from the most relevant sources outside of Google itself. For example, Better Business Bureau, Yelp, and Facebook are all trusted platforms, and the aggregate star ratings of each (for a given company) can be seen on the first page of the Google search results for that brand search.
Knowledge Panel
After a potential consumer executes a branded search, one element you want on your Google Home Page is the Knowledge Panel. This panel appears on the right hand side of the SERP. The information within the box helps users learn more about your business. While plenty of misinformation exists about the panel, and what it actually is or is not, Google has published the accurate information for public consumption. For a visual look at the panel, see below: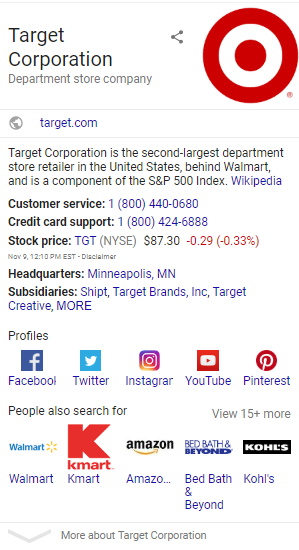 The knowledge panel really prompts engagement for your Google home page. When people see the logo and contact information on the right, they immediately gain trust in your business. The example above highlights a national company, but make no mistake, this applies to local businesses like your own. In fact, it's one of the most common ways local searchers connect with new businesses, especially when browsing the web via mobile device.
Mapping
Searches today are relative to location. If a local consumer in the Fort Worth, TX area were looking for digital marketing, they'd see our Maps listing. That's because we implement all the steps necessary to earn that local Maps ranking.  The same should be true of your company for local searches using relevant keywords. This assumes that you're utilizing geo-coordinates, and have claimed your Google My Business page and verified its address. Your Maps listing should look like this:

Keep in mind that the example of mind shows a local 3 pack Maps listing. These are the top 3 Maps listings for the particular keyword in a particular area. It will of course vary by the location of the searcher. Another thing to remember is that even if your listing is not featured on the local 3 pack, it still likely exists as a Maps listing . Most users never look beyond the top 3 however, so it's really important to get on there to have success in your local market.
Google My Business
GMB is the central hub of your Google home page, and your local online presence in general. Without Google My Business, neither your knowledge panel nor your Maps listing will ever show up. The result is that the majority of your Google home page ceases to exist. For these reasons, it's critical to claim, optimize, and verify your Google My Business page.  This YouTube video by Google explains the process:
Some local companies like to claim the business themselves, others hire marketing agencies to do so on their behalf. In either case, it's paramount that it gets done. Google is not always forthcoming about their algorithms and ranking factors, but you must give them credit for giving detailed explanations about how to get your GMB page set up. The importance of this cannot be understated.
Review Snippets
Enhanced search results stand out among the crowd. As a user, you are more likely to click a result that has enhanced features like review snippets. These snippets appear as aggregate star ratings of your business. To have them shown, you must implement schema.org on your website, something that requires some knowledge of coding to master. The results are often significant. The CTR on results with enhanced features is considerably higher than their counterparts. Take a look at a review snippet:
Sites like Amazon and other eCommerce based platforms often appear for review snippets, but any business can with the right schema code. Your home page itself won't appear, but interior pages that go for niche keywords very well may. The key is to properly utilize schema.org microdata to ensure that Google properly crawls and indexes your page. An enhanced SERP result can improve your CTR, and end up boosting your organic ranking even higher.  Add Positions is happy to help you incorporate these on your site.