When someone searches for a dentist on Google they see three types of results. Those are paid ads, Map pack results, and organic results. Most people skip over the ads and move on to the Map pack and the organic results. Since the Map pack is listed before organic results it has a tendency to attract a higher volume of clicks. When you combine the fact that these Maps listings are accompanied by aggregate 5 star review ratings, it gives potential patients a chance to form an immediate opinion about your services. Knowing this, we can all agree that appearing on the Local Map Pack is a good thing. But the question for dental professionals in 2019 is; how do we get on there? SEO is very powerful tool in digital marketing. It can be the difference between success and failure for your clinic. Check out how you can optimize your web presence for ultimate Maps visibility: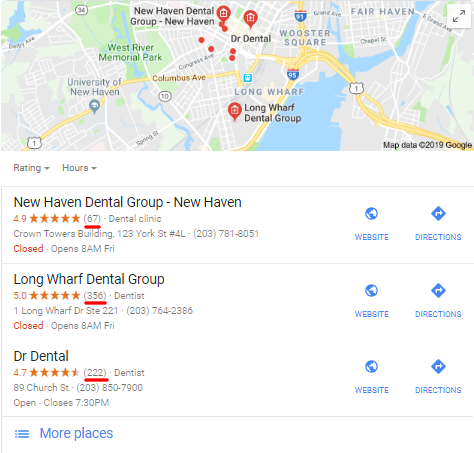 #1 Claim & Optimize Your Google My Business Listing
The first step is very straightforward and it is simply to claim and optimize your Google My Business listing. This can be done by signing into your Google account (you must create one if you don't currently have one) and navigating to GMB. Once there, you must enter your business name and location and follow the prompts to set up your listing… including the choosing of your category which should be dentist or dental clinic in your case. If it says your business has already been claimed you must select request ownership to get it back from whoever claimed it. After you have your new listing (or have claimed an existing one) you can start to optimize it by adding your logo, business hours, unique photos, and description. You can also answer FAQ's and publish posts.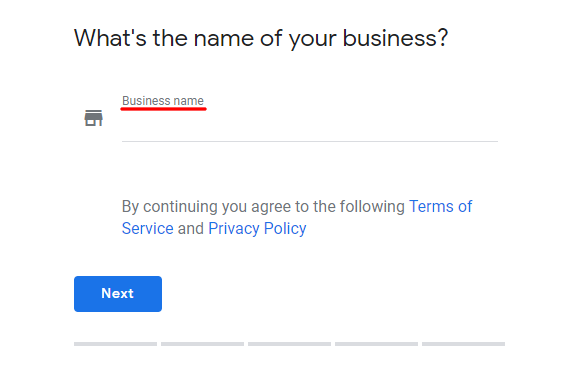 #2 List Your Address on Your Business Website
One mistake many dentists make is failing to list their office address in the footer of their website. Maybe your site is designed by a personal acquaintance who doesn't understand the basics of SEO for dentists. Irregardlessly, Google Maps optimization requires an association with your website which can only exist by A) adding the address in the footer and B) linking your site to your Google My Business listing (which we previously discussed). These small tasks may seem inconsequential to some dental professionals but the reality is that they combine for a meaningful impact. Remember this, the Local Map Pack only has 3 spots and you need attention to detail to be one of them.

#3 Generate Reviews on Your Google Listing
There's very few dentists who rank in the top 3 Maps listings who don't have a significant amount of Google reviews. The baseline number required will depend on your location and the competition level in that area. Reviews alone will not determine where you rank on Maps. In fact, it is often the case that the listing that ranks #1 has less total reviews than those ranked below it. Still, a baseline number is established to put it in consideration in the first place. Soliciting reviews can be a challenge for some businesses but dentists have the luxury of patient access. You have an opportunity to ask your clients for reviews in person. Another avenue for getting more online reviews is to invest in a widget like Righteous Reviews from Nolen Walker which sends text reminders to clients with a convenient review link.

#4 Stay Consistent … With Everything
Getting to number one and staying at number one are two different challenges. But Google values local dentists who are consistent with everything they do from updating their website to continuing to generate consistent reviews on their GMB listing. Part of being consistent is monitoring reviews as they come in. Though a few will surely be negative, responding in a professional manner shows you remain active and concerned about your patients. Other ways to remain consistent are to continue to add content to your website with monthly blog posts. This signals to Google that your practice remains active and is therefore worthy of remaining on the map … both literally and figuratively.
Local SEO & Reputation Management For DDS's
Nolen Walker includes reputation management and local SEO in our digital marketing package for dental professionals. We optimize your site and GMB listing to appear on searches including in the Map pack itself. We energize this purpose with our native Righteous Reviews widget which is included in your monthly plan. This widget appears on your custom website (which we design for you) and showcases customer reviews from Google and Yelp. It also allows your patients to leave a review on Google without having to find you elsewhere. They can get to Google directly from your main site. Last but not least, Righteous Reviews sends text reminders with review links so that people don't forget to actually publish their review. This allows them to do it at a time that works best for them and be able to simply click the link from your text message. Our local SEO & reputation management services are part of a larger package that includes custom website design, content writing, and SEO. We sell all of these as one inclusive package and none of them as standalone services.