For SEO to work, dentists must identify the top keywords to target. Using tools like MOZ, SEMRush & Ubersuggest can be time consuming especially when you have a clinic to run. That's why Nolen Walker has decided to select the top 25 keywords for dental SEO. This article will list each keyword along with its estimated search volume. But before we start listing the terms you should first understand what makes a keyword valuable… because it's more than just sheer volume. In fact, sometimes volume in of itself is not enough. Attracting the wrong kind of traffic can actually be a detriment to your website's health. After all, Google values user intent overall… and folks entering your website with zero interest in your services will be disappointed by the match. Google can take note of this by recording their on-site behavior such as bounce rate, dwell time, etc. Your goal is to bring in prospects who have a chance to convert to a client.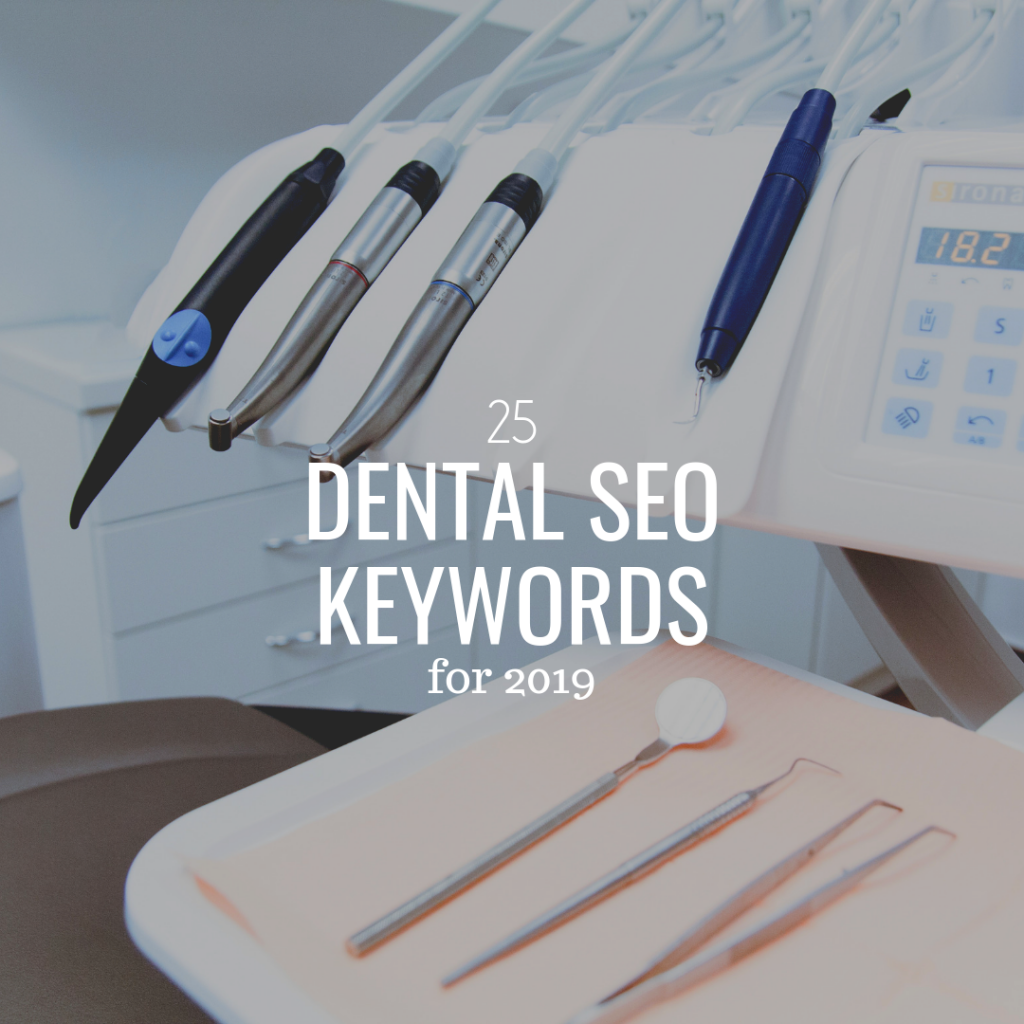 Commercial Intent Keywords
Sometimes called buyer intent terms, commercial intent keywords are the most valuable in the dental industry. When potential dental patients perform a search query they will use a specific type of language. On the contrary, those who are simply looking for information, DIY help, or quick facts will be inquiring in a different manner. That's not to say that you can never target terms that don't possess commercial intent but if you do make sure they are restricted to blog posts that serve a different function for your website's success in 2021. Let's take a look at some examples of commercial intent keyword terms for dentists and dental clinics:
Dentist Near Me 550,000
Pediatric Dentist Near Me 33,100
Emergency Dentist 22,200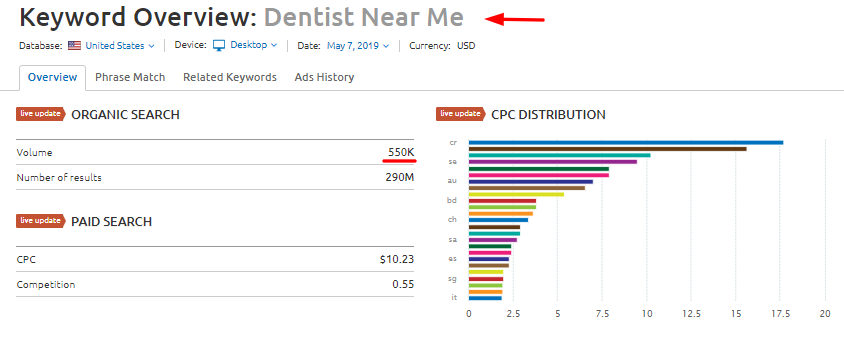 General Keywords
Some terms are more general and therefore may imply commercial intent without explicitly stating it. In the prior examples, phrases like "near me" and terms like "emergency" are clear indicators of the searcher's intent to spend money. General terms are not as obvious in this manner. Accordingly, they often have even higher search volumes because they encompass a wide range of potential intents. The query pediatric dentist for example… absent of the "near me" qualifier is going to have an extremely high volume but far less relevance for your website. After all many of those searchers will be looking at other aspects of pediatric dentistry including career paths, education, salaries, and more. Let's take a look at more general keyword terms:
Dentist 673,000
Root Canal 135,000
Pediatric Dentist 110,000
Informational Keywords
While general terms are a must-have throughout your site because of their extensive reach, other terms will be ones to clearly avoid. These types of words are often informational in nature and the corresponding queries are entered by someone who has demonstrated a clear lack of buyers intent. Qualifiers like who, what, where, when, and how are often dead giveaways of an informational search query. That's not to say that everyone seeking information is never going to become a client but it does show that they are not yet on the portion of the buyer's journey that will help your business succeed. Some websites choose to target these individuals anyways.. Hoping they can convert them through a funneling process. This is ok in certain pockets of your site… like blogging, but should not be relied upon as a primary strategy. Examples of these terms include:
Dental Implants Cost 40,500
How To Whiten Teeth 33,100
Root Canal Pain 14,800

Keyword List
Dentist Near Me 550,000
Dentist 673,000
Root Canal 135,000
Pediatric Dentist 110,000
Dental Implants 90,500
Affordable Dentures 90,500
Dentist Office Near Me 49,500
Dentures 49,500
Pediatric Dentist Near Me 33,100
Dental Crown 27,100
DDS Near Me 27,100
Tooth Extraction 27,100
Emergency Dentist 22,200
Teeth Cleaning 18,100
Dentist Office 14,800
Dental Care 9,900
Dental Sealants 5,400
Emergency Toothache Relief 3,600
Tooth Extraction Near Me 2,400
Dentist Near Me No Insurance 1,900
Teeth Cleaning Near Me 1,300
Tooth Restoration 1,000
Tooth Fillings Near Me 90
Chipped Tooth Repair Near Me 20
Gingivectomy Augmentation 10
Optimizing for "Near Me"
A lot of the top keywords have near me within them which can be confusing to businesses new to SEO. You shouldn't actually optimize your website with near me but instead replace that with your city and state. So if the keyword you're targeting is dentist office near me, and you are located in Seattle, WA, it would be optimized as dentist office Seattle, WA or dentist office in Seattle, WA. Google doesn't count the in which makes either variation of the phrase optimal. Local SEO is a major factor for dental professionals. Not only do you want to appear on traditional organic results but also within the local map pack which displays the top 3 Google My Business listings based on the searcher's current location and search query.