Do Roofers Need Website Content?
Yes, they do! We talk to a lot of contractors in the roofing industry and they are all looking for ways to increase their online lead generation. What we always tell them is simple; content is king. While web design, site structure, and blogging provide the foundation for web content, the content itself is what will separate your website from competitors. Consider the benefits of well-written content:
Conversion Rate Optimization: Visitors are more likely to complete your call to action if the content engages them enough to stick around that long
Increased Google Rank: It's no secret that Google prioritizes websites with well-written content that enhances user experience
Increased Web Traffic: Higher rankings produce more traffic, and relevant traffic, at that
User Engagement: Your design can be spectacular, but if there is not quality content accompanying it, it becomes an empty investment
The conclusion to be reached from this information is that every aspect of your website is important, but only if there is quality content produced within it. As Google continues to evolve its search engine algorithms, it becomes imperative that roofing contractor websites evolve along with it. Call 866-356-8198 for roofer content writing services.
How Roofers Can Avoid Content Penalties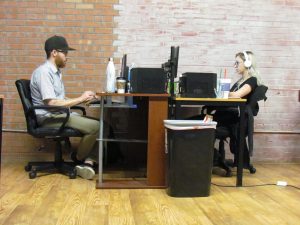 Google takes the content on websites very seriously. Why? Because SEO has historically been used to manipulate search engines rather than to enhance user experience. Manipulative content tactics are known as black hat SEO. The "black hat" preface, indicates malicious activity that Google considers unethical. Some examples of content-driven black hat SEO include:
Anchor Text Manipulation: Linking content that says "roofing contractor" to a website talking about free hosting hurts the user experience and can cause Google to penalize your website
Content Automation: Many "content writing services" are actually having artificial intelligence develop their content, but the technology is not advanced enough to avoid spam-like writing which will hurt your page
Duplicate Content: While not officially a Google penalty, duplicate content, whether it be intentional (like copy/pasting from another site) or unintentional (like forgetting to 301 redirect your old URL), it will cause multiple sources of your own content to compete against one another, and therefore work against search engine optimization
Keyword Stuffing: Roofers trying to stuff "cheap roofer in (city)" into every sentence of their content will only be flagging themselves for Google to penalize
Each of these penalties can be easily avoided by choosing Nolen Walker as your roofer content writing service. Why? Because we have a team of professional content writers — human — not robots — that specifically craft content for your individual company. Not only will content be specific to the roofing industry, but to your company's business ideals as well.
Blog Content for Roofing Companies
Website content is the lifeblood of your SEO, but blogging content keeps your website crawled regularly by Google. For this reason, an internal blog is very important and should be chosen over an external blog. Internal blogs exist within your website URL, for example, roofingwebsite.com/blog/blogpost — which allows crawlerbots to stay within your primary URL, and therefore reap the benefits of a fresh index.
At Nolen Walker, we not only create your website, fill its pages with relevant and informative content, but we also write monthly posts for your internal blog. That's right, part of our content writing services includes regular blog posts, each one designed to drive additional traffic to your website while simultaneously engaging the user and providing an optimal reading experience. Call 866-356-8198 for roofer content writing services.