Website design and SEO are connected to one another and always have been. Although new ways to appear on search results have emerged over the past decade (business listings, social media profiles, etc.) a website remains an important part of a chiropractic search engine optimization strategy. As a local chiropractor, you are looking to generate relevant traffic which can be converted into clients. This probability is enhanced with a custom website design, optimized for local search. You will still need off-site optimization tasks like Google My Business optimization and social media marketing, but your primary site will serve as the foundation. After all, both Google My Business listings and social media profiles have slots in which to embed your website URL. Google can associate these different entities as singular and credit your brand for a full-scale effort. It's much harder to accomplish this without a well-designed website.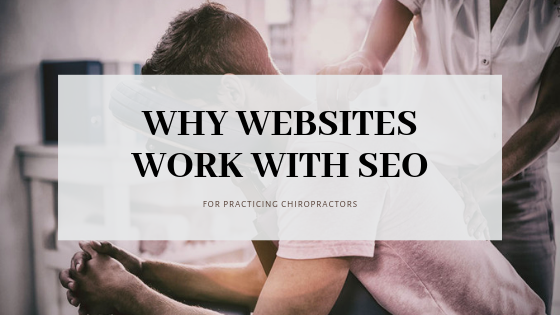 What is Web Design for Chiropractors?
Design is simply the technical construction of a website. Sites are built using code language such as HTML, CSS, JavaScript, etc. They are enhanced with additional microdata languages, most notably; schema.org. A site's design determines both how it looks to users on the front-end as well as search engines on the back-end. Oftentimes DIY website creators like Wix, Weebly, and Squarespace leave something to be desired on the back-end. While their front-ends look appealing and sometimes even luxurious, Google still prefers codebase that is custom, clean, and marked up with schema. The aforementioned website builders have made it possible for any doctor to make their own site but if you go the route of customization you will need to hire a professional with experience, reviews, and a verifiable portfolio.
How Does Design Influence SEO?
When Google crawls and indexes a page they look for factors beyond on-page optimization. They look for aspects of your website known as technical SEO. These qualities range from the speed of your website (which can be bogged down by bulky code) to your site's ability to communicate its content to Google (with something called schema markup). Google can also interpret the uniqueness of your codebase. Tens of thousands of websites across the web use what are known as templates. They don't look identical to users because the arrangement, graphics, and navigation is different, but to Google, it looks the same. Nobody knows every factor Google uses when ranking a website, but case studies have proven that there is a correlation between design elements and rankings. It's wise to acknowledge this in 2019.

Source: HTML Strip
Optimizing Websites for Search
The user-end of a website is equally as important as the developer's end. On-page SEO on your website is critical to search rankings and it starts by inserting keywords within your title tag, header tags, meta description, image alt text, and body content. It is important that Google sees the keyword at least once within these areas but not too much. Overuse of keywords is known as stuffing and can result in a devaluation of content and even in extreme cases, a Google penalty. Writing high quality content is always going to contribute to superior SEO in 2019. If you find it challenging to write about a particular subject within the chiropractic industry without using a primary keyword term over and over you can utilize a tool called LSIGraph. This web app produces a list of semantically related keywords that can be used interchangeably to establish credibility and relevance
Call 866-356-8198 for a Free Website Consultation