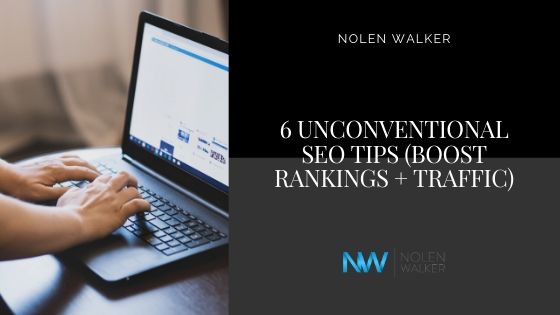 SEO can be helpful to businesses throughout the United States. However, it is also one of the least trustworthy businesses out there. Why? Because an SEO is a person who guesses for a living. While those guesses may be educated and based on real-time data, there are times when they are manipulative and selfish.
Another problem with "SEO" as an industry is that it is vulnerable to groupthink, rumor, and innuendo. Since nothing is empirically provable in this industry, and because Google is always tweaking their precise ranking factors, theories and rumors get perpetuated for years, when the tactic may not even work anymore.
That's why unconventional SEO tips can be exciting and a berth of fresh air. Check out Nolen Walker's unconventional SEO tactics:
1) Focus More on Brand than Content
While content is certainly important to the SEO game, an unconventional approach is to value brand above content. Why would you do this when content is one of the most important aspects of a sound SEO strategy.
Brand is one of the most valuable marketing tools there is. It can be seen in the biggest companies out there. When thinking of computers, Microsoft and Apple are the names that come to mind. For fast food, it's McDonald's.
But a brand is so much more than just a logo and a tagline. Building a brand takes consistency, subtlety, and a distinct message that you want to convey. Most importantly, it means sticking to your color scheme and using secondary marketing to promote your message across your website, business cards, print marketing, etc.
There are far too many companies out there that have no synergy between their logo and the rest of their website. The colors should be complementary and should be present throughout. Secondary marketing is taking aspects of your logo and implementing it throughout the rest of your website.
Establishing your brand is getting your audience to recognize your brand even when they can't particularly pinpoint why they do. It is with that secondary marketing – that consistency in color, image implementation, and overall delivery of your message and brand – that the most successful brands thrive.
Develop your brand and make it your main focus and it will go from an unconventional SEO tip to a major anchor for your business.
2) Let Quality Services Drive Reviews
Reviews are definitely not an unconventional SEO method. As a matter of fact, having a successful SEO strategy means that you have a litany of positive reviews across several review sites. You can post them on your own site, but being able to refer to them on those review sites is what really makes your website stand out.
More importantly, reviews building brand trust with your target audience. And that level of trust is one of the most valuable things that a brand can have with its consumer base. But like garnering quality reviews, it takes time and quality services.
The single best way to get positive reviews is to deliver positive work each and every time. Don't be afraid to ask for reviews if you feel you have provided exemplary service because your customers will be more than willing to leave a positive review if you've done a good job.
Building up those positive reviews will be one of the pillars of a quality SEO strategy. It may be "unconventional SEO" but really it is just about developing consistency in the quality that your company provides.
Feature those positive reviews proudly, let visiting users see them so that they can be aware of the quality of work that your business delivers. There is no taking shortcuts in the business world and there truly is no shortcut when it comes to getting positive reviews for quality work.
3) Ignore the SEO "Experts"
There are a ton of so-called SEO "experts" out there proclaiming that they have what it takes to put a business at the top of its class for the keywords that it is targeting. But the fact of the matter is that there is only so much real estate online and everyone and their mother is likely practicing the same methods.
Sure, there are definitely tried and true methods for raising your overall search engine ranking, but those same methods being implemented by everyone will level out your results. This means taking a unique approach and trying some unconventional SEO methods.
That isn't to say that you should ignore everything that has proven to be successful when it comes to SEO. But throwing in some unconventional SEO methods into the mix can give you a unique SEO perspective.
Having that unique approach – so long as it is effective and done consistently – can give you an edge on some competition for some keywords that you are targeting. Any kind of leg up on the competition gives you an edge, an advantage.
While there are a few true professionals out there that can definitely deliver results each and every time, taking a unique and personal approach to your own SEO strategy can help your company stand out not only from an SEO standpoint, but as a business in general.
4) Start a Podcast
While it certainly seems like everyone and their mother has a podcast (spoiler alert: they do), podcasting is proving to be an effective marketing tool and an unconventional SEO method. The thing about it is that SEO does not have the kind of impact that traditional SEO does.
Still, there are more than a few ways that podcasting can help with your SEO strategy. The most direct impact that you can see is if you place a player on your website. Those listening to the podcast on your webpage will stay around longer, helping your bounce rate.
If your podcast has well-written show notes that accompany your episodes, the text side of it can have some impact through traditional SEO. Keep in mind that any SEO benefits felt here are not directly from the podcast but from related content.
Another thing that can help is if you have an easy to remember name for your podcast on iTunes and other podcast directories. When your podcast is easily searchable, it gets your target audience searching for both your podcast and website.
Not only that, podcasting makes for an excellent possible marketing opportunity. The fact is that the podcast advertising market still has not been saturated like other forms of marketing. There is room to target the 18-49 demographic that is so coveted in the marketing world.
When you combine all of these things together, podcasting can be an extremely effective if unconventional SEO method. In any event, it will have very real benefits for your website (and the podcast will benefit from it all, too).
5) Comment on Other People's YouTube Videos
This unconventional SEO method is not quite as effective as some others, but there are definitely benefits to be had if it is implemented properly.
The strategy works as such: open up YouTube videos for relevant keywords. Commenting on these videos with links to your page, website, or video can help to create unique, organic traffic if done properly.
One thing to keep in mind is that you want to be careful and not overdo it. Should you overdo it on the commenting, it will come across as spam and that will lose credibility in the eyes of not only the creator of the video but other users commenting as well.
Use this practice sparsely and you can get unique, organic additional traffic. This is more of a method for smaller online ventures that need all the exposure that they can get. Don't put all of your eggs in this basket as it is not meant to have major results.
When implementing with discretion and an eye to avoid being labeled as "spam", this is just another unconventional SEO method that can add some organic traffic to your numbers and potentially develop some backlinks that could prove valuable to your SEO strategy down the line.
These are all strategies that offer their own unique benefits to your overall search engine rankings and can help make your business and website as unique as possible in a crowded marketplace.
6) Don't Be Afraid to Experiment
Ultimately, the only thing that matters is how SEO applies to your business. Something that works for many other people, may not work for you. In an industry like SEO, you cannot fear experimentation. If you find that a particular tactic works for you (like not blogging at all) then you shouldn't start blogging because someone told you to.
The success of your campaign should be measured in dollars. If you are generating quality leads online, continue to do it "your" way as long as it works. The upsells in the SEO industry are ridiculous as companies will try to make you pay for stuff that you don't actually need.
As a business owner, you may not have the knowledge to begin an SEO experiment, and that's ok. The key is investing in an SEO company that you actually trust to put you first. They might experiment with certain tactics that have worked for other clients, even if some guy on Twitter thinks it doesn't work.