For SEO experts, the saying 'content is king" normally references text and images, but videos are actually the most engaging form of content available on the web. In fact, users watch over a billion hours of YouTube video per day. So it stands to reason why YouTube should be an essential part of every SEO strategy. After all, videos can be integrated on all kinds of SEO-friendly platforms, from your business website to your Instagram & Facebook brand pages. Even more intriguing is the direct affiliation between Google as a search engine, and YouTube videos as content. Performing search queries you'll notice that YouTube videos often appear towards the top of search results. That means users will be exposed to video content without ever visiting YouTube directly. See the search results below for the query "bridal shop SEO"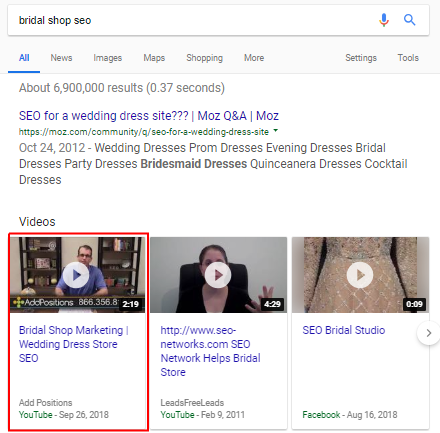 At Add Positions, making a video for the subject bridal shop SEO and uploading it to YouTube allowed us to secure the first spot on the video carousel for this term. As a small business owner, you too can take advantage of what YouTube has to offer from an SEO perspective. Depending on the industry to which you belong, certain keywords will produce video results on the top of the corresponding SERP. Like with other forms of SEO, the more competitive a keyword is, the more difficult it will be to rank on the video carousel. There's certain techniques we recommend which allowed us to secure the ranking you see above, and which can translate to almost any niche. Through organic ranking, YouTube videos can also serve as a marketing funnel. Read through the rest of this blog post to find ways to improve SEO through YouTube video content.
Optimize Your YouTube Video
When you upload a video to YouTube, you have several areas through which to optimize it. The title is the most important. You want to include your primary keyword within the video title and can also add a secondary keyword. Next you'll want to move to the description and provide a detailed summary of what the video entails. It's also another opportunity to place your keyword for YouTube & Google to see. As you can see from our description, we also placed a link to the corresponding web page, on which this particular video is embedded. Finally, you'll want to add tags which should again include your primary keyword as well as synonyms and LSI keywords.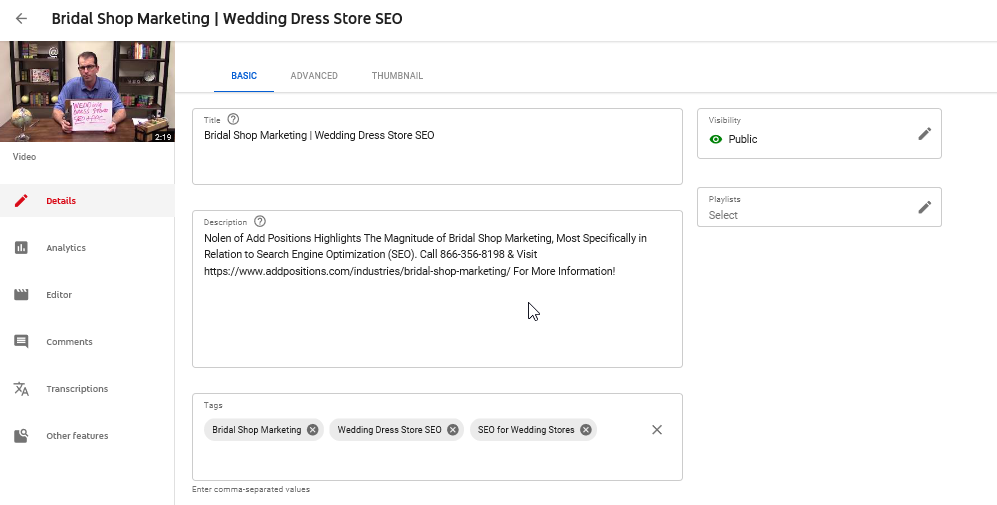 Videos on YouTube should avoid the same SEO pitfalls as traditional web content. Refrain from stuffing your title, description, or tags with keywords. Use them once and only once within each section. When writing your description, write it with the user in mind. Videos that are topical are far more likely to be consumed by relevant users, meaning they'll watch the entire clip, and not exit it from it immediately. Make sure you video is set to public under "Visibility" on YouTube's studio creator. If you follow each of these steps, you have a good chance to show up on the carousel for organic searches on Google. Keep in mind that keyword competition is critical.
Embed Your YouTube Video
There's several channels where you can simply embed the YouTube video onto the page (WordPress being the most common). In other cases you can just post the link, but will want to make sure it displays properly after publication. For your main website, the first option is best which is to embed it within the page or blog post itself. To get the embed code for your video, you must navigate to the video and click on the button that says share. From there you will see several options including Embed, Facebook, Twitter, Google Plus, Blogger, & Reddit. You will want to choose Embed, which will then prompt a screen that provides the necessary code.
Copy the code from the embed screen and paste it within the WordPress page where you want the video to display. Now when users navigate to that page, they will see the video embedded within the content. You can select modifications that alter how your video is displayed once embedded. For example, you can choose to start the video at a certain timestamp and hide player controls, etc. The video's SEO should align with the SEO for the page. For example, it would be nice for the H1 or H2 of the page to match the main keyword from the video, so that Google sees both entities as connected and relevant to one another. Try to establish that relevance.
Distribute Your YouTube Video
Most platforms allow you to link your YouTube video directly on the page. Facebook and Twitter, for example, allow for YouTube videos to be linked and integrated within posts and tweets. Instagram is a different story and require their videos to be 60 seconds or less. You'll have to upload the video natively to Instagram, meaning the file itself will be uploaded, rather than simply linking or embedding the YouTube video link. To accomplish this you must know how to edit videos and trim them in a marketable fashion that highlights the most appealing 60 seconds. Add Positions provides this service. Videos should be distributed on these platforms:
Facebook: Supports YouTube integration but also offers native video upload
Instagram: Requires native video upload that is less than 60 seconds
LinkedIn: See Facebook
Twitter: See LinkedIn
It's not a bad idea to create different versions of the video for each platform, meaning Facebook, LinkedIn, Twitter, and Instagram, all have unique variations. As we noted, Instagram does not allow for embedding YouTube clips. Even if you tried to post the link within your image caption, it would not be clickable, and thus be rendered virtually useless. If you need assistance with recording, editing, and posting videos on YouTube and other platforms, we provide a service that empowers you to do all of these things. We'll even include your video content within our SEO services for your company. Like all content, video can be a major part of search rankings. For YouTube SEO services, call Add Positions today at .