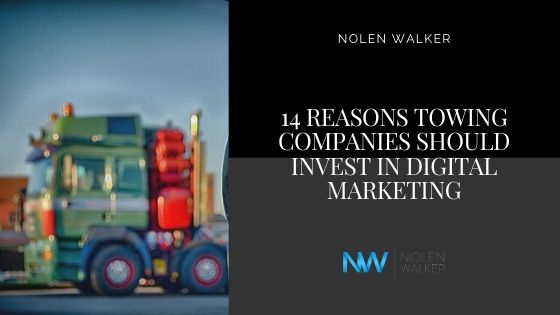 As a towing company you might think; what's the point of marketing? Nolen Walker is here to list 15 reasons why investing in digital marketing services is a good idea for tow truckers. If by the end of the list, you're not convinced, exit the website and permanently block it using Website Blocker for Chrome. This way, you'll never have to stand the sight of this website for as long as you live. You can continue to live your life on your own terms, and not have to think about us. But before you make that decision, make sure you read through the following 15 reasons you should invest in digital marketing:
1) Lead Generation
Let's not fool ourselves, the entire digital marketing process shares a universal goal; lead generation. As a tow trucker we know one thing, you need leads. For your business to thrive in 2019 and beyond, it's difficult to ignore the number of leads that could come from digital channels such as Google, YouTube, Facebook, and Instagram. We can't stress this enough.
2) Low Risk, High Reward
When compared with other uses of your resources, investing in digital marketing is one of the lowest risks. This is especially true when you sign up for our Pay Per Lead plan. With this payment agreement, tow truckers pay for leads only. You still receive all the marketing services like SEO, web design, etc., but if no leads are produced as a result of those efforts, no payment is made.
3) Sustainability
Digital marketing investment is both a short and long term play for towing companies. In the short term, you can generate leads quickly but in the long term, you can become a bonafide brand. Google awards trust-based partially on tenure, meaning older websites and online listings have an advantage over new ones. Start now, and become one of those brands.
4) Recognition
You may or may not have heard the term brand recall. When someone sees a logo more than once they begin to perceive its value is greater on a subconscious level. With digital marketing, your logo should appear on Google My Business, Yelp, Facebook, Instagram, along with several other web entities. Consumers could begin to recall your logo when they see it on a tow truck.
5) Delegation
As a tow trucker, there's many a hard labor you must handle on your own. With digital marketing, you can delegate responsibilities to someone else. Several aspects of marketing can be an annoyance and cut into the time you have reserved for day to day operations. If you invest in a professional marketer to handle your campaign, there's no added workload.
6) Visibility
Word of mouth used to be the primary source of lead generation for tow truck companies, but it is no longer. Today, for a tow trucker to be capturing leads regularly, they must be visible online. The average consumer spends more time online than they do anywhere else. With 24/7 access to smartphones and WiFi, there's never been a better time to increase digital visibility online.
7) Measurability
Most ventures work best when accountability is present. Since digital marketing success can be measured, marketers are held accountable. Now you may argue that you've heard of marketers that don't provide reporting. It's true that companies like this exist, but nobody should stay with them for very long if they can't track the results of campaigns. The bottom line is that accountability is available and should be exercised.
8) Flexibility
Digital marketing is not just one thing, but instead provides a multitude of different options for your towing company. For example, organic SEO is one great option, but paid advertising on Google Ads is another. The beauty is that every form of marketing can be integrated and work together in a cohesive manner that produces the results you've been hoping to achieve.
9) Sales
Leads are aptly named because they lead to sales conversions when closed. If leads never became sales, their value would disappear entirely. But if you know how to sell your services, digital marketing can bring you the highest quality prospects to the table. With calls to action on your website and profiles, you can start taking calls from consumers looking for tow truckers.
10) Materials
Old school marketing materials like business cards and truck wraps can be expanded and highlighted online through digital marketing. Google My Business becomes a digital business card of sorts and when people search for your brand name online, they can see everything you have to offer, from hours of operation, to address, location, and phone #, all consolidated.
11) Scalability
Your internet marketing budget can grow along with your company. If your towing company grows significantly, you can easily spend more money on marketing to keep pace. Conversely, if you are a brand new service without much of a budget, you can spend far less than that. As you start to benefit from your investment, you can increase the funds and parallel your growth.
12) Asset Diversity
The saying goes" don't put all your eggs in one basket" and when it comes to business assets, it rings true. If you currently get all of your clients from word of mouth or radio advertisements, diversifying your source of leads is most ideal. Let's say some of your most loyal customers move out of state, all of a sudden those words of mouths decrease. Ask them for a review on Google or Facebook instead.
13) Opportunity
Some industries and markets are very competitive. Roofers for example, often have websites, social media, advertising, and the whole gamut of marketing services. Towing companies seem less invested in marketing going into 2019. That means there's more opportunity for you than there would be for a roofing contractor in the same position. Your service area also matters when assessing competition.
14) Trajectory
If we project forward past 2019 into 2020 and beyond, it's safe to assume that technology will continue to evolve and that digital marketing will be a major part of business success. If there were ever a time to get on this upwards trajectory, it is right now. Traditional forms of marketing have been and will continue to be replaced, and towing companies can take advantage of it.
Call for Digital Marketing Services for Towing Companies